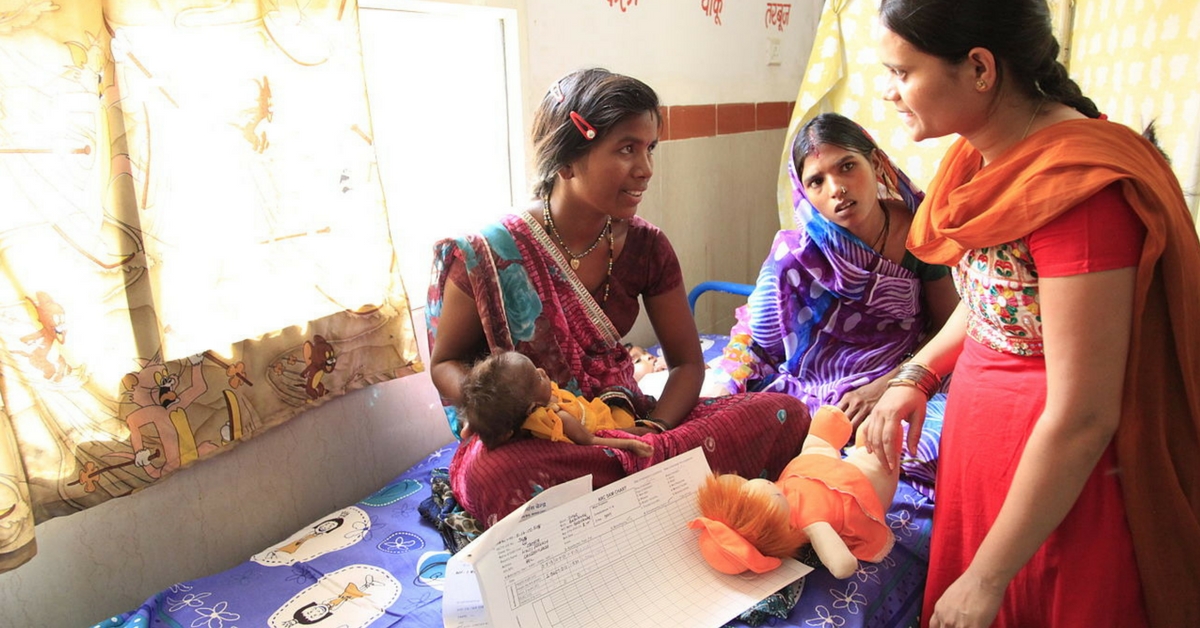 Breastfeeding is a mother's gift to herself, her baby and the earth. ~Pamela K. Wiggins
"Listen , stop being so stubborn. Give her top feed at least in the night. They always sleep better and you will also be able to rest.'
She was badly tempted.
'You must listen to your elders. Even we have brought up babies.'
'We just saw Radha's baby today. He is so fair with pink cheeks. After all, there is a difference in mother's milk.' Tara looked at the dark skinned thin baby in her arms and cringed.
She was badly tempted. What was the point struggling all night when her baby didn't gain weight and become fair like Radha's son!
'Listen you must give at least 2- 3 top feeds per day. How else will you be able to go back to work.'
She was badly tempted.
'You need to put the baby to a bottle, else he will never take milk properly later.'
She was badly tempted. She gave in.
The mother was hardly aware of the number of bacteria that travelled from her hands and surrounding surfaces to colonise the baby's guts. The baby lost a lot of weight struggling with infections and loose motions. Sometimes when the baby was hungry it gulped the formula milk rapidly from the bottle and took in lots of air too and kept suffering from colicky pain and belching all day long . It was brushed away as growing up problems.
But then it coughed! The baby aspirated the bottle milk into it's respiratory passages. The bouts of fever and upper respiratory tract infections were again passed off as viral infections.
The milk that it got with minimal effort made the baby lazy. The 'miniature adult' gave in to human tendencies. It refused to suckle. Moreover the poor infant got confused between the two nipples and adapted fast to the bottle nipple, where it could easily draw large amounts of milk without trying hard. Soon the baby was weaned off the breast leaving the mother free to carry on with her domestic chores and joining office. Even the baby was sleeping better. The mother was sure she had done the right thing.
Unknown to them the 'infant' brain was growing rapidly and it grew in presence of high levels of glucose, something which nature had not intended the breast fed baby to grow up with and soon this became a habit.
The baby was destined to suffer from childhood obesity and not to mention all the sequels like diabetes, high blood pressure, hyperlipidemia and all its consequences. The root to all lifestyle disease had been laid in infancy itself.
Years later the protruding teeth of the child stared at the mother as she did rounds to dentist trying to correct the dentition problems and overriding teeth of her child. The bottle changed the direction in which the gums and teeth grew.
We live in a country where everyone has advice to offer, which may not necessarily be the right one. In times like these when the woman is in dire need of support this is almost criminal.
A developing nation reeling with the great socio-economic divide, where on one hand we have not been able to overcome malnutrition we are fast earning the distinction of being a diabetic capital. It is unfortunate that even the poor are taking to formula feeds just to imitate the rich and have an easy way out!
A country known for idolising 'motherhood and mother's milk' is fast adapting to alternatives to mother's milk.
The warm dusty climate we live in provides 'culture rich' environment to breed bacteria easily. Can we afford to do away with breast milk that contains antibodies to all diseases that the mother is protected with for the first six months of the baby's life?
Breast milk contains the right amount of fat and proteins for brain and body growth. The goat's milk is meant for the goat's kid, cow's milk is meant for the calf and human milk is meant for the human baby. Lets get our fundamentals right. The formula milk is meant for desperate situations only and should not be promoted routinely. Remember, breast fed babies are smarter with a better IQ.
Breast milk helps women lose weight and provides resistance to breast cancer. It provides a chance for the mother and baby to bond and suckling being a primitive instinct helps to calm a baby in a stressful condition.
Despite these benefits a recent Medlela Breastfeeding survey 2017 pointed that 36% of new lactating mothers from Maharashtra fed their babies with formula feed immediately in the first hour of birth.
According to WHO, 37 % of deaths in children under the age of 5 are as a result of malnutrition.A developing country, we still have a high infant mortality rate, along with all other under 5 mortality rates. Infection and malnutrition remains the most common killers. Breast feeding is the most economical and effective method of bringing down these mortality and morbidity figures. WHO recommends exclusive breast feeding for the first six months of life and to extend with solid food till at least two years of age.
The lactating mother needs lots of motivation and constant encouragement. This has to come from family members and friends apart from her own self. It truly takes a village to raise a baby.
One needs community support to propagate breast feeding.
Public health awareness initiatives like World breast feeding week and Baby friendly hospital initiatives are some measures in breast feeding promotion. Human milk banking is another avenue to explore.
According to one report among infants born in 2013, 4 out of 5 started to breast feed at birth , over half were still breast feeding at six months , and only one third were breast feeding at 12 months. This fall at six months may suggest in part that mothers were not getting the right amount of support.
Lactating woman should be encouraged to breast feed at work places too. Government's initiative in extending maternity leave till 6 months is a step in the right direction. But women still get marginalised at work places because breast feeding needs a lot of commitment and employers are wary of taking women who cannot prioritise work over their babies.
No country is doing enough for breast feeding.The 'World breast feeding week' is to spread awareness amongst people , to remove the myths and bias surrounding breast feeding. It aims to bring breast feeding to the forefront of community agendas so that everyone can be part of the dialogue. The focus shall be on 'sustaining breast feeding together' this year.
Breast feeding is a gift that lasts a lifetime. Let's spread the boon that nature has bestowed upon us.
For more information, visit here. 
Like this story? Or have something to share?
Write to us: contact@thebetterindia.com
Connect with us on Facebook and Twitter.
NEW: Click here to get positive news on WhatsApp!
We bring stories straight from the heart of India, to inspire millions and create a wave of impact. Our positive movement is growing bigger everyday, and we would love for you to join it.
Please contribute whatever you can, every little penny helps our team in bringing you more stories that support dreams and spread hope.