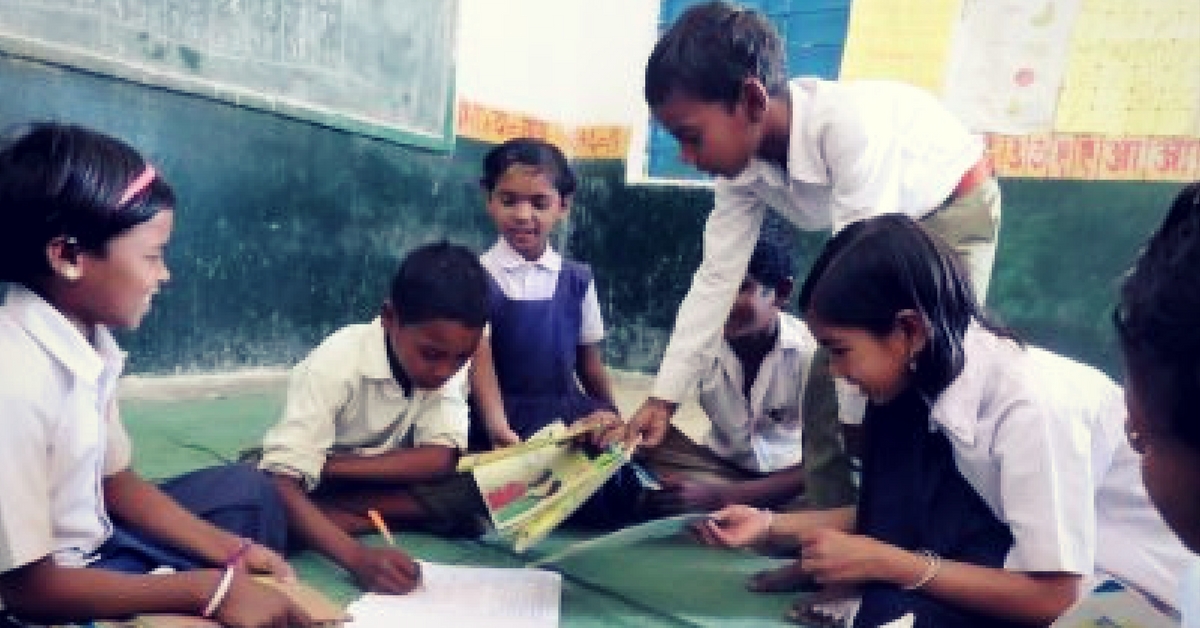 An initiative that produces books in tribal dialects in an underdeveloped area of Madhya Pradesh is helping tribal children to not only become better learners in school but is also reconnecting them with their indigenous culture and traditions. Alaknanda Sanap takes a closer look.
Arkat, all of 12 years and impish smiles, was excited to go to school because it was library day. His school, Kadla government primary school in Balaghat district of Madhya Pradesh, was host to that week's library session. It was not the case just a few years ago. Arkat, who studies in Class 5 and loves stories, didn't have many books in his small school library.
The school mostly stocked textbooks and most storybooks were not of his interest or reading level. "I wait for new library teachers to come and distribute books so that I can have so many books to read. I like these books," Arkat told VillageSquare.in. "There are so many stories which have children like me and my friends."
Tribal children in India face several challenges in completing primary education. According to government data, 58% rate of dropout among tribal children at primary school is much more than that of non-tribal children at 37 percent. While they are equally affected by poorly provisioned and ill-functioning schools as children from other communities, one key aspect that has been less explored is the language and cultural difference.
"If you map the parts of India where illiteracy is highest, you will find that it matches the parts where the mother tongues of children are different from the official language," says Ganesh Devy, a linguist and the 2011 Unesco Linguapax laureate. Devy is the founder of the Vadodara-based Bhasha Research and Publication Trust.
Over the past few years, some states like Odisha and Andhra Pradesh have tried to integrate tribal languages in government schools, but most other states where indigenous people live in large numbers have been reluctant to take this step.
Accepting the challenge
An initiative in Madhya Pradesh in central India is trying to overcome this reluctance through successful interventions on the ground. The state has a tribal population of 21.1%, with 46 recognised scheduled tribes and three tribal groups identified as Particularly Vulnerable Tribal Groups (PVTGs). The Baigas in Balaghat district are one such group. They live alongside other tribal communities like Gonds, to which Arkat belongs.
Kadla, Arkat's village, is broadly representative of most villages in the block. Home to 110 families and 635 people, Kadla is dominated by the Gond tribes but also has a small population of Baigas and people from the Yadav (OBC) community. Located in the non-buffer zone of Kanha National Park, most villagers depend on the forest for livelihood, or migrate to neighboring districts for work in fields. A few practice rice cultivation but their livelihood is affected due to the close proximity of the park.
The village has less than 10% of youth who have cleared class 10, and even they are unable to read and write effectively. As such, parents continue to be apathetic towards schools and expectations from schooling are low. Schools in the district face the issues of rural schools all over the countryside like poor school facilities, difficulties for teachers to travel and lack of appropriate training, the lack of appropriate books or written material for children. It is clear that there is a need for a supportive learning environment for these children to help them learn well.
Love for books
Seeing the children's love for small books, a few library coordinators of the grassroots intervention took an initiative and translated a couple of books into the children's own languages — Raighari, a local dialect that combines elements of Hindi with the tribal language of Gondi, and in Baiga. "I just thought it would be easier for them to understand it, and was so happy to see their response," Shiv Yadav from Dhaiyantola told VillageSquare.in. Shiv Yadav has translated and illustrated a handmade children's book in Raigarhi.
The delighted children responded to this effort by taking up the initiative in their own schools. Arkat's love for books has led him to translate Hindi storybooks like Pakka aam, Naav chali, Humari patang into Raighari, which are read by other children with lot of interest. This activity of Fun and Learn is being taken by many students under the guidance of librarians and schoolteachers.
"When I used to read books of Barkha series, I saw these stories are from our surroundings and day to day life," Nitu Tandiya, a student of class 6 in Kukarra village, told VillageSquare.in. "I too thought of gathering my thoughts and writing them down as stories, so I could create some of my own stories." She has created and illustrated her books, Nitu ki Chai (Nitu's tea) and Maine khela (I played).
House of joy
Aide et Action, a non-profit working in the area of education, is working with tribal children in Balaghat to create a model for quality education in some of the most underdeveloped areas of the district, namely Garhi, Parsamu and Jaitpuri, in partnership with Tata Trusts. Their key intervention has been the Anandghar, or supplementary learning centers, which are presently operational in 77 primary schools. True to its name, Anandghar emphasizes on creating a joyful environment in the classroom through facilitating teaching learning based on activity based learning (ABL), games, poems, songs and teaching-learning materials.
While the project staff anticipated some hurdles due to the challenging remoteness and difference in language, they also noted the complete lack of suitable, contextual reading material for children as a major gap in the efforts to increase children's learning outcomes.
Mobile libraries
The library component of the intervention, which was initially planned to play a smaller role, was adapted to respond to this. The organisation got support from the Tata Trusts and their resource partner Muskaan to train their library coordinators and select contextually appropriate books. To serve the widely spread out villages, the project adopted the model of mobile libraries where traveling library coordinators visit the Anandghars during the morning hours. They carry a carefully selected box of 20 children's books. Most of them are graded as per reading levels, meant for early readers, and a large number of them have children from villages and rural contexts.
The library coordinators conduct a variety of activities in schools besides issuing books from the zip-lock bags. These include read aloud sessions of big-sized books meant especially for young readers, shared reading, paired reading among students and storytelling. Children enjoy these sessions a lot, and look forward to the librarian's visits. Other than school visit, library coordinators also take their cycles to villages and set up a library in a particular place where children and youths come and issue books.
A key reason behind the enthusiasm of library coordinators for trying innovative ideas is the learning brought home by four of the organization's team members from the Library Educator Course by Parag, an initiative of the Tata Trusts. By encouraging activities like role-play with stories, they have made children confident in expressing and talking in their own language in the classroom.
Creating books in tribal languages
Research shows that learning in their mother tongue helps in children's engagement in schools and motivation to learn improving their learning scores, and also that multilingual children develop better thinking skills compared to their monolingual peers. The project team engages in a variety of such activities to allow children to speak and learn in their own language while also learning the school language. These low-cost, scalable, micro-innovations are practices that tackle real-time challenges and organically become steps towards a larger change.
Organising open library sessions for the community is another activity to gain their interest. Once a week, all library coordinators converge in one village where story telling by the coordinator, singing folk songs, folk stories and puzzles are encouraged. Parents and grandparents are invited to discuss the need for education in the school, the importance of supporting children at home, and to ensure that every child attends school to learn how to write and read these songs and much more.
This activity thus becomes a complement to community mobilization for improving children's attendance that is undertaken by Anandghar volunteers. Many women who see the beautifully illustrated children's books then encourage children to read books. "I read books and encourage my children also to read because books give us lot of new knowledge which we have not seen and broaden our imagination," Anita Dhurwey, living in Armi, told VillageSquare.in.
Learning gets a boost
Over the last couple of years, the annual learning assessment tests at baseline and midline surveys have shown a consistent increase in learning levels of tribal children who are part of the program. Schoolteachers in the area have responded positively to the intervention and noted the role of books in engaging children. "They were very shy and hardly spoke up. Now we call them forward to read stories to their peers," Phoolsingh Markam, the proud teacher of Arkat, told VillageSquare.in.
While many education programs are helping children through supportive learning centers, what makes this intervention program different is the micro-innovations in bridging learning in school and the community. The present effort is providing opportunities to tribal children to not only learn the school language and become proficient in it, but also connecting them with their own language and culture.
With inputs from Cosmos Joseph, Program Manager at Aide et Action, Balaghat.
Alaknanda Sanap is a Senior Researcher at the Centre for Development Research in Pune. Prior to this, she was program officer for education at the Tata Trusts, Mumbai, and researcher at the National University of Educational Planning and Administration, New Delhi.
Views are personal.
Adapted from an article originally published on VillageSquare.in. Subscribe to VillageSquare's weekly update on the website for more stories from rural India.
Like this story? Or have something to share?
Write to us: contact@thebetterindia.com
Connect with us on Facebook and Twitter.
NEW: Click here to get positive news on WhatsApp!
Tell Us More
We bring stories straight from the heart of India, to inspire millions and create a wave of impact. Our positive movement is growing bigger everyday, and we would love for you to join it.
Please contribute whatever you can, every little penny helps our team in bringing you more stories that support dreams and spread hope.