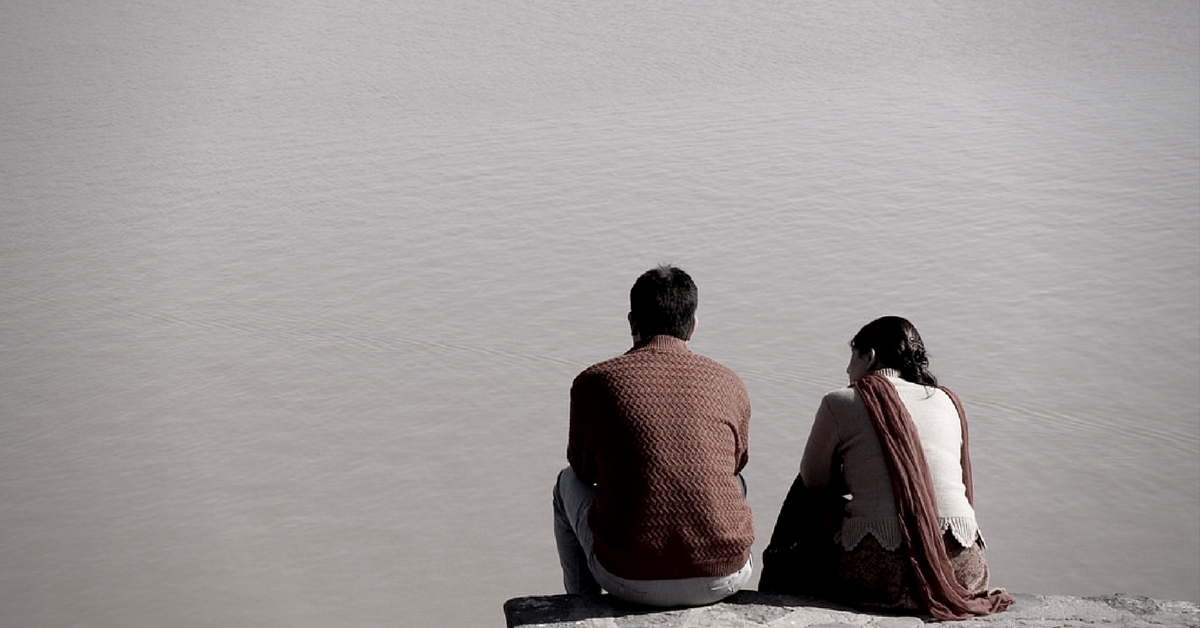 'A fire was spreading, turning most marriages paradoxically cold. Most couples shivered as they braved the heat of expectations, their's as well as those of the society.'
"We had just landed in Malaysia. This was our honeymoon! The mere thought of what lay ahead made me excited as well as a little jittery. We had been going around for more than two months now. I could sometimes feel the restrained tension in him but I was adamant about doing it the right way. It hadn't been easy.
He had confessed, 'I cannot hold any longer.' A little shy I warded off his wandering hands.
'We shall soon plan a family.' He looked earnest.
Even my mother in law came across as very sweet and accommodating. Life had been indeed kind.
But where had he disappeared? I looked around for him. Finally I saw him running towards me.
'I was getting worried!'
He laughed and threw an arm around me indulgently, 'I had gone to the chemist. Just for you!' I blushed and felt the familiar butterflies in my tummy again.
I looked at the thin lines of strain around his forehead. He looked drained out. Soon we left for our hotel.
There was a palpable tension, the moment we entered the room.
As he talked to someone over the telephone, I went inside the bathroom and changed. He stopped talking as soon I entered and looked a little awkward. There was a tube and some medicines in the open bedside drawer. He followed my eyes and hastily closed it.
'Are you ok?' I hoped he was not ill.
I felt a stirring deep within but he withdrew. I looked at him uncertainly, why was he pushing me away?
'Actually I have taken a medicine but it works 4 hours later.' I was not sure what he was talking about.
'I shall wake you up.'
True to his words he woke me up 4 hours later.
'I want you to be a mother soon.' He whispered close in my ears
But before I could even take off my clothes he was done. I looked bewildered. Something was definitely wrong. In the days that followed this became a pattern.
Sometimes he couldn't even last up to the stage of his own undress. Some frustrating days later we came back home. I avoided the teasing eyes of my friends and relatives. My mother in law started hinting about babies. The intent was obvious. I grew bitter. My mother, who was my only family lived in the same city but my husband was too reluctant to let me out of home.
'How will we now manage without you?' My husband complained. His mother had a long list of diseases and every time I felt like stepping out or telling her anything she behaved as if she would have a heart attack.
I now understood that their reluctance was just a facade to keep everything under wraps.
I tried to talk to my husband about visiting a doctor but he snubbed me away.
'Don't get so desperate. How can we even talk about these things to anyone? Have you no shame!'
He never allowed me any intimacies either and would hardly ever look at me. All my preconceived notions of a mushy married life quietly walked out of the window. Yes, I was growing desperate and frustrated.
One day while my husband was at work I called my friend and confided in her. On the pretext of going shopping she managed to take me out of the house and we came to this hospital."
She broke off crying. I looked at her with sympathy. It was not easy when you were pitted against an unrelenting husband who refused to take medical help. Acceptance was the key in these situations. Breaking a marriage was not an easy option.
Sometime back, my urologist colleague had referred a stiff woman, who walked inside my clinic along with her husband.
Once alone she didn't hold back her hostility, 'The doctor upstairs asked my husband if he ever masturbated. He accepted and that kind of absolved him of everything! Is it my fault that I am still a virgin?' She accused them of male bonding.
Her husband buried his head in his hands, 'Doctor, my self esteem has touched rock bottom.I have money but without my virility I am half a man. I even feel suicidal.'
The whistle stop work schedules and jetting around the globe chasing deals and dreams sapped his sexual vitality. A psychiatrist once said that about 10 % couples check their mobile phones during sex and majority soon after. The figures  may vary but love in the time of 'deadlines' and 'media updates' can easily kill desire.
There were drugs to treat them but the ultimate aphrodisiac remained elusive. Obesity, excessive smoking, alcoholism, and drug abuse were indirectly responsible. More visible was the effect of diabetes, high blood pressure, high lipids and cardio vascular diseases especially in those above 40. Stress and sedentary lifestyle was the major contributing factor in all age groups. In majority, it was mostly psychological and counselling helped much more.
The most common thread seen was blaming the woman for being either obsessed by sex or for not turning him on. Rightly said for a man, his ego lay in his genitals. Bitterness and frustration finally took toll in these relationships.
The Indian obsession of having a baby soon or using it to save the marriage created more troubles.
A very beautiful woman, whose husband waited outside, took out a syringe and broke down, 'I have tried even this to get pregnant.' She would collect the semen in the syringe and instil inside herself.
She could conceive with artificial insemination but it was more prudent to save her marriage. During their relationship before marriage, her husband boasted of many ex-girlfriends. To outsiders he was this possessive, loving husband who rarely let her go out of sight. But once inside the closed doors, the embracing arms would slip away. 'I have a headache!' The proverbial headache was getting to be the male preserve! Predictably she couldn't conceive but was left to ward off awkward questions from both sides of the family.
A gynaecologist friend, despite her privileged background put up with a doctor -husband for five years. He wrecked her life but never accepted his impotence. Marriage is so deep rooted in our culture that most couples suffer long before giving up on it. And sex an integral part of marriage erodes the wall of even otherwise compatible couples by becoming dormant.
A housewife once admitted her guilt. She masturbated and used 'other things' to make herself happy. Her husband never thought about her needs. He provided her with all material comforts and according to him they had a wonderful sex life too. The façade of a happily married life was fast slipping showing a suffering wife and a husband whose vanity made him selfish and ignorant. She seriously believed she had sinned and would probably have cancer one day! Some taboos we unnecessarily suffer from.
But it was about time that men accepted that it was not just about them but women too. Equality in bedroom, a new gender equation was cropping up. He was lucky she had not strayed out of the marriage. Women may no longer be content with lying back and being merely baby machines. They demand their pound of flesh too.
Since women play a passive role and partly because of the power imbalance between men and women, majority cases of female impotence do not come to light. But there are situations as in morbid fear called as 'vaginismus' that is akin to female impotence when a marriage gets non-consummated. Pride forbids the husband to share it. But pride makes a poor bedfellow. Even husbands were at times reluctant on giving up on their marriage but clearly one can't stay friend-zoned in a marriage.
Impotence in India is on a rise. It is reported that 50 % of men above 40 and 10 % of those below 40 in India were impotent. Another report says that one out of every 10 Indian male could be impotent. Apart from the dubious distinction of many other statistics, few can be more embarrassing to India than being dubbed as the impotence capital of the world. Where on one hand we are procreating furiously , this comes out as disturbing and unbelievable.
Sex education is sorely missing from our curriculum and people across all ages throng to the internet to make themselves sexually literate. A sound professional advice remains the rarest of all resources. The uncensored media, coupled with the unrealistic expectation of keeping the erection high and long enough was destroying the confidence of many amateur.
This often led to rounds of quacks and charlatans resulting in a nightmarish odyssey . The street experts and 'sexologist' with glorious luxuriant moustaches have left clinicians and doctors worried. The rampant misuse of 'Viagra' often made things worse.
About 20 to 30 percent of marriages are breaking in India for want of satisfaction in sexual life. This doesn't necessarily happen to the newly married only but also to those well into their middle ages with grown up children. For the ones that do not break but continue to live in silent suffering , the situation cannot be more pathetic. Impotence remains still poorly understood and most mismanaged.
An ancient civilisation, the land of 'Kamasutra', we still struggle to come to terms with our sexuality. Marriages are crumbling not just because of impotence but due to issues with communication, acceptance, expectations and yes, sexual dissatisfaction.
It's time to wake up from our comfortable zone and accept the fundamentals of 'sexual health'.
Let's shed off some beliefs and bias, some taboos and trials and welcome a new era of being sexually alive and healthy.
Image Credit: Lian Chang/flickr
Like this story? Or have something to share?
Write to us: contact@thebetterindia.com
Connect with us on Facebook and Twitter.
NEW: Click here to get positive news on WhatsApp!
We bring stories straight from the heart of India, to inspire millions and create a wave of impact. Our positive movement is growing bigger everyday, and we would love for you to join it.
Please contribute whatever you can, every little penny helps our team in bringing you more stories that support dreams and spread hope.