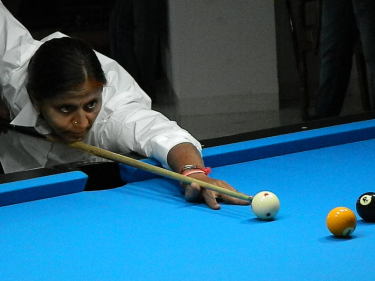 Can you imagine that one can realize their dreams of becoming a sports person at 47? Umadevi did, and this is her inspiring story of transformation from a shy and financially weak typist to a Billiards world champion.
They say that you should start preparing for competitions at an early age to emerge as a winner in this competitive world. We say there is no age limit for talent and passion.
Lucky are those who are well aware of their talent and passion since the very start. But what about those who realize it after 47 years of their lives? Well, its never too late! Umadevi is one such person and this is her story of transformation from a regular shy and financially weak typist to a Billiards world champion in 2012.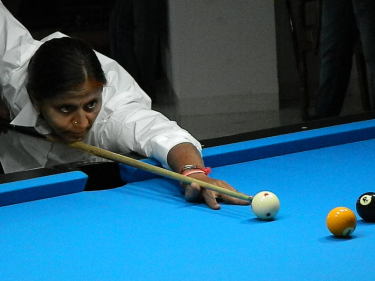 After completing her SSLC and training in typewriting, Umadevi started working as a typist for the horticulture department in 1989 at Lalbagh in Bangalore.
She enjoyed playing Table Tennis and would often visit Karnataka Government Secretariat (KGS) Club to play. In 1995, its then secretary Krishna Kumar took her to the billiards room and thrust a cue in her hands. There was no looking back since then. She started to play the game out of curiosity but got hooked to it as she played more and soon realized that she was destined to play billiards.
She started practicing after office hours, and her dedication and hard work got her to the number three position on the state snooker ranking. This was a great boost to her morale and gave wings to her already flying dreams.
The state ranking got her membership of the Karnataka State Billiards Association (KSBA). Understanding her passion for the game, the horticulture department transferred Umadevi to Cubbon Park, where she could further her sports interests.
Being a shy girl, she could not communicate properly with people which led her to becoming the butt of many jokes, but she didn't let this come in her way and decided to gain everyone's respect through a good game.
Arjuna awardee cueist Aravind Savur became her mentor at the KGS Club. Later she was trained by Jairaj, former coach of the national billiards team. Her husband, B G Nagaraj and her father-in-law, an ex-footballer, strongly supported her career as a sportsperson.
She won her first national championship in Ahmedabad (2002) and started getting a lot of opportunities to play abroad, but she could not afford it due to financial restrictions.
She would go and practice the game everyday, come back and immerse herself in daily household chores with her mind elsewhere. When her husband noticed this, he did a few financial "adjustments" and arranged for some money for her trip. "I went only because he urged me to," she says. (Source)
"It hurts to think I was not given any publicity even after winning the Nationals twice. It seemed I was an orphan and nobody knew what I was doing. Some people even suggested that I should photocopy the published news reports and photographs and distribute them myself," Umadevi says.
(Source)
She finished third in 2011 World championship and claimed her maiden World Ladies Billiards & Snooker Association title in 2012. She also received Arjuna award in 2009 for her contribution to Billiards.
It's the result of some hard work and dedication and I will continue to put in the sincere and serious effort, day in a day out.
(Source)
Today, women are getting recognition in every field of life including their corporate jobs, dance, music, cinema, etc. Choosing sports as a career just requires extra effort and dedication. Umadevi sets an example for many such women who want to pursue their dreams of becoming a sports star but are hesitant due to their family responsibilities and age. A lesson we have learnt from Umadevi is that it's never too late to chase your dreams. I hope you've learnt it too!
About the Author:
Born with a hobby to travel, talk, express and write, Shreya gets to do all of that and is even paid for it! Interested in rural development and social issues, she dreams of actually bringing a change in society and writing a book of her own one day. When she is not preaching others about a better India she is busy watching movies and playing video games. Follow her on twitter:
@shreya08