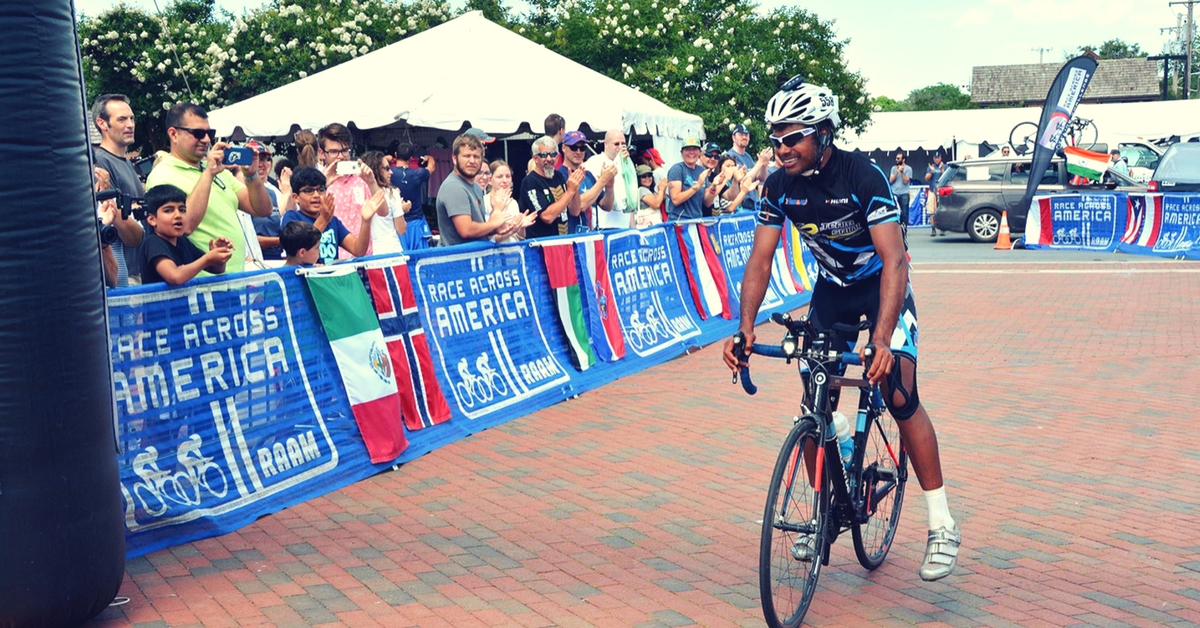 Out of the 44 racers who qualified, only nine men reached the finish line. With an average speed of 10.86 miles an hour, Srinivas made it to the seventh spot.
Eleven days, 18 hours and 45 minutes, that's what it took this one man to race across the finish line and make history as the first Indian to complete the world's most difficult cycle race!
Lt. Col Srinivas Gokulnath cycled 3,000 miles (4,900 km), across 12 states, and climbed 1,70,000 vertical feet, to become the first Indian to complete Race Across America (RAAM) 2017.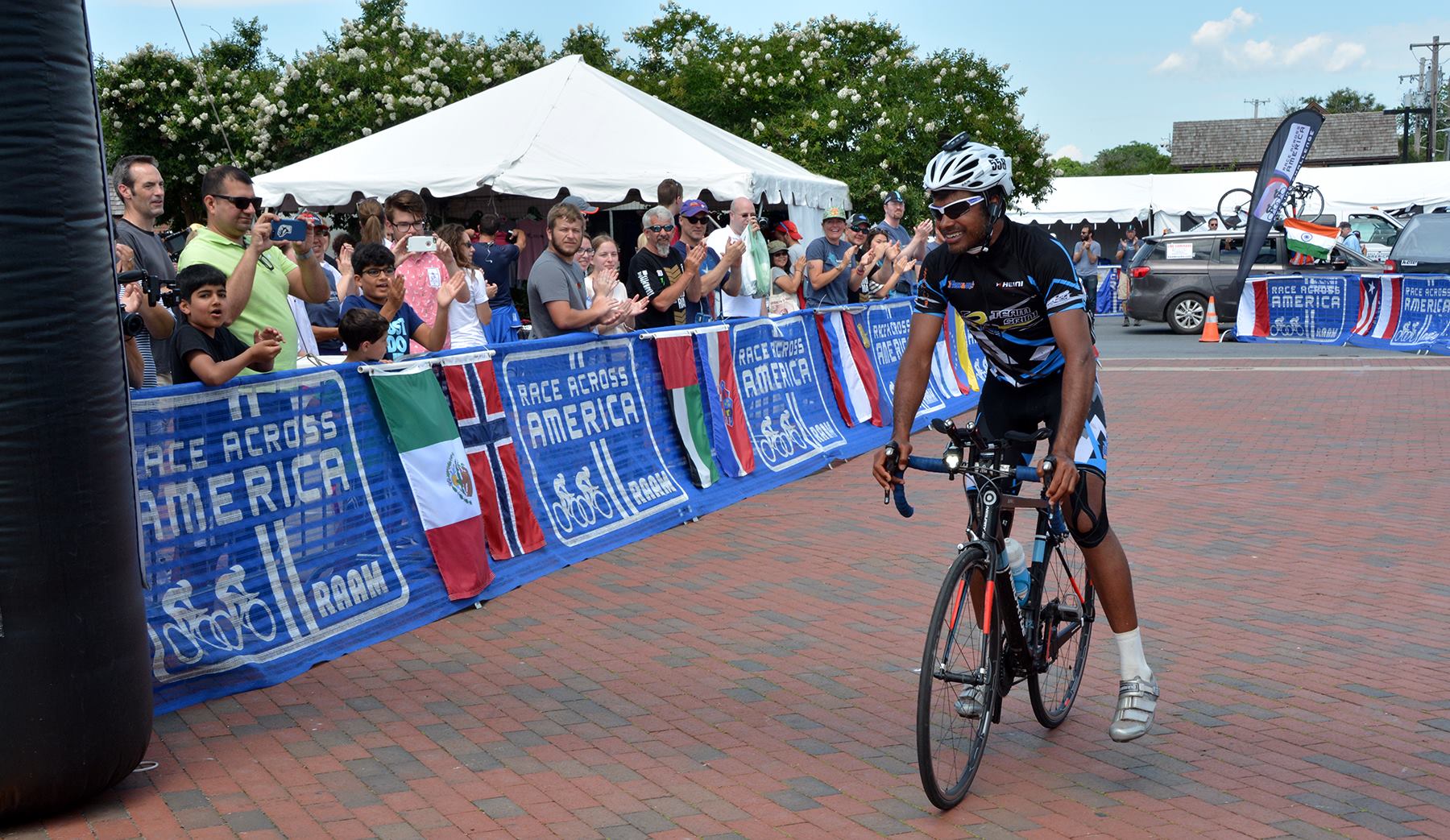 Out of the 44 racers who qualified, only nine men reached the finish line. With an average speed of 10.86 miles an hour, Srinivas made it to the seventh spot.
What is RAAM?
Race Across America (RAAM) is called a pinnacle of athletic achievement not only in cycling circles but also the greater sporting community.
Its history traces back to 1982 when four individuals raced from the Santa Monica Pier in Los Angeles to the Empire State Building in New York City. Covered by national television, it captivated the public's imagination.
The winner of the 2017 race was Christoph Stasser, who won his fourth RAAM, in eight days, nine hours, 34 minutes.
Why is it so difficult?
Unlike the three great European Grand Tours, Tour de France, Vuelta a Espana & Giro de Italia, RAAM is not a stage race.
It is one continuous race, where once the clock starts, it does not stop until the finish line. It is about 30% longer than the Tour de France, and racers must complete the distance in roughly half the time, with no rest days!
While team racers have a maximum of nine days, solo racers have a maximum of 12 days to complete the race and ride at least 250-350 miles a day.
Srinivas Gokulnath's journey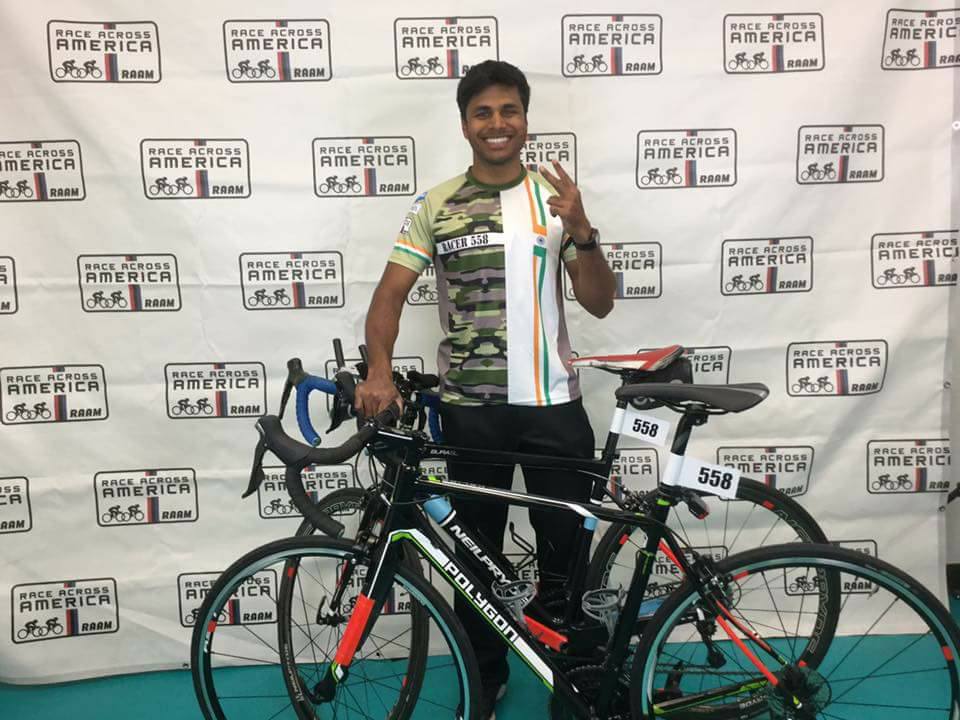 Srinivas Gokulnath, a doctor by profession, is an aerospace medicine specialist working with the Army in Nashik.
The entire idea of participating in RAAM for him, was self-exploration through pushing his limits.
"I have been an ultracyclist since 2009. The distance is what has kept me going. When I would complete 150 km, I thought to myself, why not 200 km… why not 300 km? I wanted to challenge myself to do things I had never done before."
From temperate regions on the Pacific Coast to the furnace-like Mojave Desert, the racers pass through arid Arizona, struggle through cold mountain passes in Colorado and windy plains in central America. The Appalachian Mountains test the riders before they reach the Atlantic coast on the east, marking an end to their journey.
"It is not only the distance and time, but the terrain, which is unforgiving. The extremes of weather that you encounter during the race only adds to the difficulty. Navigation poses as a great challenge," says
---
Read more: Kavita Devi Is Making History as the First Indian Woman Wrestler in WWE
---
Challenges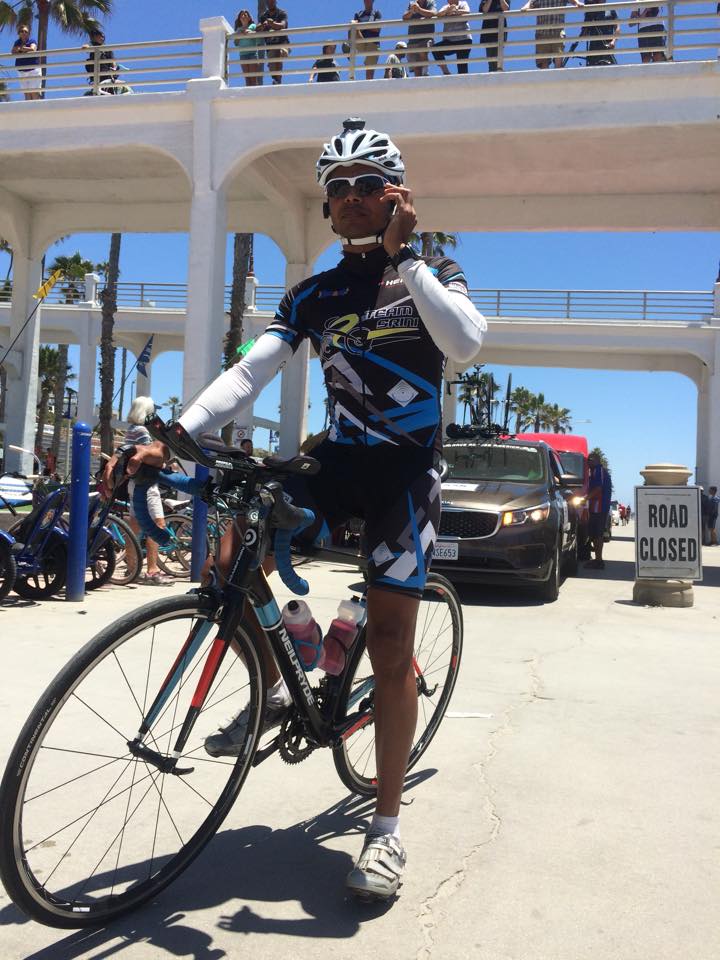 Once a racer is qualified, he/she has to undergo gruelling training for several months, do simulated multi-day rides with a specially collected crew, and also arrange the finances that run up to over Rs 20 lakh.
"This race begins when you actually sign up for the race," says Srinivas. "You have to prepare for at least 15-16 months. In my case, it was almost 2 years. It requires a great deal of logistics, strategies and training. To attempt a brutal race where you pedal almost upto 430-440 km a day is very demanding. I used to train for almost 6 hours a day while managing my day job and family simultaneously.
Whether team or solo, a racer has to be equipped with a support crew that follows him and handles all logistics like food, fluids, navigation, clothing changes, medical needs, bike repairs etc.
Working on his finances wasn't easy for Srinivas who is a self-funded athlete. From the time he registered, he kept working, using his savings and taking loans.
"The crew supported me at the cost of their own comfort. I had to raise enough funds to fly them to America, arrange their accommodation. I optimised my resources. The journey has been challenging. But only when you start accepting your challenges, does everything fall in line." says Srinivas.
It took Srinivas 10 months to get his crew together. He worked methodically with his coach, Alberto Blanco, from the US who finished the race as 'the best rookie' in 2011. Chris O'Keefe, a 52-year-old who has attempted the race before, came on board as the crew chief.
Second Attempt
RAAM 2017, was Srinivas' second attempt at the race. In 2016, he pedaled 2,450 miles in 10 days, 20 hours but couldn't make it to the finish line.
"When I did not finish, I was a very disappointed and shattered. But I did not allow that failure to affect my 2017 performance. In fact, it set me on a positive track. On 25th June 2016 (the day of his first attempt), I promised myself, I will do it in 2017."
In the face of difficulty there's always a sceptic. But even among many of those, Srinivas' greatest pillars of support were his family, especially his wife, Prafulla. "She had a very strong conviction that I had to register for the race in 2017. In India, people consider failure a big sin. But I reiterated one thing in my mind, 'Success is never final and failure is never fatal.' You have to have the will to be persistent, to be in the game."
Srinivas was only focussed on getting his unfinished business done.
---
You may also like: Everest Too High? Not for Anshu Jamsenpa, the First Indian Woman to Scale It Twice in 5 Days!
---
Learnings
Reflecting on his past attempts' learnings, he says,"The last time I was in the race, I lacked a sharp purpose, strong strategy and a well–knit team. Besides, I was struggling for funds. This proved to be a learning curve for me this time around. Last year, my focus was only on making it to the start line. This year, I had a sharp focus only on the finish line."
"I put all my energy in making it to the finish line. There was not a single day in the last 10 months when I went to bed, without thinking or doing something about Race across America. 95% of my mind was occupied with the race and the rest of it with managing my job and family," he adds.
One of the major challenges when you hit the terrain is to be focussed in the present according to Srinivas. "Because exhaustion has the power to break you down completely, you need to gather strength and focus on what you are doing in that moment," says Srinivas.
Road ahead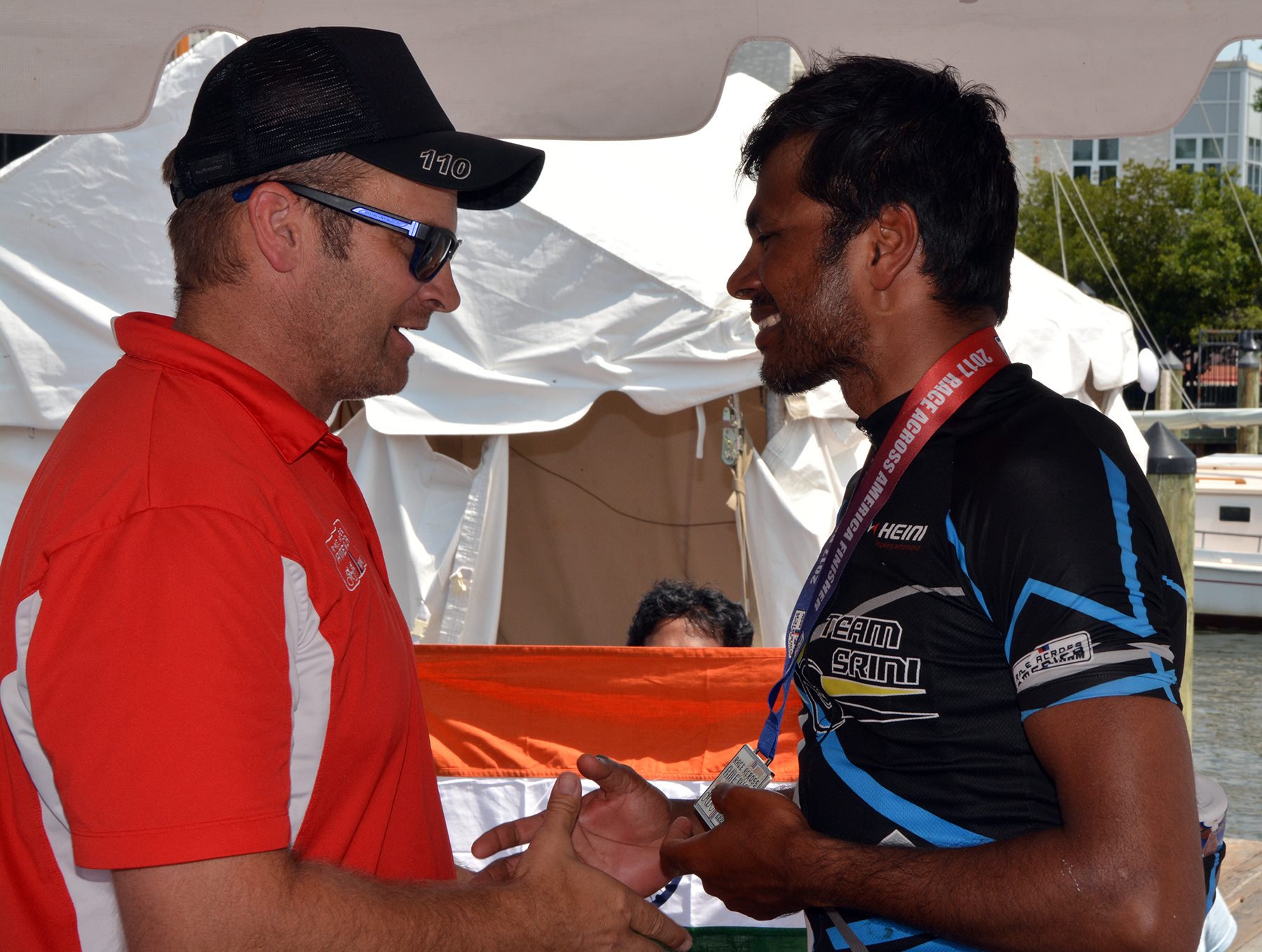 Photo Source: Facebook
He is currently looking for sustainable support for his future races. "From 2009 to 2017, I have undertaken many races. Each time I have been burnt my own finances, and it is difficult to recover from them. Without recovery from these loans and debts, I can't think of other races," says Srinivas.
Final message
His most important objective is to spread the word: If a self funded athlete like him, with a day job, family and financial restraints can dream and work towards his goal successfully, anybody can!
"We create our own barriers. I want to set an example for ultra-cyclists, who want to think big but limit themselves due to sponsorship and financial restraints. There are a million ways of not doing something, but there will be only one way of doing what you really want to do. You just have to have a strong desire to make it happen. Everything else is manageable. If I can do it, everybody else can!" he says.
In a message to aspiring ultra-cyclists he says, "The race is not by numbers but emotional connect. Train methodically, have a strong desire and work towards it. Accept your challenges and you will reach the finish line."
While any kind of support by private owners or the government will help athletes go a long way, acknowledging their feat and achievements is equally important, according to Srinivas.
Another Indian, Dr Amit Samarth from Nagpur, followed Srinivas to the finish line at the eighth position, completing the race in his maiden attempt.
Connect to Srinivas Gokulnath here.
Like this story? Or have something to share?
Write to us: contact@thebetterindia.com
Connect with us on Facebook and Twitter.
NEW: Click here to get positive news on WhatsApp!
We bring stories straight from the heart of India, to inspire millions and create a wave of impact. Our positive movement is growing bigger everyday, and we would love for you to join it.
Please contribute whatever you can, every little penny helps our team in bringing you more stories that support dreams and spread hope.