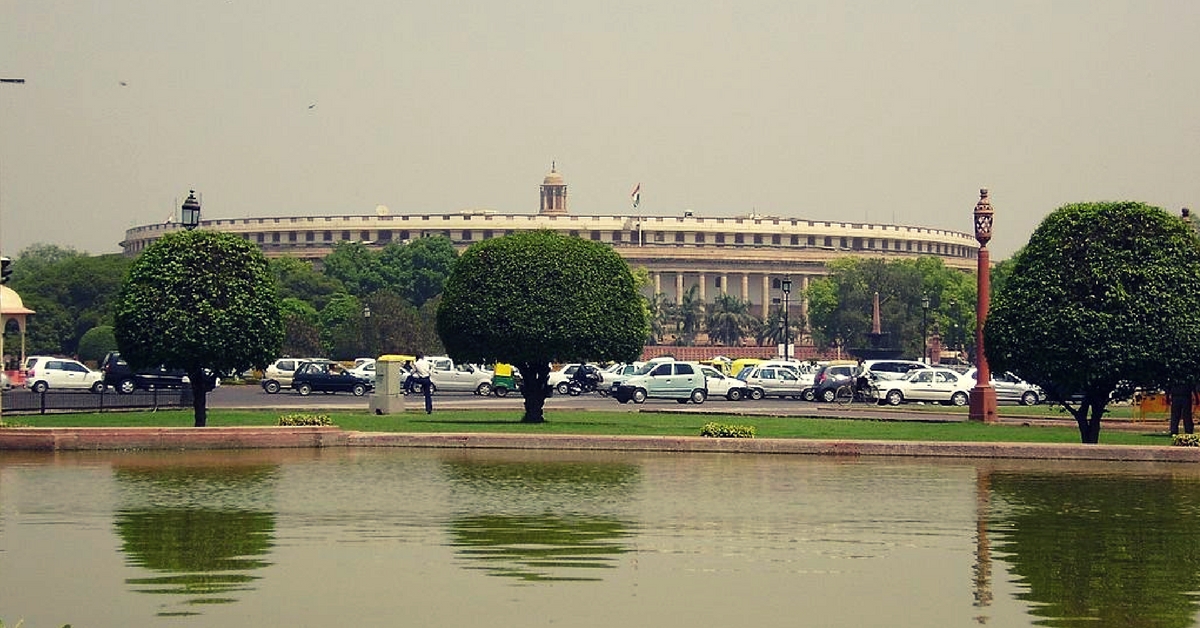 Essentially, Private Members are members of a legislature who are not ministers in the government.
Politics is not supposed to be a private affair. In modern India, we increasingly look to parties, courts and commissions to see the changes we hope for. In such bodies, opposing views are pitted against each other and reconciled. These are methods we should continue placing our faith in. But there are some things that institutions are not as good at. A little hierarchy here,some lazy populism there, and an institution can easily become the birthplace of apathy and the deathbed of initiative. What can a single individual do about it?
The Parliament of India and Private Members' Bills
As the supreme legislative body of the country, the Parliament of India may appear to have no room for the whims and fancies of a lone ranger. The views of 1.3 billion people have to be represented. But the problem with clubbing 1.3 billion views is that many specific but pressing needs can get sidelined. This is just the place for the personal initiative of a Member of Parliament. Such initiative is visible less in the votes cast for or against laws (which are mostly decided along party lines) and more in questions, debates and Private Members' Bills. Of the last of these activities, no one harbours much hope. And yet few things could be more hopeful in nature.
Essentially, Private Members are members of a legislature who are not ministers in the government.
These include not just members of the opposition but also government "back-benchers" (MPs from the ruling party or alliance who are not appointed in the government). Private Members' Bills are special. Since most bills are introduced by the minister responsible for and aware of the subject matter of a proposed law, it's easy to think that government initiative in law-making is how things are supposed to be.We associate law-making with the will of the majority represented by the government in power. However, a Private Member, who directly represents the views of her constituency, can also draft a Bill and get it introduced in Parliament.
Looking Back
The Monsoon Session this year begins from today and there's a lot we can understand about what to expect from Private Members by looking back at their previous efforts. In recent years, Private Members' Bills have been in discussion for the variety of causes they espouse: Shashi Tharoor's two attempts at amending Section 377 of the IPC, Poonam Mahajan's animal cruelty amendments, KVP Ramachandra Rao's demand for special status to Andhra Pradesh, Saugata Roy's call for special financial assistance to West Bengal, Varun Gandhi and Janardhan Singh's suggestion on compulsory voting, and Jay Panda's proposals on the treatment of terminally ill patients are only some of these. There has been increased attention given to Private Member initiatives in the last few years including in the session gone by. In April 2015, Tiruchi Siva's The Rights of Transgender Persons Bill, 2014 became the first Private Member's Bill to be passed by the Rajya Sabha in 45 years. It was introduced in the Lok Sabha in February 2016. Whatever its shortcomings, the obstinacy with which MP Siva pursued the matter surely catalysed the Social Justice and Empowerment Ministry's own draft: The Transgender Persons (Protection of Rights) Bill, 2016. Significantly, it is hardly clear as to which is the better draft law. Even more significant, however, are the statistics regarding Private Members' Bills generally. Only 14 have ever been passed by Parliament. Of the 328 such Bills introduced in the 14th Lok Sabha (2004-2009), only 14 were even discussed. Of the 343 introduced in the 13th Lok Sabha (1999-2004), only 17 were discussed.
---
You might also like: Father Figures: Understanding the Laws for Single Men Looking to Adopt a Child
---
Looking Out
Distinctions between Government and Private Members' Bills don't even come up in presidential systems like in the US: the executive is separated from the legislature completely and legislation can be initiated by any member. There are also countries that permit "popular initiatives" or "ballot measures" through which ordinary citizens can petition for a referendum on a proposed law or even just petition the legislature to take up an issue. Such petitioners usually need to show some level of support by collecting a minimum number of signatures. Thus, today, an initiative on paternity leave is in progress in Switzerland while measures on education funding and campaign spending are in the works in Utah and Wyoming respectively.
For those who see legal reform as a necessary part of development, a casual glance reveals the colour, range and value that such measures add to political activity.
The results of such initiatives allow us to better understand prevailing sentiments, whether of the public or of the political class. If democracy is a system of signalling at all, such methods create more precise and more regular signals.
Ends and Means
On our part, in India, these systems lead us to rethink how parliamentary time is spent and how legislative agenda can be set. There are two types of laws that Private Members can aim to introduce that the Government would not be as good at. First, there are significant areas of regulation that fall through the cracks because the public, the news media and the government are not concerned about them. Private Members can act to draw public attention to such issues. The mere act of tabling a bill in Parliament can attract media attention and create awareness about issues not previously in the limelight. Second, there are certain initiatives that may be of substantial public interest but are not in the government's interest or are contrary to government stance. Consider the traditional bonhomie between politicians and would-be whistleblowers. Private Members are the natural source of initiative for these.
But it isn't easy being a Private Member's Bill. Though it is a creature of hope, it must pass several hurdles before seeing the light of day.
Two and a half hours on every alternate Friday are set aside for such Bills. First, it must be introduced in the Rajya Sabha or Lok Sabha. By convention, the motion for introduction of a Bill is not opposed, but there are several instances where even the mere introduction of a Private Member's Bill has been prevented. Shashi Tharoor's amendments to Section 377 are great examples of this: 71 out of 96 voted against introduction the first time and 58 out of 73 voted it out the second time. Though we were robbed of the chance to hear explicit bigotry in Parliament, this information is also immeasurably significant. It is a good metric to understand political stances on civil rights issues and for those engaged in advocacy for LGBT rights, it is an excellent (though sobering) indication of the distances that must be travelled before recognition can be achieved. It most certainly is not a waste of time.
If the Bill passes the formidable hurdles of introduction, it must be categorised by the Committee on Private Members' Bills and Resolutions according to its nature, urgency and importance. The priority of the Bills within these categories is determined by ballot. If there are twenty or more Bills in 'Category A', then 'Category B' doesn't even have a ballot. If one gets a high place in the ballot, then the Bill can be taken up for consideration, circulated for opinions, or referred to a committee. The government may offer an alternative or block the Bill after debate. With the slim chances of it actually becoming a law, it should be clear what these things are really good for.
---
You might also like: What Is Tele-Law? New Scheme Will Provide Free Legal Assistance to Rural India
---
Where to Find It
The bulletin is already up for the Private Members' Bills to be introduced this Friday and there's a host of pressing issues on display: Swiss challenge procurements, honour killings, food security, water scarcity and more.
Many are wary, today, of democratic choices that they do not agree with. The pessimism must not spill over onto democracy itself. As equal custodians of our nation's future, we should only be driven towards better forms of democratic action that can urge closer attention, inform more citizens, and make more specific demands (with or without an election around the corner). A Private Member and a voter from her constituency may only be individuals but the link between them is worth keeping alive.With a little research and some persuasion, even a single person can get in touch with their MP to convince them to table a Bill. Imagine if these single persons were to be approaching their respective MPs all over India, tracking the progress of their Bills and talking about them. Imagine the distances our laws have to travel and the roles we could play in the journey. Imagine fresh flowers on the fields of Indian democracy. And, to water them all, a shower of Private Members' Bills this monsoon!
If you have thoughts on changes necessary to improve India's legal and policy landscape, do get in touch on email.
Like this story? Or have something to share?
Write to us: contact@thebetterindia.com
Connect with us on Facebook and Twitter.
NEW: Click here to get positive news on WhatsApp!
We bring stories straight from the heart of India, to inspire millions and create a wave of impact. Our positive movement is growing bigger everyday, and we would love for you to join it.
Please contribute whatever you can, every little penny helps our team in bringing you more stories that support dreams and spread hope.