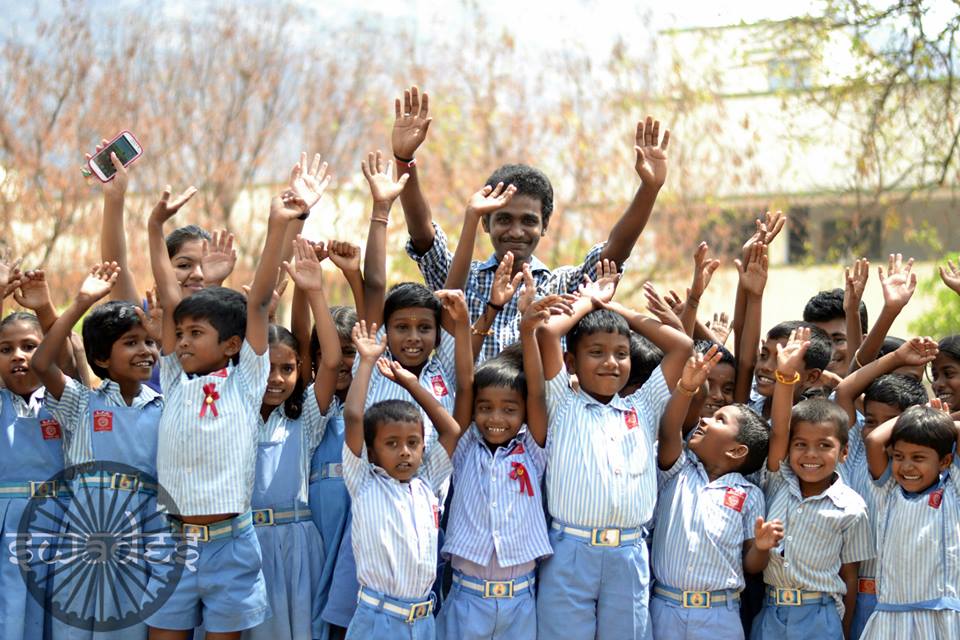 How a group of Engineering students from Vellore Institute of Technology have come together (despite their hectic academic schedules) to start helping the communities around them in small baby steps - conducting medical camps in schools, teaching children about dental health, teaching parents about sanitation, etc.
"Never doubt that a small group of thoughtful, committed people can change the world. Indeed, it is the only thing that ever has." – Margaret Mead
When I first heard of Swades, the words of Margaret Mead didn't come to me right away. That's because the cynical side of me (having been a journalist for nearly 15 years) was wondering what a group of college students could REALLY achieve in a world where inequity and inequality are rampant; where organisations crumble because at the core of their commitment to do good also lies the inability to understand what a huge commitment it really is.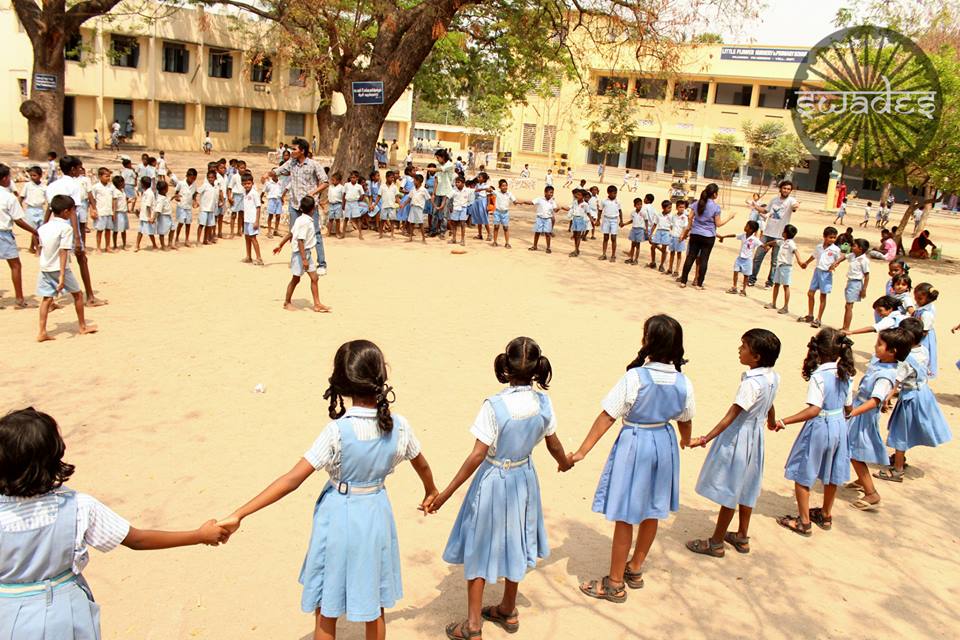 So I did the next best thing. I joined their Facebook page and watched.
Although it has only been a few months, what I have seen and heard has raised a new hope in me. As a journalist, a mother and a citizen of this Nation I have always known that the real change in our society will come when our children learn the importance of contributing to the communities around them.
And Swades has set out to do just that!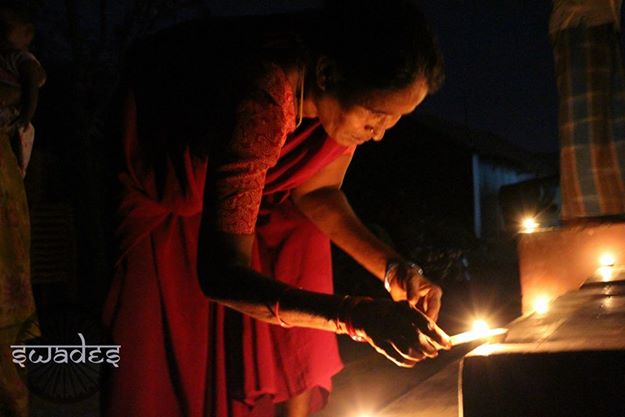 Swades, a registered NGO comprises a group of student volunteers from the Vellore Institute of Technology (VIT) based in Vellore town, Tamil Nadu. Students from all over the country flock to this premier institute and Shubham Mittal was one of them.
Brought up in a family where contributing skills for the betterment of neighbouring communities was practised with aplomb (his great grandmother is 89 and still practises Ayurveda to help the ailing in her neighbourhood in Delhi), Shubham knew that he wanted to do something to "improve the lives of those around me".
"I wanted to contribute two hours of my day for a good cause..just two hours" says he. By this time (January 2014) he was also nearing the end of the fourth year of his B. Tech and was also pondering over his future – job, career etc. "A career in civil services was also playing on my mind when I realised that working for others would also be a kind of civil service," he reminisces.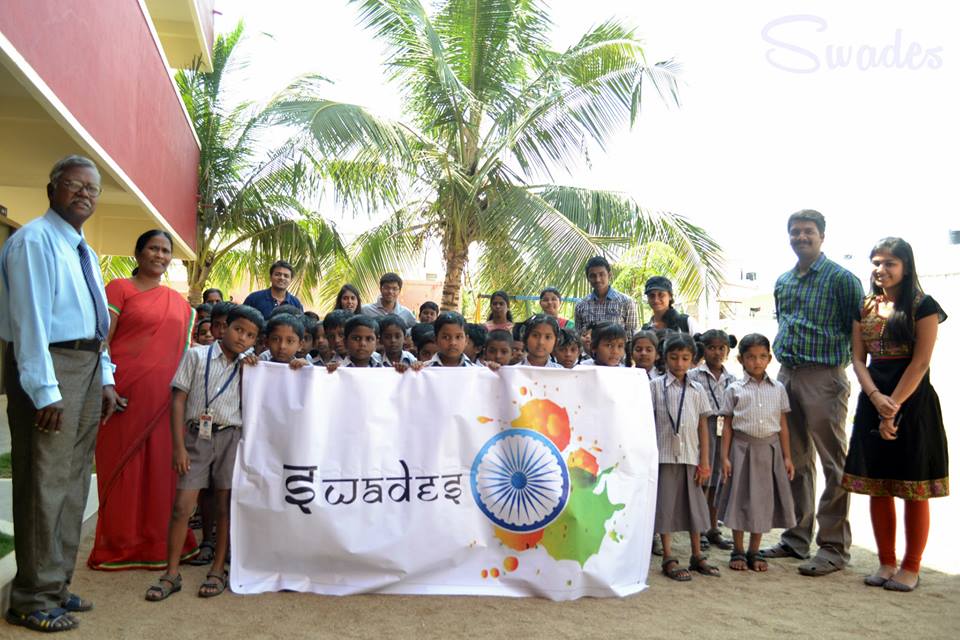 Soon he was convinced that he needed to do something for the town that welcomed the students of VIT and took them into their fold without resentment. Over cups of tea, he spoke to his peers and juniors who took his idea of 'working for others' with positivity and optimism.
A survey of the town was conducted to understand the needs of the hour, and by the time February had arrived, this group of students organised a dental camp at WHEEL Orphanage and Trinity School, Vellore where 250 children were examined and 120 found to need further treatment. Anchal Arora, core member of Swades, who at 21 is getting an "invaluable experience" says, "We are working on raising funds to have a treatment camp for the 120 children who need it."
Since then this small but growing group of Swades members have created two major projects –Arogya and Kadam – and commenced Make A Wish initiative to help those in need.
Arogya is a project that focuses on Health, Sanitation and Hygiene. Says Shubham, "If we just look around us, squatting is still so common in rural areas and some urban areas too. This is not the India we want!"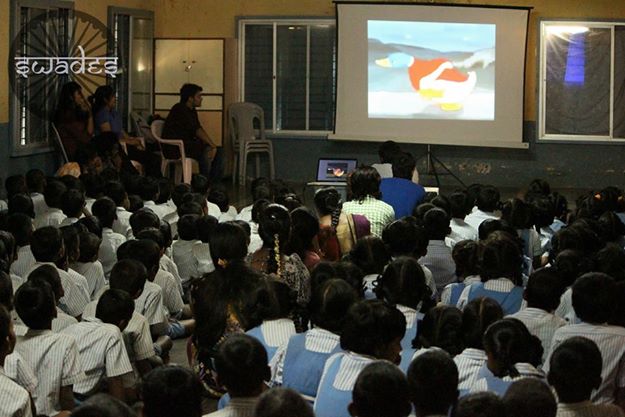 Under this project, the first free dental camp was organised at the school and in March they conducted a complete health camp at the Tamil Association of the Blind. Swades has adopted the association and will continue to focus its efforts on improving the lives of these blind men and women, some of whom have spent their entire lives in isolation and deprivation.
In an effort to initiate the process of sustainability, the students also conducted a training session on healthy lifestyle and good habits (such as daily, twice brushing, washing mouth after a meal etc.) with the students of Little Flower School, Pallikonda, Tamil Nadu.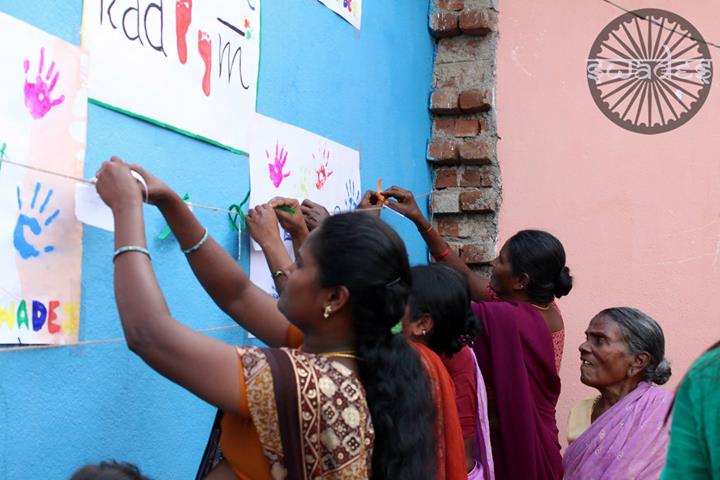 With Project Kadam, Swades ventured into the women empowerment issue. The project was launched on International Women's Day (8th March, 2014) in Pallikonda Village, Vellore, Tamil Nadu, where the women of the village were invited to gather. The purpose of the meeting was to initiate a dialogue to get the women residents to discuss the issues they face. It was heartening to see that not only women, but the men also came forward to express their concerns.Later they were encouraged to write down their desires and wishes, regardless of whether the wishes were related to them, their families or the village as a whole. With this, the Make A Wish initiative was also launched on the same day. As the name suggests, it encourages people to write down their wishes just like the residents of Pallikonda did. It will be Swades' endeavour to fulfill the wishes of the lesser fortunate and at the same time allow those who 'wish' to help others achieve their dream as well.
How Swades Works
Swades collaborates with local agencies in villages and schools to address the issues of the area. They connect volunteers to causes and help improve the lives of those in the community. Swades is also very clear that long term hand-holding of a community is an impossible task and an unachievable goal. Instead, they believe in empowering – through training and education, and want to create sustainable models of development in communities.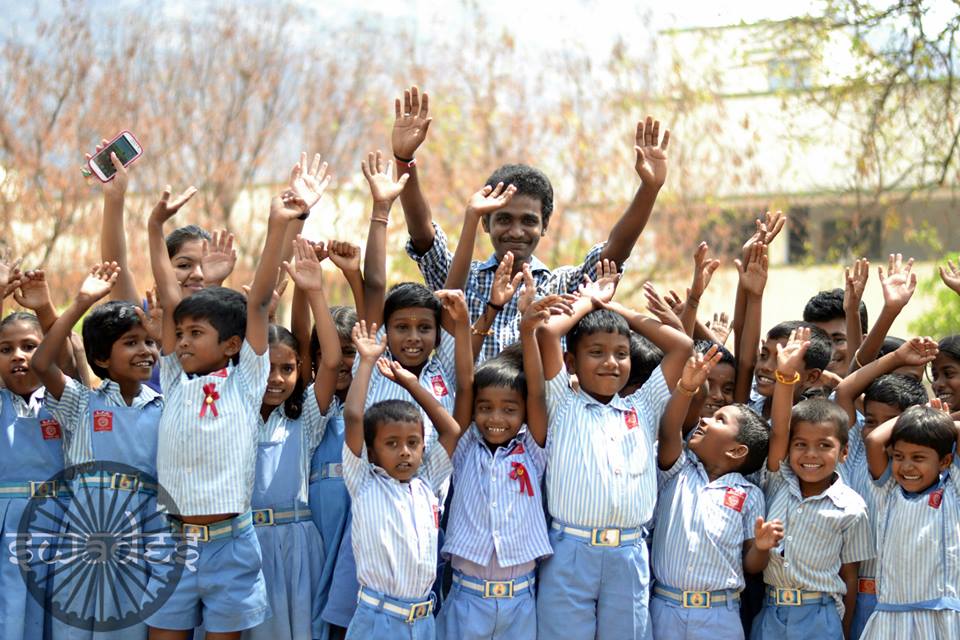 Swades is an initiative based NGO and believes that with the right push and the right aid, sustainability will allow the nation's industrious majority to forge ahead on the path of a better life, and hence lead to their social, cultural, and personal development.
Swades has a core team of VIT students and a growing base of volunteers and paid members. "The reason why we had to formalise a structure and register an organisation is because we realised that no one was taking us seriously otherwise," observes Shivani Agarwal, a third year student at VIT who is a core team member and was by her own admission, waiting for such an opportunity to come along.
To make volunteering a habit and to make it a process that is not viewed as burdensome, the Swades group called for volunteering for just one hour a day. Says Shubham, "One hour a day by twenty people is twenty volunteer hours. A lot can be done in 20 hours!"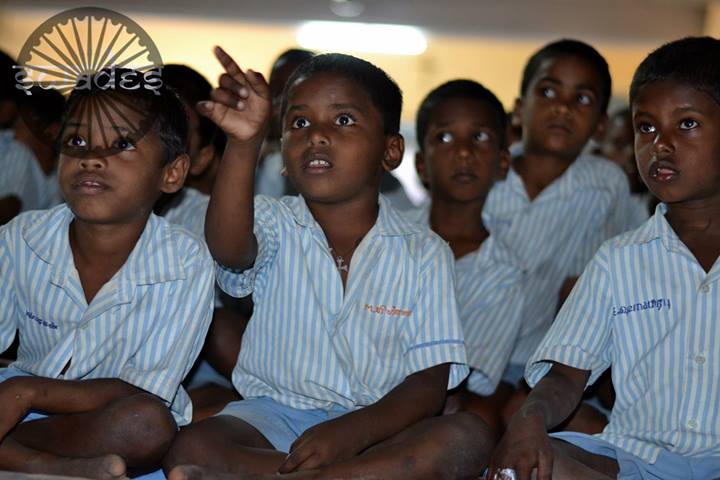 The Long Road Ahead
Good initiatives also have the tendency to fizzle out when the stakeholders run out of steam, when careers take precedence or when the burden of their own lives becomes overpowering.
For Shubham, this was an issue that needed addressing because he didn't want Swades to be a short-term endeavour or end up becoming a shot in the dark. To maintain a certain degree of sustainability as an organisation that will continue to uphold its ideals, Swades expects that the students who join as members will take their experience of grassroot volunteering (including initiating, organising and executing a project successfully from start to finish) to parts of the country where their jobs will eventually take them, where communities in need will be given the help they need. "The motive of Swades should always be foremost on your mind," he emphasises.
According to him, the structure of the organisation has been planned in a way that succession from seniors to juniors will be a seamless process so that the good work never halts or takes a break. The students from all parts of India who join VIT will be exposed to the merits of volunteering with them.
While the goals of the organisation are lofty, it is also clear that the commitment and focus of these students, despite the pressure of academics on them, is not out of place. There is clarity in their thoughts and a determination in their balancing act.
Niharika Dharmani, daughter of a politician in Himachal Pradesh and a student of VIT sums it well when she says, "Swades has given us something worthwhile to do. We manage time well now and don't waste our leisure hours roaming around with friends."
And for bringing that kind of focus into the lives of a generation that is self-obsessed and selfie-obsessed I applaud Swades. More power to them!
Do follow their work or reach out to them on their Facebook page: https://www.facebook.com/swadesngo
About the Author: Ritu is a journalist who has worked nearly all her career of about 15 years as a freelancer. She currently lives in Pune and is an avid travel blogger too. Most of all, she enjoys playing the role of mum to two kiddos and a dog!
Tell Us More
We bring stories straight from the heart of India, to inspire millions and create a wave of impact. Our positive movement is growing bigger everyday, and we would love for you to join it.
Please contribute whatever you can, every little penny helps our team in bringing you more stories that support dreams and spread hope.