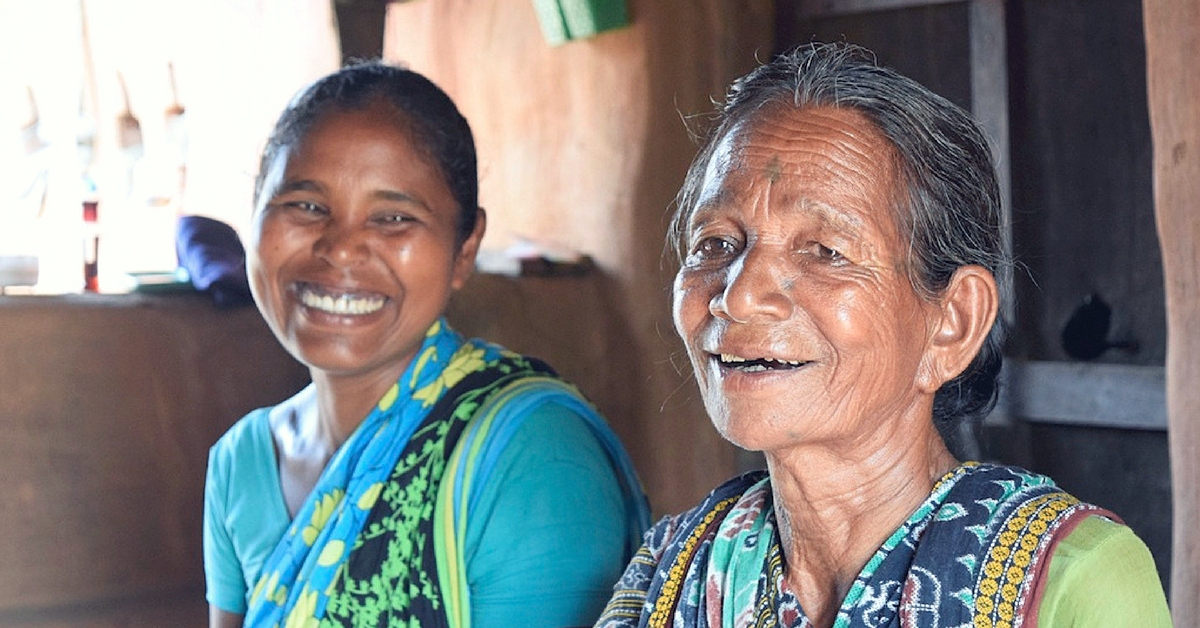 Tribal communities in Sundargarh district of Odisha have revived the traditional practice of growing food without the help of chemical fertilisers and made it viable economically by making pragmatic changes. Basudev Mahapatra takes a closer look.
Nirmala Barla (40), a passionate farmer of Sundargarh district's Brahmanamara village, is a proud woman because she feeds her family with a variety of safely grown food, and not just cereals grown by using lots of chemical fertilisers that are available in the market. In her 14 acres of land, both upland and relatively plain, she grows rice, millet and vegetables without using any inorganic fertilisers. After meeting consumption needs of the family, she is also able to earn a bit by selling the surplus farm produce.
Though keeping account of income and expenditure has never been the practice in her community, she has recently bought a power tiller and managed to meet all expenses of her elder daughter's marriage without seeking a loan. Her present family of six members, after the marriage of a daughter, makes a good living out of organic farming alone.
Nirmala is not alone in Brahmanamara. All other residents in the village are into organic farming and the soil covering nearly 100 acres of farmland around the village has never been fed with any fertiliser that is inorganic. "We use our own seeds and grow them without applying any fertiliser available in the market. We don't even use inorganic pesticides to save our crop," Jagannath Kaudi, a farmer, told VillageSquare.in.
Jagannath and his wife Mahargi had a bumper oil-rich white mustard crop last season. They have harvested 85 kilograms of the crop from 20 decimals of land by adopting the System of Rice Intensification (SRI) method for mustard cultivation. During implementation, they maintained a 2feet gap between plants while planting saplings of 20 days.
---
You might also be interested in: How One Tribal Village in Maharashtra Ensures Water Availability Throughout the Summer
---
Multi-cropping
Explaining how such production is possible, Jagannath says, "We planted onion saplings between the plants. Because we face water scarcity during summer, we used the method of mulching in case of onions. The moisture stored in the mulch also supported other plants in the farm. Apart from this, we planted maize in the farm to make opportunities for predatory birds who can feed on pests and insects that could damage the main crop of mustard."
With more than 2,000 farmers from 30 villages engaged and 3,000 acres of land covered, organic farming has now become the popular and viable agricultural practice in Balisankara and Sadar blocks of Sundargarh district.
Big change
Although organic farming is the tradition in parts of this region, economic viability has increased in the past few years, after some modifications in practice. "Earlier, we used to add cow dung compost to the soil and sow the seeds in the fields," 35-year-old woman farmer Soharmati Topno told VillageSquare.in. "The production was very low. In some years, it was not even sufficient for our own consumption."
The local residents have knowledge of the best practices, which includes soil as well as climatic conditions. They only need to bring in some modifications to it for better production as well as viability, says Nata Kishore Mishra, chief functionary of Centre for Integrated Rural and Tribal Development (CIRTD), a local non-profit working to popularize organic farming and promoting indigenous seed banks by farmers.
"The role of CIRTD has been to popularise organic farming in the region by converting it into a viable economic activity," Mishra told VillageSquare.in. "Realising that the production has to increase to fetch the farmers more benefit, we have connected the farmers with experts like Subhash Palekar, the agriculture scientist famous for his idea of zero-budget natural farming."
Zero-budget natural farming
Stressing upon his argument that all things required for the growth of the plants are available around the root zone of the plants, Palekar insists that there is no need to add anything from outside in the model of zero-budget natural farming because it means producing crops at zero or near-zero cost.
Palekar has visited the place and offered training to farmers on production of organic fertilisers named Jeevamruta (both in solid and liquid forms) using cow dung, cow urine, jaggery and besan (lentil powder) and organic pesticides using neem (Azadirachta indica) leaves, karanja (Pongamia pinnata) leaves, calotropis leaves and garlic in different compositions.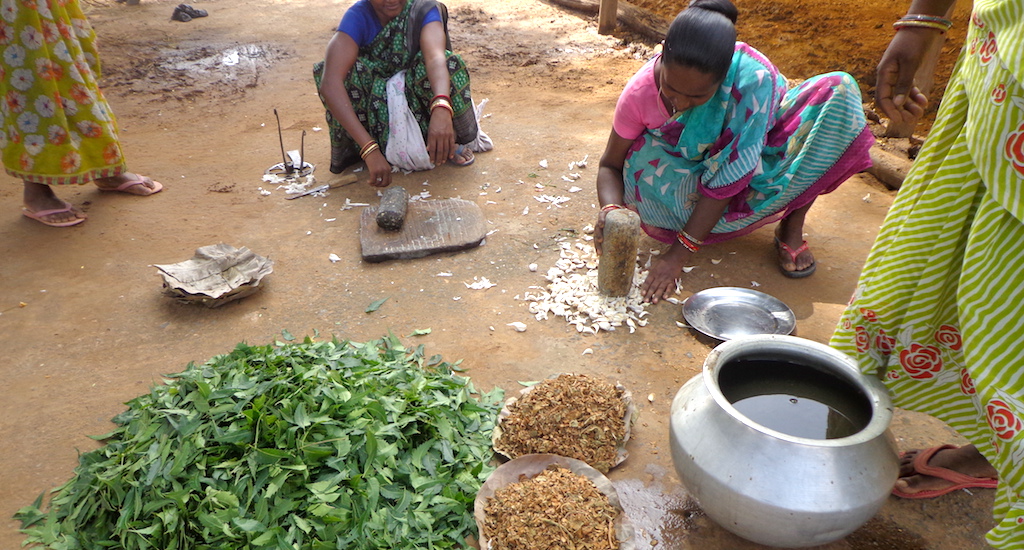 The farmers, mostly from the Munda and Oram tribal communities, further modified the composition of organic fertilisers and pesticides by using molasses rich mahua instead of jaggery as the former is available in plenty in their vicinity and in the nearby forest.
"As mono-cropping was the traditional practice, we suggested the farmers go for multi-cropping and adopt the SRI method in cultivation of millets and other crops like mustard," says Ashok Das, who coordinates with the farmers on behalf of CIRTD.
Success from modifications
Such modifications, added with application of organic fertilisers, have done wonders for these tribal woman farmers. "Earlier, I used to get only one quintal of ragi (finger millet) from the two acre land near my house. This year, with application of SRI method and organic fertilizer, my harvest has gone up to 12 quintals. To talk about expenditures, we gave our labour and spent less than Rs 200 on fertiliser," says a happy and contented Nirmala. "Apart from ragi, we also grew several vegetables in the same field."
---
You might also be interested in: Over 1,300 Villages in Maharashtra Are Using Water-Harvesting to Overcome Drought
---
The best part of the story is that the women folk prefer to grow food crops against cash crops because meeting food and nutritional requirements of their respective families is their priority.
Such stories are spread across the region. Anita Lakra (30) of Gidhpahadi village got 1130 kg of rice from her one acre of medium land by implementing the SRI method. In another one acre, she grew pulses like black gram and vegetables like tomato, brinjal and cowpea.
"With the modifications in place, even my small piece of agricultural land is sufficient to earn adequate livelihood for my family and to meet expenses for the education of my two children," Golapi Sa, 40, of Patkijore village who pursues organic farming in nearly two acres of land, told VillageSquare.in.
From individual to collective farming
Now the women folk of these tribal communities do not keep themselves limited to individual farm activities in their own lands only. They have now formed groups comprising landholders and landless poor and taken up patches of land on lease to grow variety of nutrition-rich food crops including millets, pulses and vegetables.
This model is developed in line with the traditional tribal system of Panch, where a team of tribal males from the households work together for terracing, bounding and leveling the sloped land in the hilly terrain to make them farming-ready and building small water-harvesting structures for limited irrigation.
One of the best features of these collective models of women farmers is that even the landless poor member of the group has equal share of the harvest. So this concept has got wide acceptance and, as of now, 48 women farmers' collectives operate in different villages.
The group of eight woman farmers from Oram tribal community of Budajharan village, named Oliva Women Farmers' Collective, has received several accolades for growing about 12 crops including brinjal, chilly, onion, tomato, cow-pea, watermelon, beans, bitter-gourd, ladies finger, sunflower, pumpkin and leafy-vegetables, in one season by dedicating one row for each crop.
These groups are affiliated to the larger front of tribal communities called Athakoshia Adivasi Ekta Manch, which fights for their rights on forest land and the commons to expand the area under organic farming.
Need for market linkages
According to Nata Kishore Mishra, 1,500 acres of land to be farmed by 1,370 farmers from 30 clusters are to be added for organic farming under Paramparik Krishi Vikas Yojana (PKVY) of the government of India.
Despite growing demand for organic farm produces, farmers of Sundargarh are yet to fetch the benefit of it. "Even though buyers get interested in our vegetables and other farm produces, we sell our products at the same price the inorganic farm produces are sold at," says Nirmala, who is not quite aware of the real value of her crops and vegetables grown through the organic method.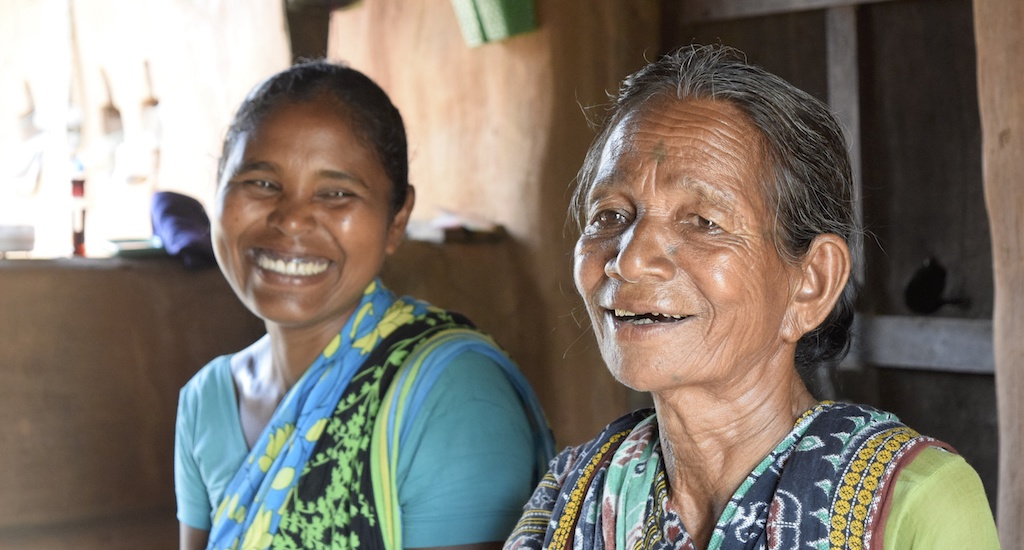 As a value-addition initiative, CITRD has started units to produce biscuits and cakes from ragi produced by these farmers as they are in demand for nutritional value. It also takes catering contracts to serve food made with everything organic. A separate space is also given to the organic farmers to sell their produce in the local market. But the benefits are still far from the farmers as prices are the same as normal farm produce.
"Reliable market linkages and procurement of the organic farm produce from these women-farmers by government agencies at a genuine price would boost their income and mobilise more farmers to take up organic farming and become safe food suppliers," says Rajendra Barla, Nirmala's husband.
Basudev Mahapatra is a journalist based in Bhubaneswar.
Adapted from an article originally published on VillageSquare.in. Subscribe to VillageSquare's weekly update on the website for more stories from rural India.
Like this story? Or have something to share?
Write to us: contact@thebetterindia.com
Connect with us on Facebook and Twitter.
NEW: Click here to get positive news on WhatsApp!
We bring stories straight from the heart of India, to inspire millions and create a wave of impact. Our positive movement is growing bigger everyday, and we would love for you to join it.
Please contribute whatever you can, every little penny helps our team in bringing you more stories that support dreams and spread hope.