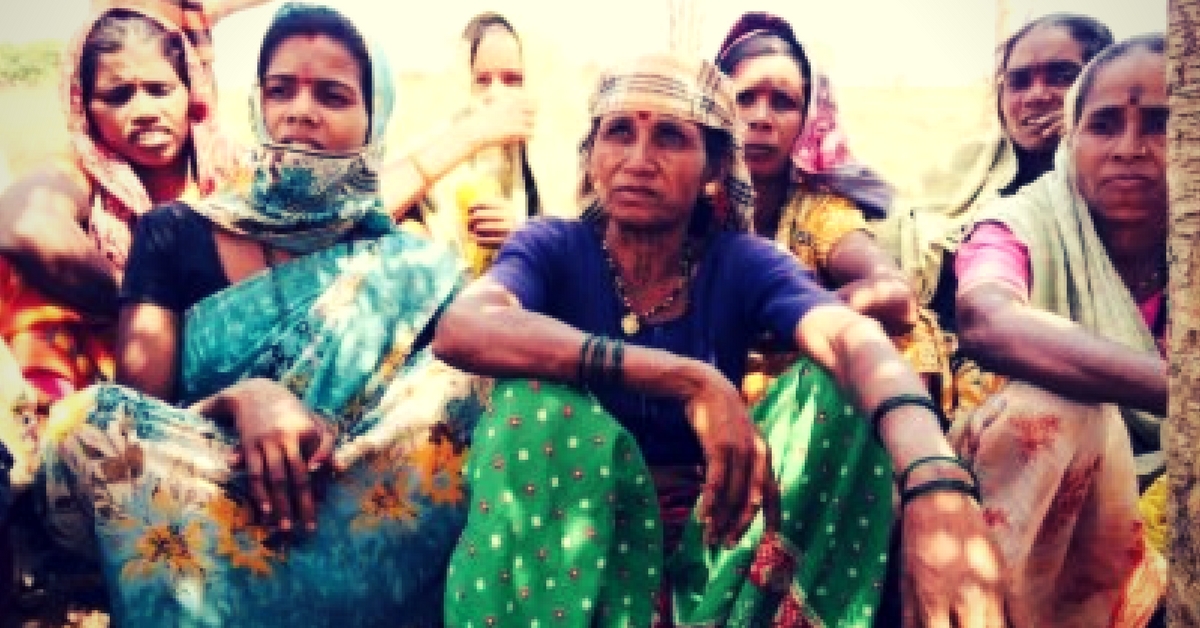 Residents of water-scarce village of indigenous people in Mokhada have collectively built a concrete embankment on a dry rivulet to harvest rainwater and become water-sufficient. Nidhi Jamwal takes a closer look.
On a hot April afternoon, Bhetwadi village in Mokhada administrative block of Palghar wore a deserted look. The hills surrounding this tribal village of 72 families, about 150 km north of Mumbai, were bare with patches of dry grass. All water bodies had gone dry with only one dug-well having enough water to last the next 10 days.
In such heat and desperate situations, residents of Bhetwadi walked everyday for half a kilometer to a nearby bone-dry rivulet to construct a cement embankment through voluntary labor. The bund, they claimed, was the gateway to water-sufficiency.
"This monsoon we won't let excess rainwater flow away," Manjula Ganga Mirki, a 60-year-old Warli tribal resident of Bhetwadi, told VillageSquare.in. She, too, was daily donating voluntary labor for social good for construction of the bund. According to her, every day at least one person per family came to the site to build the embankment, and more than 60% of the workers were women. "Every summer, we have to walk kilometers to fetch water. We suffer pain in the legs and backaches due to carrying pots of water. Women face the brunt of water scarcity," said Mirki, explaining their eagerness to build the bund.
Sanvaji Gurav, Mirki's neighbour from Bhetwadi, said the villagers were tired on depending on government water tankers for drinking water during the peak summer months. "We will create our own water," Gurav told VillageSquare.in.
That was two months ago. The recent onset of southwest monsoon has brought cheer to the residents of Bhetwadi, who cannot but rejoice in the fruits of their voluntary labor. The cement check dam they constructed this summer is already brimming with water. "This is our own water. It will last us till next summer," said a jubilant Mirki.
Water woes
Mokhada is a tribal population dominated taluka of Palghar district in Maharashtra that receives an annual average rainfall of 2,500 mm. However, the entire terrain is hilly basalt formation and does not hold water for long. Rainwater cannot seep into the ground and gets washed away in no time.
---
You might also enjoy: On Walls & in Dance, Art Is a Way of Life & a Religion in This Odisha Village
---
During the monsoon months, Bhetwadi village comes alive with several nullahs and rivulets flowing with turbulent water. However, by January, all the water bodies dry up.
"Every year during the month of April, we would send an application to the local tehsil (administrative) office for water tanker. The tehsildar (block administrative officer) would send one 12,000 liter water tanker every alternate day, which was emptied into the village well from where we would pull water using pots and buckets," Mirki told VillageSquare.in. "We could not even sleep in the night and had to be always alert about the arrival of the water tanker," she said. "With this new bund on the rivulet, our miseries should end."
The local rivulet, on which Mirki and fellow villagers have constructed a concrete embankment, used to hold water till January, after which it would go dry, exposing the underneath layers of basalt. By constructing a cement check dam on the rivulet, the villagers hope to have sufficient drinking water till April or May.
Learning from others
Aadoshi village is about 4-5 km from Bhetwadi. Till three years ago, its residents used to face acute drinking water scarcity in the summer months.
In 2014, a local non-profit, Aroehan, raised funds through a philanthropic initiative of Mumbai-based EdelGive Foundation to construct a check dam across a local river near Aadoshi. Apart from providing safe access to villagers trying to cross the river during rainy season, the check dam also solved drinking water problems of Aadoshi. Similar check dams have been constructed in Kurlot, Butoshi and Shirasgaon villages of Mokhada.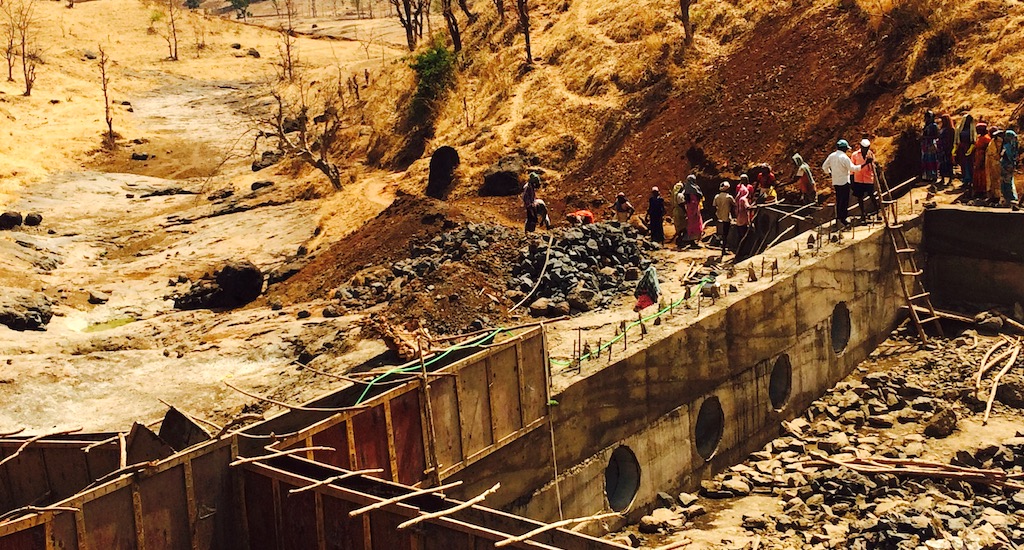 "We decided to approach Aroehan to discuss water scenario in our village," reminisced Baburao, a resident of Bhetwadi. Last November, villagers contacted Aroehan to explore the possibility of constructing a check dam on the rivulet near Bhetwadi village. Thereafter, its village council passed a resolution to contribute voluntary labour to build the water harvesting structure with technical support of Aroehan. A no-objection certificate was obtained from the gram panchayat. Baburao donated a part of his farmland for the construction of the embankment.
Labouring for water
On January 20 this year, the construction of the bund started. For the next three months, about 100 residents of Bhetwadi laboured daily to harvest rainwater through creation of the bund.
The site selection for check dam was done in consultation with the villagers. "Our technical team worked with the local people to finalise the site as villagers know the flow of water during monsoon. They are also aware of the areas where water dries up the last," Rahul Tiwrekar, consultant with Aroehan, told VillageSquare.in.
The design of cement bund at Bhetwadi is unique as it is meant for a high rainfall zones. "Most cement bunds constructed under the Maharashtra government's Jalyukt Shivar Abhiyan are meant for low rainfall areas. But Palghar receives heavy rainfall up to 2500 mm in a year. Thus, our structures have vents to let out water after it reaches certain a height," explained Tiwrekar.
---
You might also enjoy: One Conference Inspired This Telecom Engineer to Quit His Job and Take up Water Conservation!
---
This not only ensures availability of enough water in the downstream villages, but also protects the bund from getting washed away with high velocity water.
The cement bund at Bhetwadi is 80 feet long, 6 feet wide at bottom and 3 feet wide on the top. "It will be able to hold 15-20 lakh liters of water, which means Bhetwadi should have sufficient drinking water even in the month of April-May," said Tiwrekar. All the existing cement bunds at Kurlot, Butoshi, Aadoshi and Shirasgaon villages have water throughout the summer months, he added.
Raising the water table
Harvesting rainwater in cement bund will also help raise the water table of Bhetwadi's village dug well located upstream on the bund. Villagers have already drawn up the next-level plan of drinking water supply to their village. "We already have a solar water filtration system in our village, which pumps water from the local well into a 5,000 litre overhead tank. From there, water is supplied through gravity to standposts in the village," said Gurav.
The same 3kW off-grid solar-powered water filtration system will be used to pump water from the cement bund to the village well. There will be an additional cost of the motor pump and pipeline. The cost of the entire project at Bhetwadi is Rs 20 lakh, which Aroehan has raised through corporate social responsibility (CSR) of private companies.
Creating an asset
Apart from creating water infrastructure at village level, Aroehan's drinking water project provides employment to the local villagers who are unable to get rabi (winter) crop due to water scarcity. Post Diwali, majority of the villagers in Bhetwadi migrate to Mumbai and Nashik in search of livelihood.
"We do not bring any labour from outside, but train the local villagers in unskilled works to construct water harvesting structures. This provides them employment during the crucial rabi season, and also gives them a sense of ownership towards the structure created," said Tiwrekar. Each villager involved in construction of the check dam is paid a daily wage Rs 200, which is part of the money raised through corporate social responsibility programs.
Out of the total number of days put in by a villager for construction of the cement bund, each villager deposits two days wage into a common bank account of the village. This seed money is later used for the maintenance of the cement bund.
Meanwhile, Mirki cannot stop smiling. She is confident that next summer she won't have to toil for water.
Nidhi Jamwal is a journalist based in Mumbai.
Adapted from an article originally published on VillageSquare.in. Subscribe to VillageSquare's weekly update on the website for more stories from rural India.
Like this story? Or have something to share?
Write to us: contact@thebetterindia.com
Connect with us on Facebook and Twitter.
NEW: Click here to get positive news on WhatsApp!
We bring stories straight from the heart of India, to inspire millions and create a wave of impact. Our positive movement is growing bigger everyday, and we would love for you to join it.
Please contribute whatever you can, every little penny helps our team in bringing you more stories that support dreams and spread hope.