Remember your childhood days and the first encounter with the English language? Where A will always be the Apple and Z will stand tall as Zebra? We thought that was it! That is what the whole world is all about. Ever wondered that our very own alphabets could actually be more interesting and fun?
India is a country rich in culture and traditions. Be it various languages or cuisines, eye catching dance forms or the unexplored beauty of nature, you know a lot about India and still it is never enough. There is always scope to learn and know more. So why not mix the basic education with the rich history of the country?
A new children book,  India: An Alphabet Ride serves the purpose in just the right way! Authored by Shallu Jindal, with fascinating illustrations by Priya Kuriyan, this book is a journey.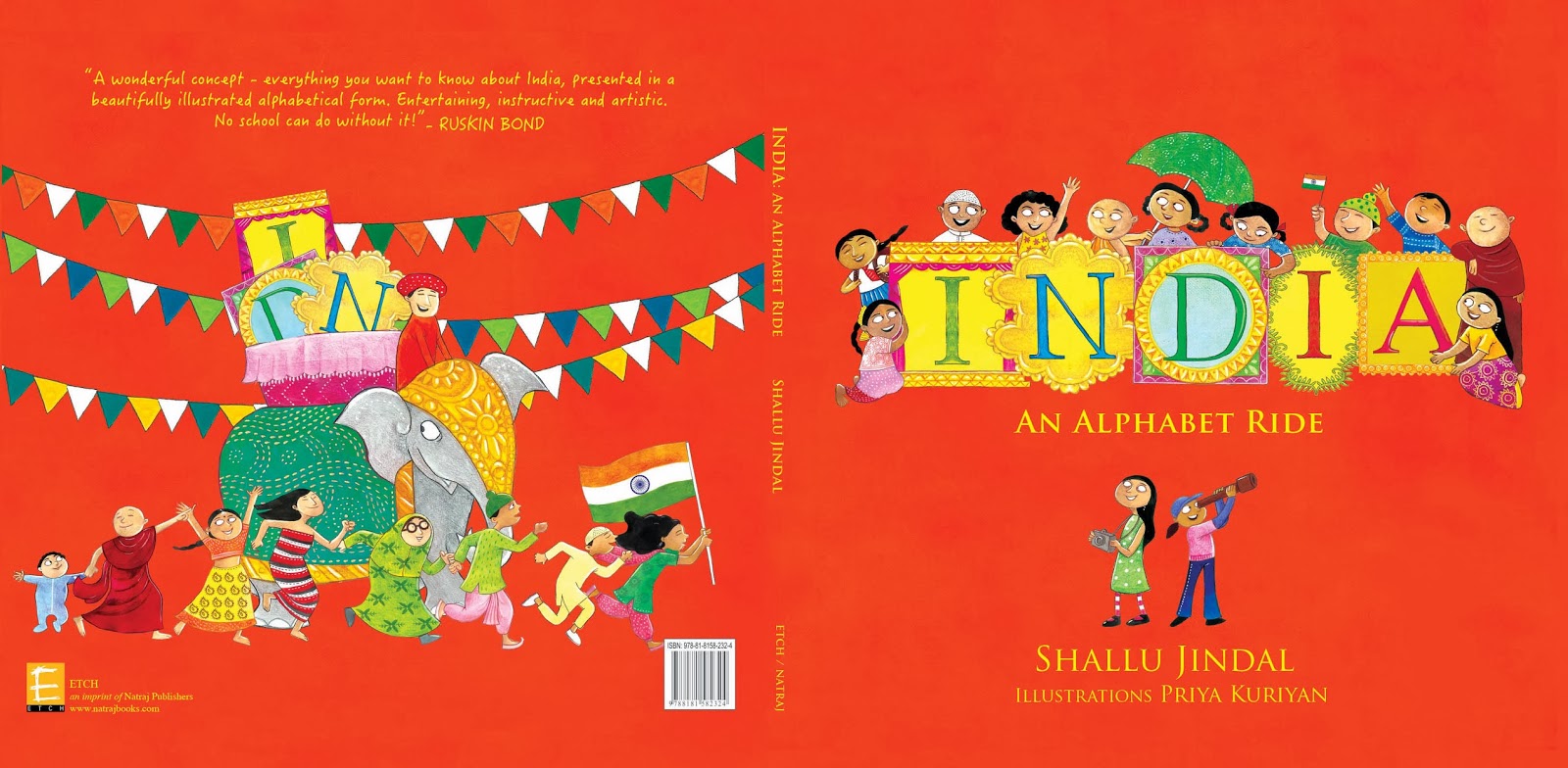 Where every alphabet has a much deeper meaning than just a way to understand the English language. While "A" tells you all about the  Indian national Anthem, B is dedicated to our Brave armed forces, C is there to give you a deep insight on the country's rich Culture and delicious Cuisines and D shows you the Dance moves. And, this is just the start of this catchy, colourful book.
We caught up with the Shallu Jindal, author of the book to know more about her life and the book itself-
Please tell us about your journey as an author. How and when did it all start?
I have been an avid reader since I was a child. Around 10 years back, I started compiling books on various topics related to India. Tiranga – A coffee table book is celebration of the National Flag, which is the single largest photographic project on INDIAN FLAG and NATIONAL COLOURS. This book contains photographs of the Tiranga, contributed by various Indian photographers – amateurs as well as professionals, and views on the Tiranga, by celebrated personalities from various walks of life. This book has also been mentioned in the Limca book of Records; Freedom – The book encapsulates India's rich history and architectural heritage, as well as its vast literature and poetry, and blends it with the wisdom of our spiritual gurus and political leaders. India – An Alphabet Ride is my first book as an author. It's been a wonderful journey so far. Everyone has appreciated this book. It's even got 5 stars on Flipkart and Amazon and it is a sellout in most book stores.
What was your biggest inspiration behind writing a children book?
I started to focus on children just by chance. I came face-to-face with children and issues relating to them through the Openspace Jindal Foundation for Development. The Foundation has worked on many projects related to children thus opening the universe to me. It is a divine coincidence that many children initiatives came to my notice and I thought of writing my book – India: an alphabet ride. Moreover as a parent I am always looking for simple and interesting ways to make the learning about this diverse and complex country enjoyable.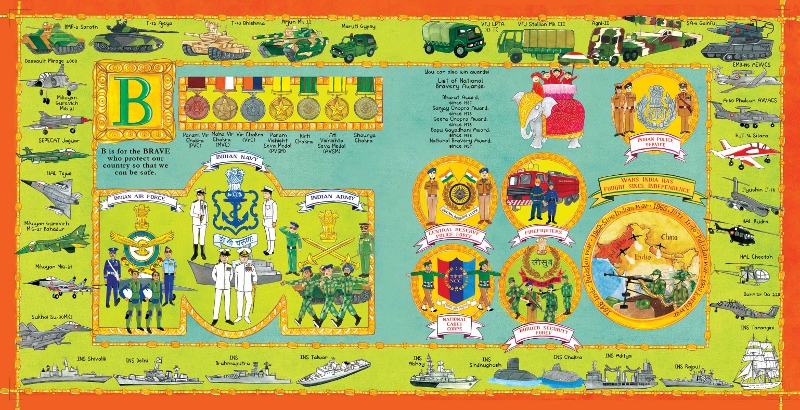 It took me almost two years to research and put together this book. India is not an easy country to explain, illustrate and put between the covers of a single book. I must confess that I re-learnt a lot about India as I researched the book. I hope that this book makes young Indians take pride in our history, heritage & culture & they grow up to build a strong nation based on sound value systems.
What would you say is the USP of the book?
I hope that this book will be a legacy to the children of our wonderful country. Our children need to assimilate the wonder that is India when they are young, so that they imbibe the principles of our founding fathers and continue to build this great nation. I think that this book is not only for children but it is as much for parents, grandparents and teachers, to read together at home and in schools, to discuss and ideate.
Being a mother, wife, daughter-in-law, dancer and much more, what are your biggest challenges in this field?
Being a mother, wife and daughter-in-law and pursuing my various interests like classical dance – Kuchipudi, looking after the National BalBhavan – I'm the current chairperson, being an author, and actively participating/contributing towards the JSPL foundation through CSR activities is a big challenge. But, I love challenges and am very grateful to God for giving me all these opportunities. I multitask a lot and handle all these various aspects of my life.
What are your future plans?
I believe in living in the moment. To keep working hard in all that I'm doing. Achieve my goals and leave the rest to God. I'm also planning a Jindal Creative & Performing Arts academy which is coming up in Delhi and Angul, Odisha.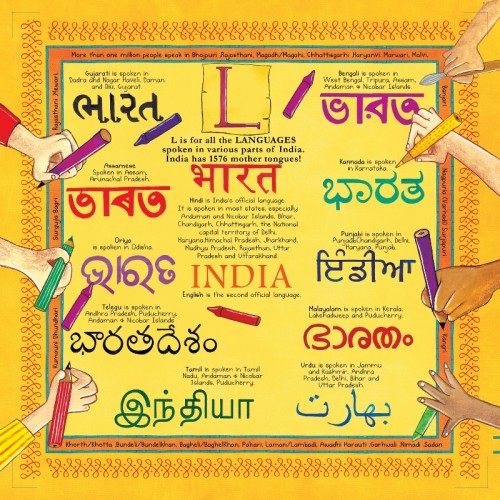 Being an author, what do you think is more important – the story or the way you present it?
Both are important. The content of the story has to be very good and then the presentation of it makes it attractive for the readers to want to read it.
What would be your piece of advice to young authors and children?
I would like to encourage young people to read a lot. Even though everything today is available at a click of a mouse still, the smell of a book and its feel makes the experience of reading very special and personal. It is more tangible and I urge all youngsters to read a lot as it will also broaden their horizons. Young authors – I would say, follow your passion, work hard, write and never give up. The universe conspires to give to you what you want. You just have to believe in yourself want it with full faith.
About the Author:
Born with a hobby to travel, talk, express and write, Shreya gets to do all of that and is even paid for it! Interested in rural development and social issues, she dreams of actually bringing a change in society and writing a book of her own one day. When she is not preaching others about a better India she is busy watching movies and playing video games. Follow her on twitter:
@shreya08
We at The Better India want to showcase everything that is working in this country. By using the power of constructive journalism, we want to change India – one story at a time. If you read us, like us and want this positive movement to grow, then do consider supporting us via the following buttons.
Please read these FAQs before contributing.