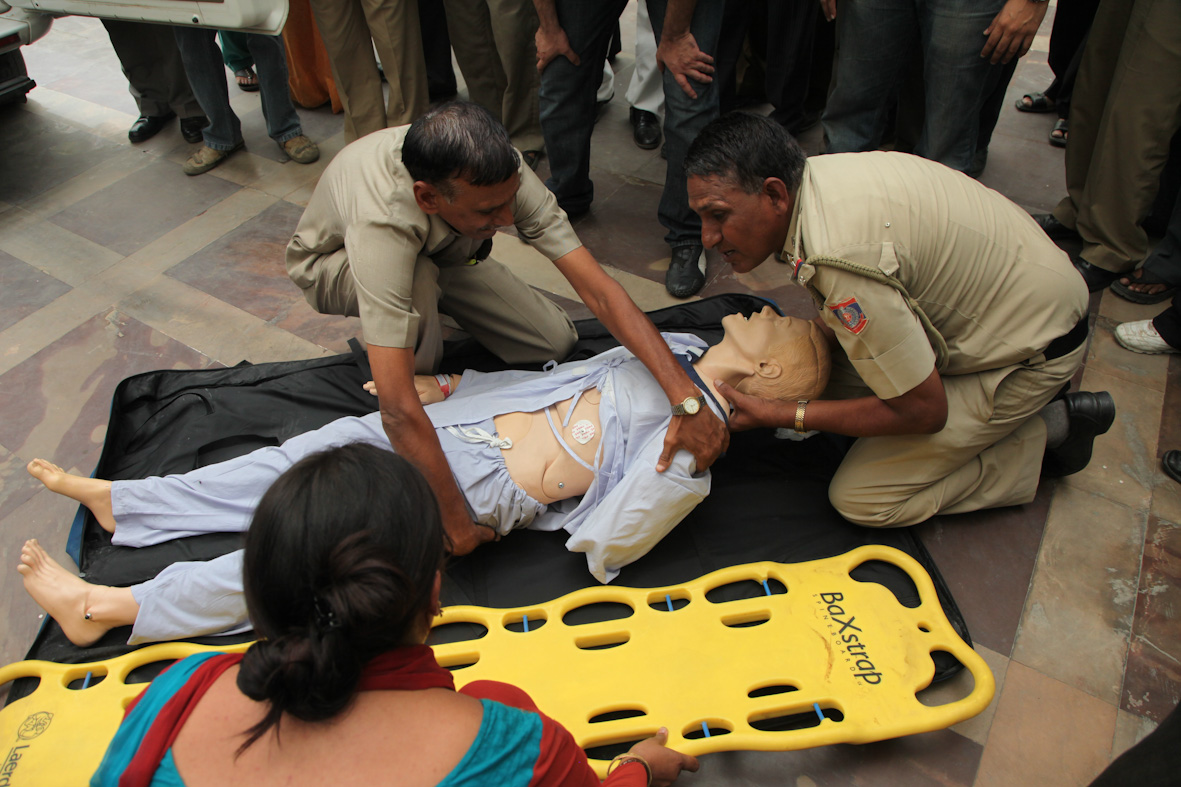 Founded by Piyush Tewari in 2008, the SaveLIFE Foundation focuses on enabling Bystander Care, the immediate care that Police and public can provide to emergency victims, especially those of road accidents, to enhance their chances of survival.
In India, 15 people die every hour in road accidents, which gives it the dubious distinction of being world number 1 in road accidents. The country accounts for about 10% of road crash fatalities worldwide. In 2012 alone, 135,000+ deaths were caused by road accidents. (source)
With the increasing number of motor vehicles, the number of accidents is also increasing. Blame it on rash driving, protrusion, lack of first aid or ignorance bystanders, the problem remains the same.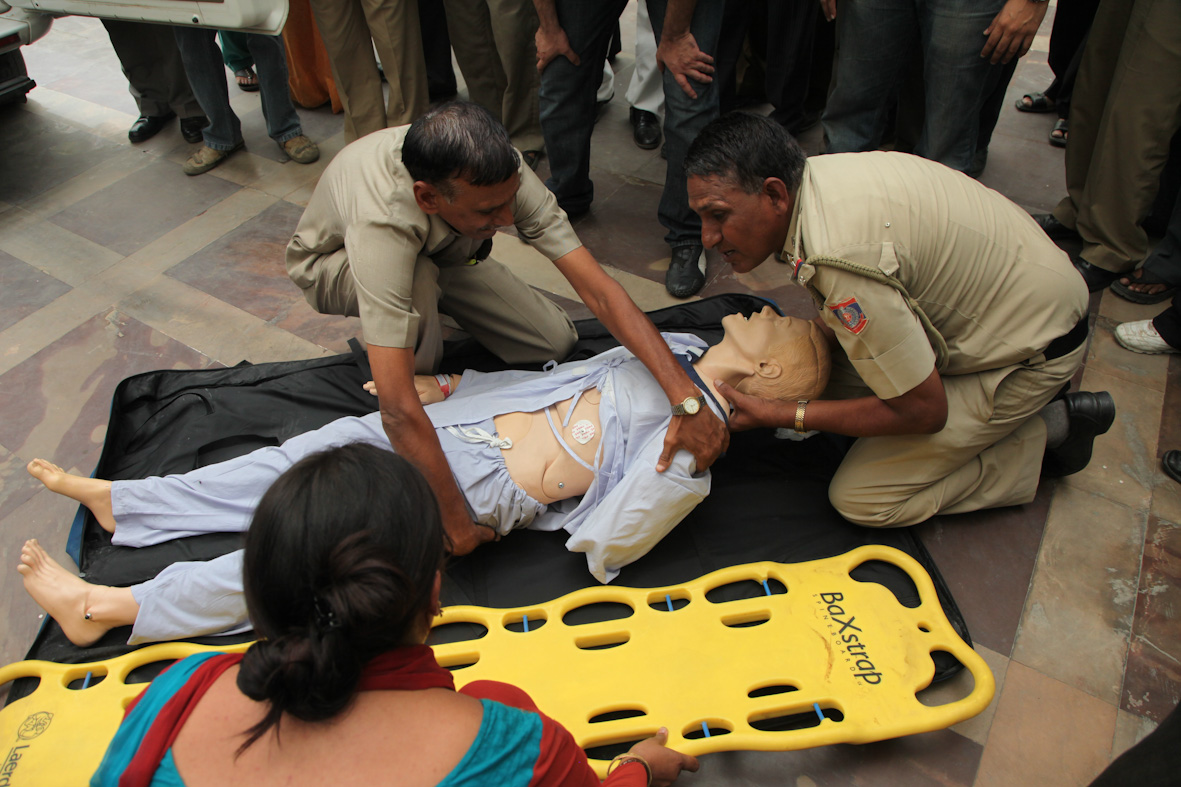 That is where SaveLIFE Foundation comes into the picture and tries to change the situation. Founded by Piyush Tewari, an Ashoka Fellow in 2008, the not-for-profit organization focuses on enabling Bystander Care, the immediate care that Police and public can provide to emergency victims, especially those of road accidents, to enhance their chances of survival.
It all started six years back when Tewari lost a young cousin due to lack of proper medical assistance and ignorance by the bystanders.
"That is when i started doing research on it and came up with the concept of Save Life to focus on Bystander care," Tewari says.
The problem
In the report titled 'Pre-Hospital Trauma Care Systems', the World Health Organization (WHO) states:
Even the most sophisticated and well equipped pre-hospital trauma care systems, including advanced ambulance services, can do little if bystanders fail to recognize the seriousness of a situation, call for help, and provide basic care until help arrives.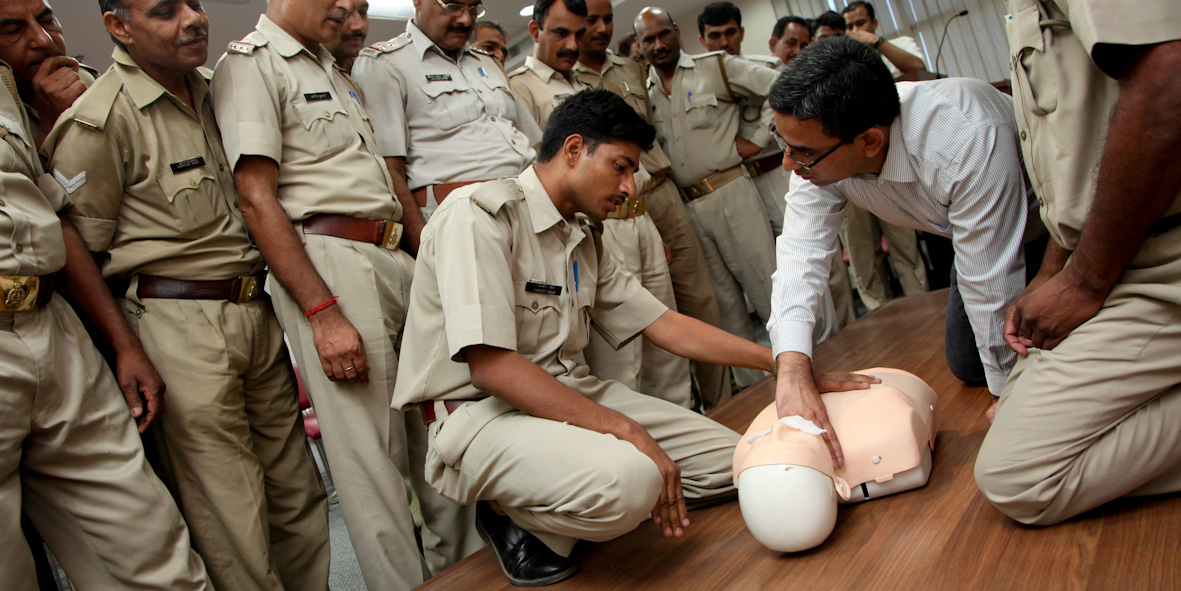 Majority of bystanders hesitate to help the victim due to legal hassles such as repeated police questioning and court appearances, unnecessary detainment of Good Samaritans at the hospital and refusal of treatment in case of non-payment.
Another reason for high accident rate is the Motor Vehicle Act itself which has allowed protrusion by heavy motor vehicles like trucks. Over 9000 people died in 2012 due to protrusion by the vehicles.
Also, the law doesn't cover pedestrians, cyclists and children. Every day 20 children die in road accidents who are under the age of 14.
"Another reason for such accidents is bad road engineering and there is no action taken against it," says Tewari.
Save Life planned to tackle the issue by filing a petition in the Supreme Court to provide protection to Samartians who come forward to help the victims of road accidents along with providing training to the volunteers.
"The idea is to create a quality framework and bring in a comprehensive all inclusive road safety law which could bring everything under one umbrella," says Tewari.
Getting the police involved
SaveLIFE contacted police and asked them to identify volunteers for the training. Through a strategic partnership with Delhi Police and the All India Institute of Medical Sciences (AIIMS), SLF has facilitated Basic Life Support (BLS) training for 30% of Delhi Police's first responders since February 2009.
The 3 hour basic training program is aimed at providing basic skills, and confidence, required to save someone's life in an emergency. The volunteers are trained for recognizing an emergency, connecting with the victim, hospitals and police, CPR, controlling bleeding and handling special scenarios like bomb blasts, drowning, heart attack, etc.
"Involvement of police brings credibility to the cause and builds trust and this also simplifies the process of finding the right volunteers," Tewari says. SLF has trained over 7,500 volunteers in five states. They currently work in 10 states and have successfully implemented protection to Samaritans in Maharashtra, Karnataka and Punjab.
Also, by their continuous efforts, SLF has managed to spike down the rule that allows protrusion by the motor vehicles.
Reaching out to the corporates
SLF has partnered with large technology companies to simplify the process of providing help to the victim. The moment a call comes to SLF control room, it informs the police and sends out an SMS to all the registered volunteers and helps to locate the nearest volunteer that could show up for help.
"As these volunteers are nominated by Police, it is ensured that only bonafide people would act as helping hand. This system gives us access to the entire city without spending much," says Tewari.
The Team
SLF has 12 full time members along with various volunteers across india. They are planning to expand the team to 20 in future. They are also open for internships with various law school and management school interns working with them.
They are launching India's first online center on road safety which will contain all what, why and hows of road safety. This not-for-profit organization completely runs on grants, donations and help by corporates and individuals.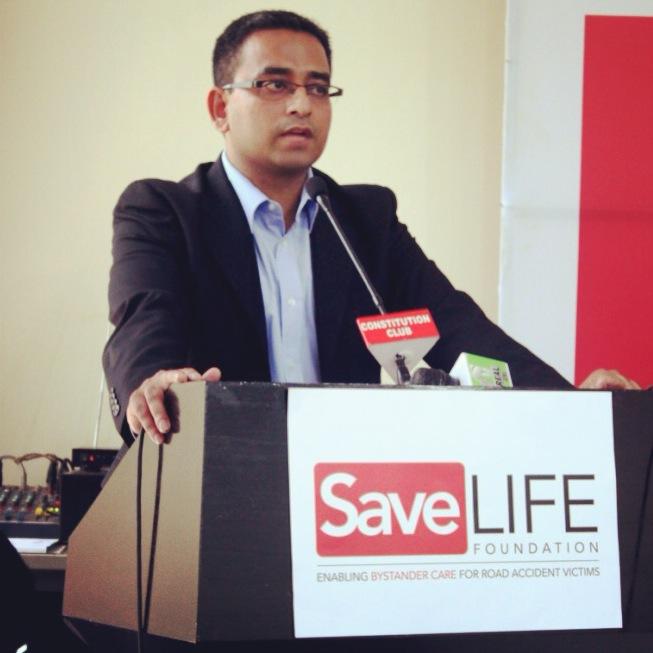 The challenge
Tewari talks about the challenges:
There are both types of people; good and bad. Luckily we met good people. Of course identifying and convincing them takes time.
Also, there are so many NGOs operating that building credibility takes time. It took SaveLIFE 6 years to build trust among people and police and finally reach a stage where they don't need to reach out to people for support. Rather people themselves lend a helping hand to them willingly.
The recognition
In year 2010, SaveLIFE Foundation and its founder Piyush Tewari won the Rolex Award for Enterprise. SaveLIFE Foundation has received letters of commendation from Delhi Police (2011) and National Security Guard (NSG, 2009) for its efforts to equip first responders with life-saving skills.
In year 2011, SaveLIFE Foundation was invited to the National Committee constituted by Ministry of Health and Family Welfare (India) and WHO to frame guidelines for pre-hospital trauma care.
How you can help?
Though only those who are nominated by police can become volunteers at SLF but there are many ways a common man could help this NGO.
SLF asks people to click and send pictures to SLF whenever they see protrusion by trucks. Individuals can also provide monetary help as there is no cap on the minimum amount of donation. Says Tewari,
I would advice people not to hesitate whenever they see a road accident victim. In case they are facing any legal hassles related to the accident they can immediately contact SLF and the team here will take care of everything. Remember, today you are a spectator, but tomorrow you could also be a victim.
You can support SLF by clicking here.
Watch the founder, Piyush Tewari talk about the organization-
About the Author:
Born with a hobby to travel, talk, express and write, Shreya gets to do all of that and is even paid for it! Interested in rural development and social issues, she dreams of actually bringing a change in society and writing a book of her own one day. When she is not preaching others about a better India she is busy watching movies and playing video games. Follow her on twitter:
@shreya08
We bring stories straight from the heart of India, to inspire millions and create a wave of impact. Our positive movement is growing bigger everyday, and we would love for you to join it.
Please contribute whatever you can, every little penny helps our team in bringing you more stories that support dreams and spread hope.