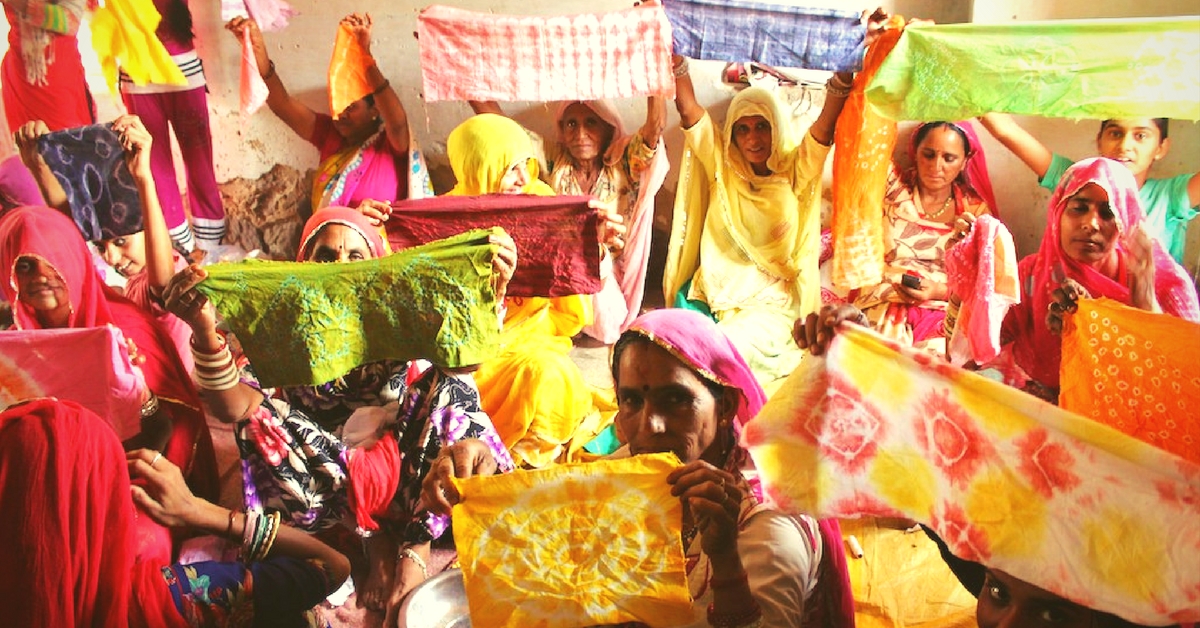 Learning the traditional art of colouring fabrics is enabling many women in rural Bikaner to add an additional source of household income in an area where patriarchy makes it difficult for them to do so.
Pawan Kanwar, a 17-year-old girl living in a remote village in Rajasthan, has proved that age or education is not a bar if one decides to walk in a particular direction regardless of limitations and barriers. Pawan, who has studied up to the tenth standard, had never stepped out of Nosariya village in Bikaner district but still tried to improve the lives of many women by providing them basic literacy.
Four months ago, when Pawan heard of a tie and dye training workshop to be conducted in her village, she was excited as it was a ray of hope for her to enhance her skills and add to the income of her family. Hailing from a conservative background where women barely walk out of their homes, initially no other woman joined Pawan. She started attending the training alone, but within a week, she was accompanied by 20 other women of her village. "Ever since I have learned the art of tie and dye, I have got a new level of confidence, apart from earning money from it," Pawan told VillageSquare.in.
Pawan is the second child of her parents. Her father Kishore Singh Shekhawat is a farmer. To make ends meet, her elder brother has migrated to Surat in Gujarat to earn a living. Pawan's younger sister studies in class 8 and her mother looks after the cattle.
Nosariya's people
The population of Nosariya is about 500 where 80% are Shekhawats. Hailing originally from Amber and Jaipur, Shekhawat is a sub-clan of Kachwaha Rajputs found mainly in Rajasthan. The remaining population of the village consists of Dalits, who remain neglected by the majority. Most of the people earn a livelihood by selling dairy products to nearby villages. Most households have men who have migrated to cities in search of work.
---
You might also enjoy reading: Pickles For A living? 3 Bengaluru Women Are Empowering Rural Women With A Homegrown Project
---
In Nosariya, high school education for girls is considered more than enough. Boys complete their schooling and move out for work, leaving behind their families with almost negligible options for livelihoods. In case a girl wants to study further or work, she is not allowed to move out unless she is married. Married ones can, however, move out of the village with their respective husbands but lack of education won't get them work.
Thanks to Pawan, many people in her village are letting their daughters study and develop handicraft skills through the limited resources available in Nosariya. This initiative of Pawan has opened gates for women's empowerment in the village.
"They had the skill which needed to be groomed."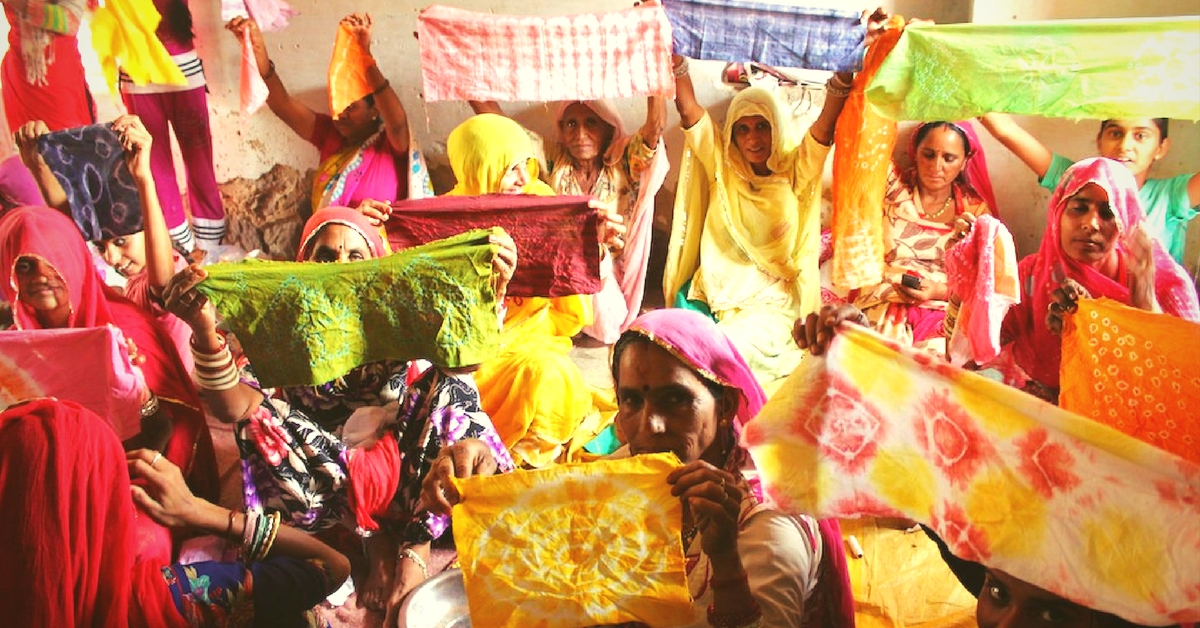 Walking up to every individual's door step and begging them to come to the day care center seems to be worth it now," Pawan told VillageSquare.in.
Tie and dye
Tie and dye has quite a colorful history in the textile industry of India. It is amongst the oldest traditions of Rajasthan that is still in practice. As the name suggests, the art involves tying and dyeing of fabrics into various colors to bring out various patterns out of which Leherriya (wave) and Bandhej are the most common. Jodhpur and Sikar, are, known for its biggest commercial markets.
Not only Nosariya has experienced the winds of change due to this art form but the nearby villages are also following the same track for an improved livelihood. Napasar, Sri Dungargarh, Parvati Talai are some of those villages where similar trainings are ongoing.
The number of earning females has recently risen from zero to 30 in the village and urge of finding employment has brought over 300 women and girls to the different day care centers of nearby villages for the trainings. Seeing this new source of income, women who claimed to have no skills other than doing household chore are now convinced to attend the trainings organised in their villages. These skill development trainings are introducing women to their own artistic side like never before, making them self-confident, and most importantly, preparing them to earn from it.
A trainee, Baby Kanwar had to walk 5 km under the hot sun of summer to reach the training center. 40-year-old Baby would come to attend the training at Nosariya in order to learn the technique of tying. She said she always wanted to learn this but wasn't allowed to move out of her village. When she came to know of the workshop near her village, she decided to join. Baby got an A grade for her performance in the training and is working on her first order already.
---
You might also enjoy reading: How India's First Bank For Rural Women Has Changed Over 3 Lakh Lives
---
All this has been possible because of Urmul, a Bikaner-based NGO. This skill development training was conducted in Nosariya under the income growth program of the organization. By conducting the 15-day tie and dye training workshop under the supervision of professional trainers, Urmul not only helped the women be self-employed but also gave their art a platform of exposure.
Trial and success
With every passing day, there is a rise in the number of women trainees as larger numbers of women realize that this could be a viable means of earning from home. For some, the first challenge was to get permission from their in-laws to gather at the day care center for the training, which further got converted into their support and appreciation. "Earlier my father-in-law and husband didn't want me to go to the training center but seeing our work they were equally excited," Jwala Kanwar told VillageSquare.in. "They were happy when I got my first remuneration."
Icharaj Kanwar, a 43-year-old woman who lives with her two daughters and husband, said that she had never been a part of any such training before where she could explore and discover her abilities. "I've been doing only household all my age. Now that I have learnt this art, it has become another source of income," said Icharaj, who also sells buttermilk and ghee. Icharaj excels in tying fabric in multiple patterns.
Of late this art has become the bread and butter of many families in the village. Women who earlier had no source of income other than selling milk products, are now getting small orders for making tie and dye dupattas and sarees, which earns them a little income. "I had never imagined that I could earn money on my own. It feels incredible when your hard work pays," Santosh Kanwar, one of the women, told VillageSquare.in.
Revival of a traditional handicraft
Revival of the traditional handicraft of the desert is bringing women into the foreground. At the same time, they are earning without moving out from their houses. This small move by women towards their own development will bring an unexpected change in the village as well as their future generations.
The new experience has already started boosting the confidence among the artisans. They now feel more responsible towards their work. "If we talk about gender equality, we are equally responsible to earn for our families, not only our men," said 30-year-old Manju Daak.
Jigyasa Mishra is a writer based out of Rajasthan and Uttar Pradesh.
Adapted from an article originally published on VillageSquare.in. Subscribe to VillageSquare's weekly update on the website for more stories from rural India.
We bring stories straight from the heart of India, to inspire millions and create a wave of impact. Our positive movement is growing bigger everyday, and we would love for you to join it.
Please contribute whatever you can, every little penny helps our team in bringing you more stories that support dreams and spread hope.
Tell Us More