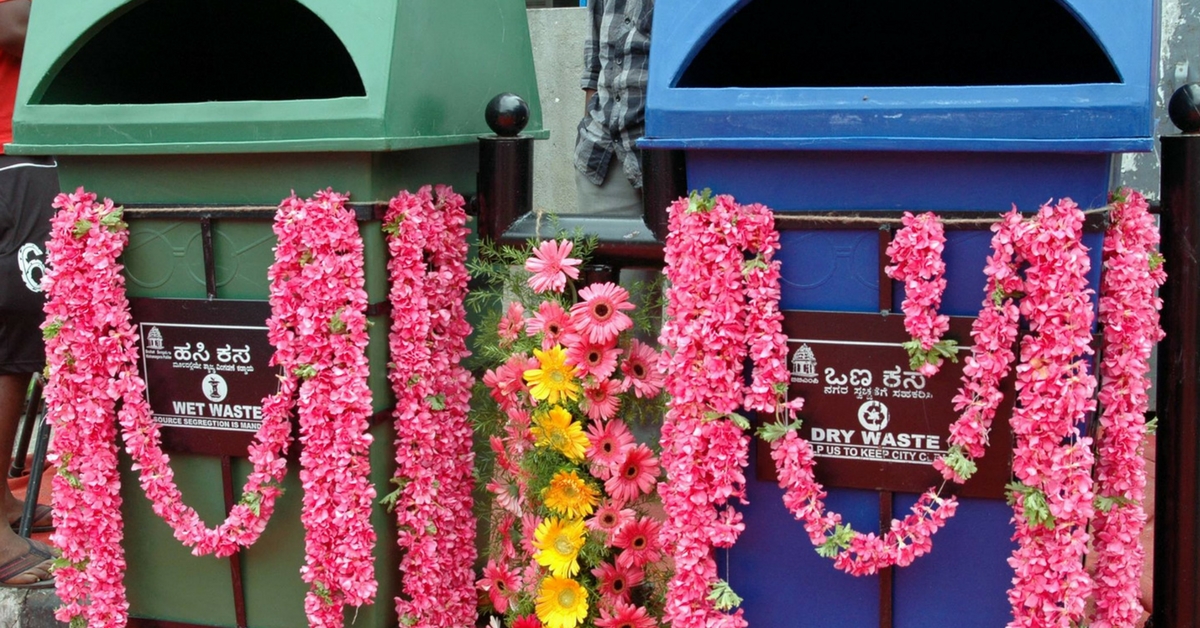 The BBMP is re-installing garbage bins for a whooping budget of over Rs 4 crore
In 2000, Chief Minister CM SM Krishna declared his wish to make Bengaluru like Singapore by setting up a new garbage collection system. Street dustbins were replaced with a door-to-door garbage collection system, using push-carts and small three-wheeler autos. Dumping garbage on street corners was illegal and violators were subjected to fines. So, people would retain their daily garbage at home till the Bruhat Bengaluru Mahanagara Palike (BBMP) workers came to their doorsteps to collect it.
After 17 years, the BBMP has decided to re-install garbage bins across the city at a whooping budget of over Rs 4 crore. Bengaluru's Development Minister, KJ George and Mayor, G Padmavati inaugurated the installation of litter bins for dry and wet waste near National Market in the city on Monday.
The prime reason for the move is that the current door-to-door garbage collection model is not working out for the BBMP in commercial and slum areas.
Bengaluru's no-dustbin policy: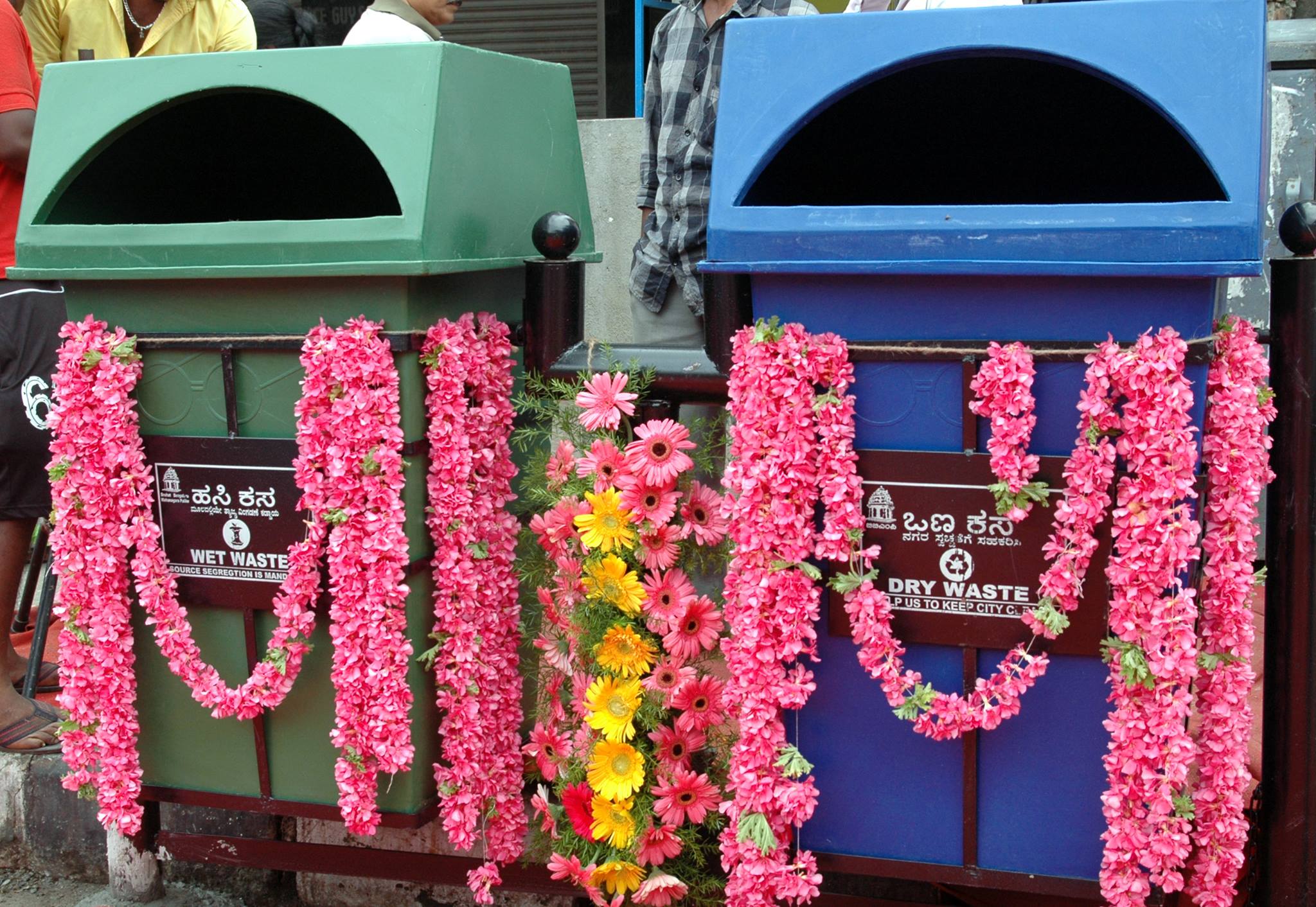 The dustbin-free policy was introduced as a part of the Swaccha Bangalore initiative taken up with the help of BATF (Bangalore Agenda Task Force), established by the Karnataka government in 1999.
Before the policy came into place large cement bins were set up at street ends and residential areas which were designated dumping spots for citizens. These cement bins were later removed and replaced with smaller bins in commercial areas to collect street litter.
---
You may also like: Meet the Private Sector Startups Leading the Drive for Better Solid Waste Management in India
---
What will change with the re-installation of bins?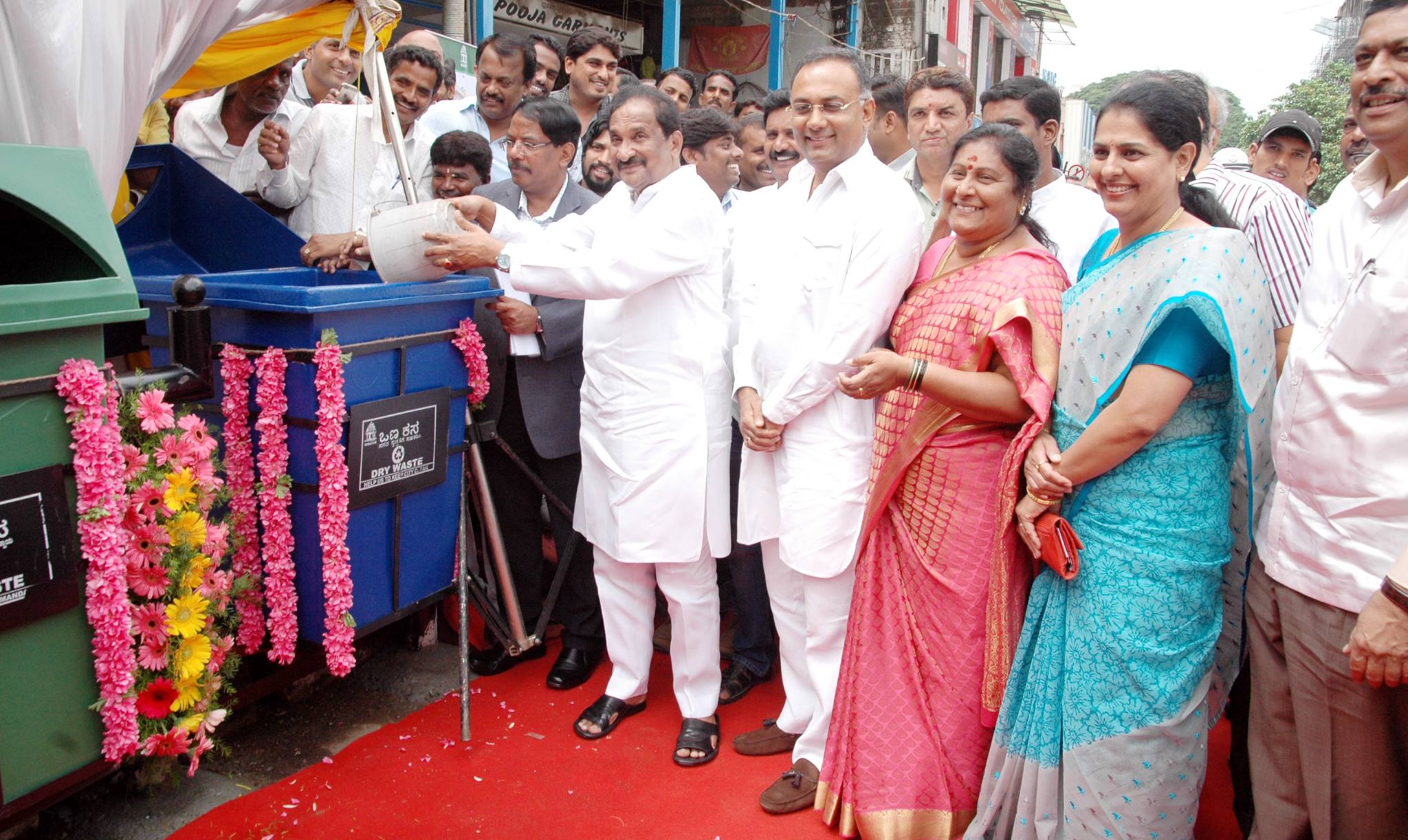 – Each of these bins has a capacity of 200 litres and will be installed in 2,232 BBMP zones across the city in the next 15 days, Mayor Padmavati assured.
– In keeping up with the current system of segregation of waste, the bins will be set up in pairs, with one bin meant for dry waste and the other for wet waste.
– The civic body, in addition to the current policy, is also planning to take over control of solid waste management which was privatised thus eliminating private contractors.
"The civic body will take over the whole gamut of solid waste management in the city from sweeping, collection, transportation, and disposal of garbage. This overhaul of the existing system will take at least two to three months as the BBMP has to procure pick-up vehicles, which are currently being provided by private contractors," said Mayor Padmavati in a Newsminute report.
Development minister K J George, in an interview with The New Indian Express, said, "Earlier there used to be bins in the city, but after door-to-door collection of garbage began they were removed. Bengaluru thus became a dustbin-free city. However, as our pourakarmikas sweep the streets from 6am to 10pm and then do other work, we decided to bring back bins to keep clean areas with high population density."
Mayor Padmavati mentioned that the success will depend on a few factors. "The project will be a success only if pourakarmikas and our officials work properly," she said.
---
Read more: A Small Town in West Bengal Helped Kolkata Win a Global Award for Waste Management
---
The move has garnered a mixed response. "Setting up litter bins alone will not resolve the issue of garbage management in Bengaluru. The BBMP has to come up with a solid plan at ward and zonal levels in consultation with the active citizenry. Unless the BBMP lists out its goals for managing the garbage along with the method of implementation, the time period in which it will carry out these goals and the consequences of not adhering to the regulations, no amount of ad-hoc schemes will help in managing the garbage," Sridhar Pabbisetty, CEO of Namma Bengaluru Foundation, told Newsminute.
Karnataka state government's expert committee member for Solid waste management, N S Ramakanth emphasised the importance of manning these bins. He compared the possible setback with the issues, bins used before 2000 faced. "The problem is since people have to pay the vendor to take the garbage away, they start dumping in these bins, and the bins will then overflow. If the government is investing so much, they should also invest to hire people to man the bins. The bins would overflow and attract dogs and pigs. Even keeping them near slums is a bad idea as contractors won't go there to collect the garbage," he told the New Indian Express.
Like this story? Or have something to share?
Write to us: contact@thebetterindia.com
Connect with us on Facebook and Twitter.
NEW: Click here to get positive news on WhatsApp!