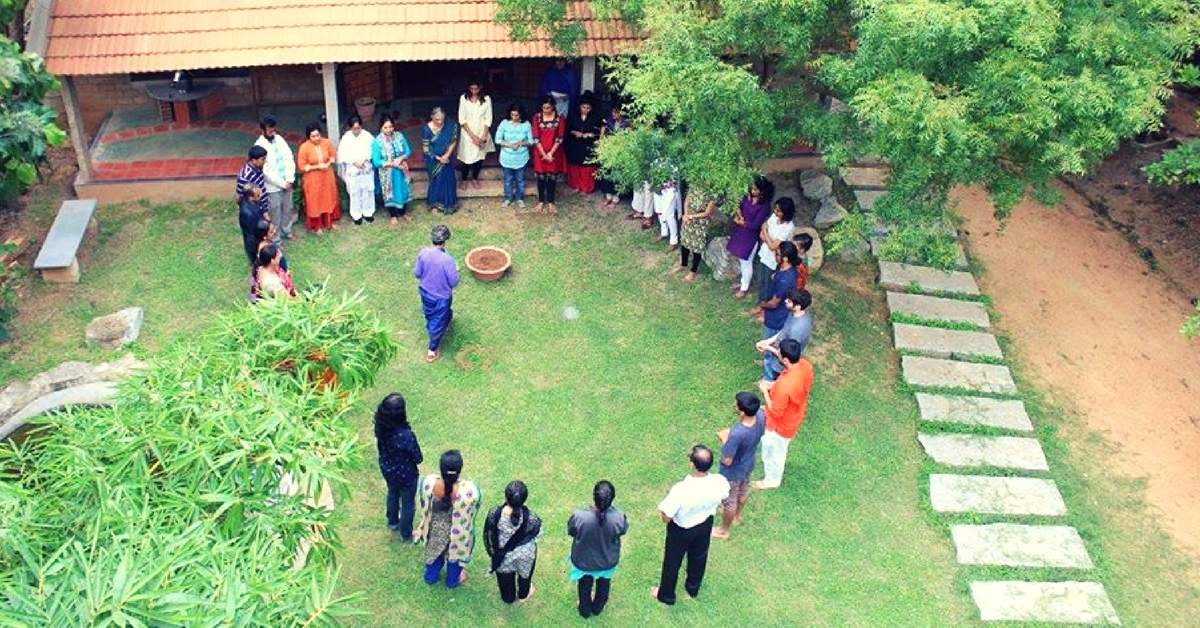 Bhoomi Network founded by educator and green activist Seetha Ananthasivan aims at educating people in holistic practises of sustainable living.
Modern urban spaces have come far from nature. The greenery we see is either in the potted plants on our window sills, the caged saplings lining the roads or the planned, artificially shaped trees in man-made gardens. Nature in its truest sense remains beyond reach.
One woman is trying to change this and take us back into nature's arms.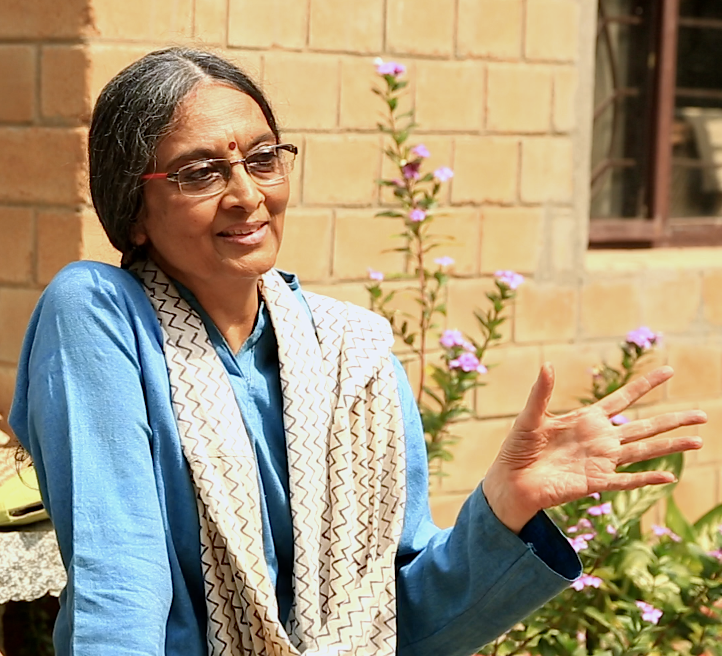 With a deep interest in using eco-psychology as well as organic food and farming to build communities which are coherent with nature's principles, Seetha Ananthasivan has founded Bhoomi Network in Bengaluru. Bhoomi is a non-profit organisation that works towards educating people on sustainable living, stressing on healthy eating practices and inexpensive lifestyles.
Seetha has been a green warrior and educator for many years. She is also the founder and director of Prakriya Green Wisdom School and the editor of the magazine Eternal Bhoomi.
"Anyone who has spent time in the wilderness knows the impact it leaves on them for life," says Seetha.
An ardent nature lover since childhood, she wanted to pursue a career that'd bring her closer to nature. To complete five years of college, required to be eligible to apply for forest conservation courses abroad, she took up the management course in IIM-Ahmedabad. After completing her MBA and a stint with WWF, where she was given assignments in sponsorships and fundraising owing to her background, Seetha decided to follow her heart. Fascinated by the hills of Munnar since childhood, she moved to the tea and coffee estates to work with the community of estate workers.
---
Also read: TBI Blogs: Want to Know More About Sustainable Living? This Bangalore Institute Can Help
---
After working at the plantations for a few years and learning a lot about nature and rural communities, she decided to move on to her bigger goal- to build spaces that taught individuals about the importance of our environment.
Thus Bhoomi Network came into being. On the outskirts of Bengaluru, Bhoomi College is an earthy campus, where a blooming ecological system thrives with different species of trees. Simple accommodation for students from diverse walks of life occupies only a small portion of the vast four-acre campus.
"The open spaces allow students to form a close bond with nature and the peaceful atmosphere teaches students a deeper understanding of real life, sustainable living and holistic education," says Adil Basha, Assistant Editor of the Bhoomi magazine and media and communications advisor for Bhoomi College.
A space for learning through living as a community, the college offers post graduate diploma courses in Sustainable Living and Holistic Education.
Different modules include systems organic farming deep ecology and more. Visiting faculty of Bhoomi include various inspiring scientists and thinkers like Satish Kumar from Schumacher College, U.K, Dr. Vandana Shiva and Shri Devinder Sharma among others.
"Bhoomi College is an alternative educational institution that focuses on green wisdom. There are more than 101 species of trees and more than 70 species each of birds and butterflies in the campus. It also has an organic garden which provides most of the vegetables used there.The campus has been designed as a space for learning through living as a community. Students, faculty and guests are invited to join in the activities in the garden and kitchen at least for an hour every day. 90 percent of the energy used for lighting, fans, etc. is from the Sun. Composting, using organic soaps and cleaning materials, is the Bhoomi way of life," says Adil.
Bhoomi College has helped many green activists like Sandeep Anirudhan of Aikyam and Piyush Manush on their journey. The examples are several, when one asks after the Bhoomi alumni pursuing a green cause.
---
Also read: A Unique School in Bangalore Takes Lessons From Nature to Provide Holistic Education to Students
---
"Three students from our first batch are working on their own farms in Rajasthan, Hyderabad and near Bangalore. Two students are focussing on urban gardening, particularly square foot gardening; one is training with Selco on solar lighting; another student is working on setting up an education centre for sustainable activities for children," informs Adil.
Aside from its educational courses, the Bhoomi Network also works in the areas of environment conservation and rural development. Bhoomi's Chintamani Women Farmers' Project and the farmers' market have been instrumental in the betterment of local farmers' lives.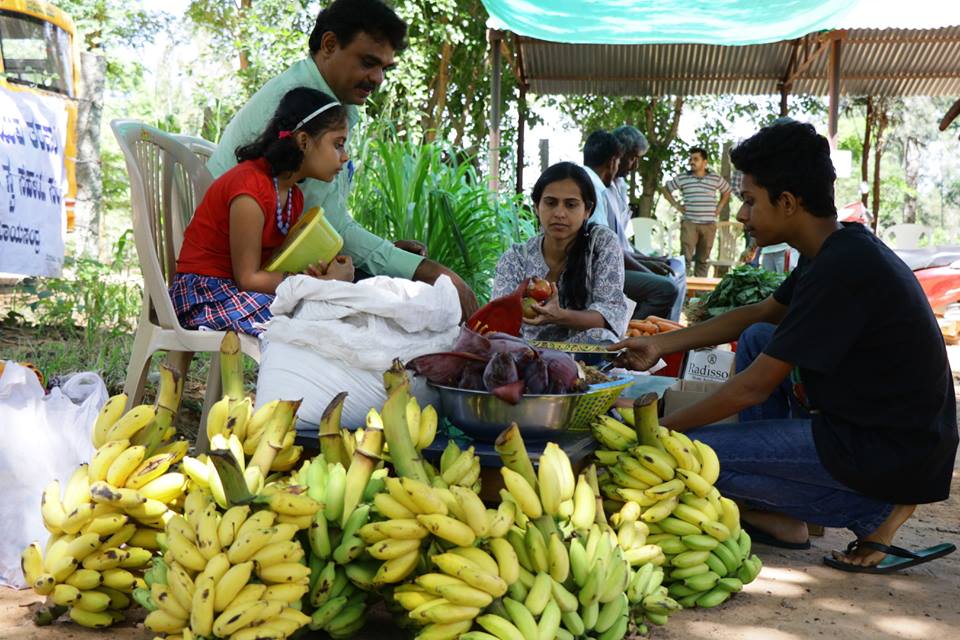 "Bhoomi has launched the Chintamani project to help a community of about 100 women farmers in three villages in Chintamani District to convert collaboratively to organic millet farming in parts of their land. We have also started a monthly Farmers' Market in March this year to bring together consumers, farmers and build a community of well-being," says Adil.
Seetha, who is also the editor of Bhoomi magazine, sums up the need of the awareness about the environmental crisis in one of her gripping editorials as follows,
"Awareness about the need of living with ecological wisdom is not lacking, going by what we see in the papers and the TV, almost every day. Most educated people have heard of climate change and the importance of reducing our carbon footprint. (Most 'uneducated' people would anyway be living with a low carbon footprint)
Where we need more awareness is that global problems like climate change actually need zillions of local solutions all over the world. Problems of waste disposal, deforestation, loss of biodiversity, water shortage, nutrition, food insecurity etc are local problems as well which need local solutions."
And through Bhoomi, she is trying to encourage people to find such local solutions by understanding nature.
---
Also read: TBI Blogs: Saving Water to Growing and Selling Vegetables: Kids in This Indore School Learn Beyond Classrooms
---
To know more about Bhoomi, visit its website here and Facebook page here. Visit the website of the Bhoomi magazine here.
Like this story? Or have something to share? Write to us: contact@thebetterindia.com, or connect with us on Facebook and Twitter.
NEW: Click here to get positive news on WhatsApp!