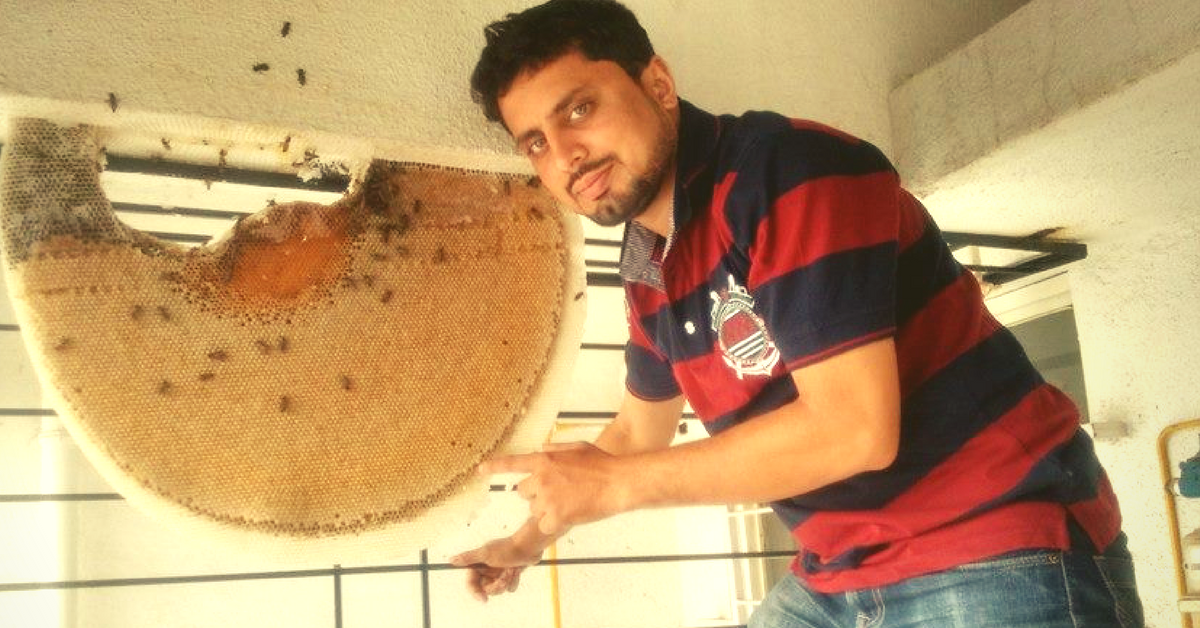 According to Amit, one can keep honey bees as pets by keeping a bee box in their balcony.
Albert Einstein once said: "If the honey bees disappear off the surface of the globe, then man would have only four years of life left… No bees… no pollination, no plants,  no animals… no man."
That's because 70% of the pollination in the world is done by bees and there would be no food without pollination. But there is little awareness about this among humans, which has resulted in the alarming rate of decline in the population of bees.
One man has taken it upon himself to save the world by saving these bees.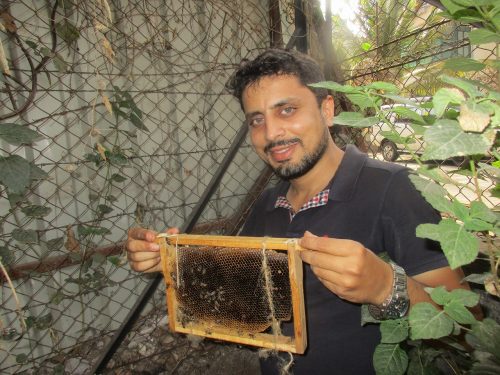 It was March 2013 when Amit Godse was working as a software engineer in Capgemini, Mumbai and came to his flat in a residential society in Pune to spend a weekend. During the weekend, he found out that almost 1.5 lakh bees were killed by a pest control team called in by the housing society members.The sight disturbed this young man so much that he started researching on how he could save bees without harming humans.
By the end of 2013, saving bees became the mission of Amit's life and so he left his corporate job where he had a package of Rs. 9 lakh per annum. For the next one year, Amit visited every place possible across India to learn bee-keeping and bee-handling. While he visited many research centres in Kerala, Orissa, Mahabaleshwar and took a month's training in The Central Bee Research and Training Institute in Pune he also kept visiting tribals and the farmers who knew traditional methods of bee handling.
He continued to explore and experiment on his own and figured out that beehives can be relocated without killing the honeybees.
He started spreading awareness on the importance of bees and would ask people to stop destroying the hives. He started sessions to teach people how they can prevent bees from entering their houses and be safe even when there is a beehive around. After his sessions, four out of ten people would agree to keep the hives as they were.For the rest, Amit would go and relocate the bees for them.
He used social media and teamed up with various environmentalists to inform people across the city to contact him if anyone wanted to get rid of bee hives in their balconies.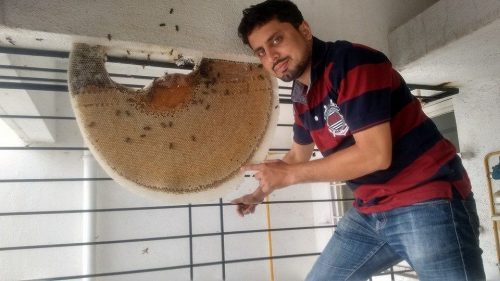 "There are five types of bees found in India. Three of them can be domesticated in bee boxes as they prefer staying in the dark. Two of them are wild bees that make their hives in the sunlight. Each one has a different method to be relocated so one need not kill them," says Amit
For the rock bees (Apisdorsata),which make huge hives, Amit sprays an organic spray that drives them away from the hive giving him time to detach the hive and apply petroleum jelly near the place where the hive was made. These bees then follow the hive and move away almost 10 km from the place. If the place owner is ready to keep the hive then only the honey portion, which is the upper third of the hive, is removed and the brood section where the bees lay eggs remains as it is. In this way the bees come back to the hive, repair the honey section and store honey once again. Moreover, as the eggs are not touched, they also grow into bees and collect more honey. In this way honey can be harvested multiple times from a single hive.
Indian hive bees (Apisceranaindica ) are box bees that make seven parallel hives inside a box.They make their hives in any small hole so it is easy to capture and put them in a box.
Tetragonulairidipennis are stingless bees that can harvest only about 100 gm of honey, but the honey is highly medicinal in value.These are one of the best bees to be domesticated.
Amit slowly became well-known in Pune as the Bee Man and was called by hundreds of people to relocate the hives or for bee handling. So far, Amit has saved 130 bee hives only in Pune city.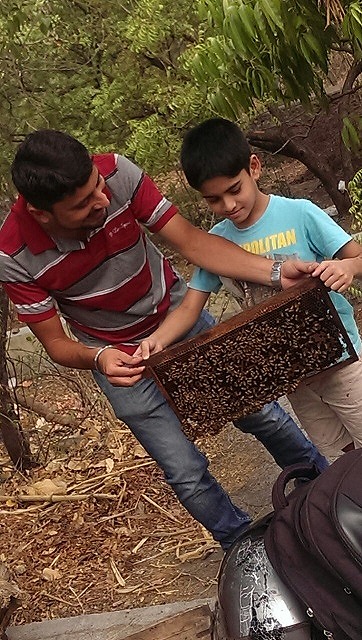 The next step was to spread this mission across India and so he started training individuals in bee handling. Amit has trained 10 people for wild bee handling and 12 for domestic bee handling. He started inviting tribals to train them in bee handling. This was necessary as the tribals would often burn the hives in the forests in order to get honey. Amit's motive was to train a few among these tribals so that they could go back to their place and teach their community members.
Though the initial days after quitting his job was tough, Amit now knew how to harvest honey and use it.In 2016,he started his company Bee basket Enterprise Ltd., which supplies honey, dry fruit honey and honey gulkand. It is also in the process of making bee wax-based products like lip balm etc.and train tribal women in the same to earn a sustainable livelihood.Apart from this, he also supplies honey bee boxes.
The company now drives a turnover of Rs. 15 lakh, which is much more than what he earned in his corporate job. And Amit says it's a lot of satisfying.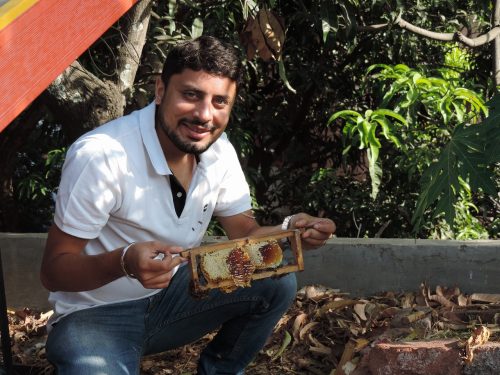 "My focus is to save honey bees across India. By training the tribals even the bees in the forests are saved. We also promote box bees for societies and bungalows, which not only helps them get pure honey but also gives them more fruit trees due to pollination done by these bees," says Amit.
According to Amit, one can keep honey bees as pets by keeping a bee box in their balcony. These bees do not require much care too. All you have to do is plant some flowering plants in the vicinity and give them sugar syrup only in the rainy season when they are unable to get nectar from the flowers. The bees also breed and double up every year, so one can also sell them and earn back the money invested on a bee box, which costs around Rs 5000. Harvesting honey is also very easy as the bees collect honey in a different section of the box. One bee box can harvest almost 10 kg of honey in a year, enough for a family's yearly consumption.
Once you start breeding bees, these boxes can also be gifted to the farmers, who can benefit from the pollination done by these bees in their farm.
Amit has supplied 12 bee boxes so far, which have been placed in various societies and bungalows across the city.And according to him, these 12 boxes will turn into 20 soon after the breeding season.
"While harvesting honey we take special care to not hurt the brood chamber where the bees lay their eggs. We also keep at least 35% of the honey in the hive itself so that the bees don't starve. Honey bees collect three times more honey than they consume. So this is a very sustainable type of harvesting," says Amit.
He also claims that handling honey bees feels like a great antidepressant as it is therapeutic to watch them pollinating, collecting nectar, laying eggs, becoming larvae, then pupa and then a bee. He urges everyone to help save the bees by becoming an urban bee keeper.
Know more about bee-keeping at www.beebasket.in . You can also send a WhatsApp message on 8308300008 if you wish to relocate a bee hive from your place, or contact Amit at amit.godse@beebasket.in
Like this story? Or have something to share? Write to us: contact@thebetterindia.com, or connect with us on Facebook and Twitter.
NEW: Click here to get positive news on WhatsApp!
We bring stories straight from the heart of India, to inspire millions and create a wave of impact. Our positive movement is growing bigger everyday, and we would love for you to join it.
Please contribute whatever you can, every little penny helps our team in bringing you more stories that support dreams and spread hope.