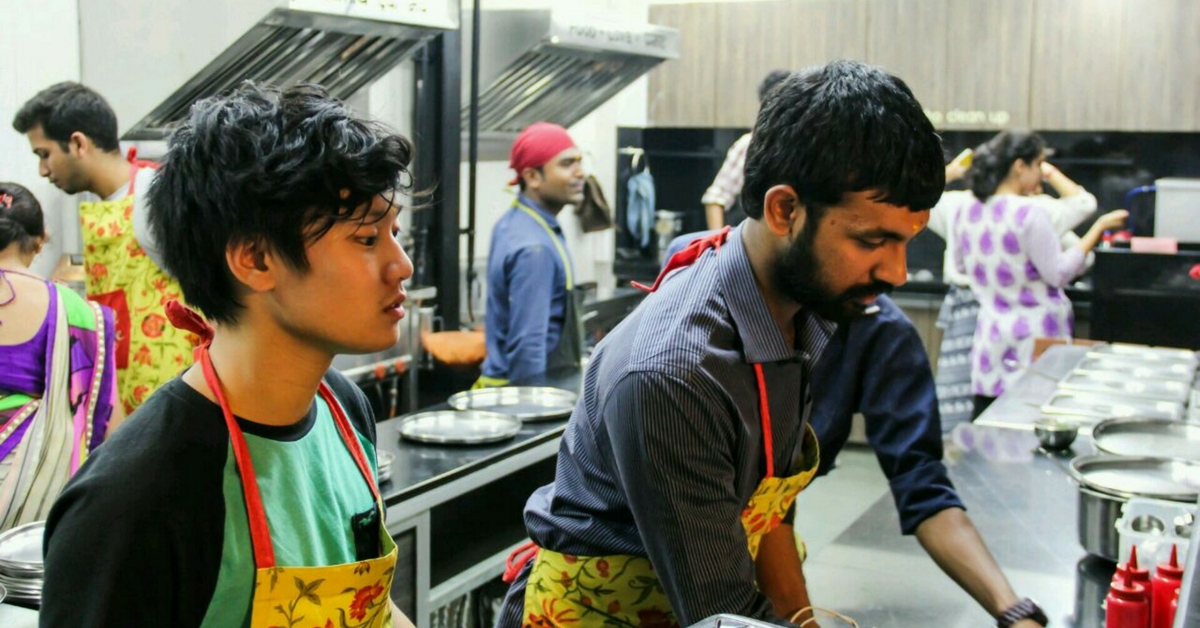 Ahmedabad's Seva Cafe is a study in selfless giving and volunteering, with people from all walks of life coming there to spread joy and love.
As I ride in the lift to the fourth floor of the Shopper's Plaza opposite Municipal Market, ashes of a memory from several years ago come to me, and I smile.This is the place that hosted my first surprise birthday party on the day I turned 22. The funny thing is, I hardly knew the people who had hosted it for me, and yet they had made me feel the love.
Seva Café has welcomed me and so many others, not just with open arms, but with hugs and tikas. As soon as you enter, you are greeted with warm colours, enthusiastic smiles, and you instantly come to realise that this isn't just any eatery. In fact, the food is not the most important part here. There is a genuine smile from those who serve and cook, and if you are lucky, you may see a small performance on the stage.
If you are alone, you are welcomed and encouraged to sit at a table with an unknown stranger. No, it is not a blind date. It is about connection, a heart-to-heart bond that we all yearn for, but do not often find. As you look around, talk with those who are serving, and you will realise that they are all volunteers. No one is doing it for the money.
There are sayings painted on the walls, like 'Food + Love = Prasad', and "Hum sab ek hain" (We are all one).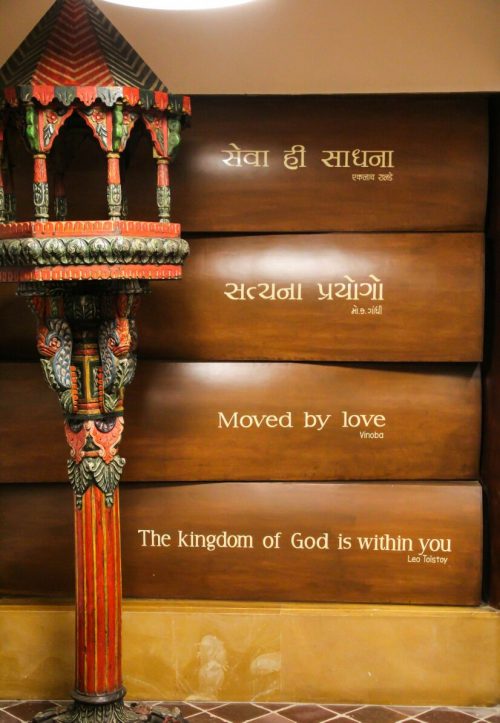 If you ask for the prices, they tell you that your meal has already been paid for by someone else, so you don't have to worry about it. After the meal is over, you get an envelope, and you can contribute whatever you want to, perhaps to pay for someone else's meal or maybe write a message. When you leave, you will probably have a smile on your face and satisfaction in your heart.
This concept of giving and receiving with love is age-old, but in the modern urban setting, it has been renamed as 'Gift Culture'.Thousands of people all over the world have taken structured initiatives to promote this concept, and Seva Café is one such space.
Bhaskarbhai has been a part of the core team since day one. He explains how even though this was started in 2005, the idea was born much earlier. "[There was a] small walk on the banks of the river Narmada, on which they decided that [the yatris] would serve anyone and everyone who came along. As the yatris moved towards the interior, it was more and more apparent to them that they received more than they gave, that the culture gave importance on giving as well as receiving, not on money. In fact, they felt that [people from the village] served them with divinity."
"No expectations, just basic, innate humanity."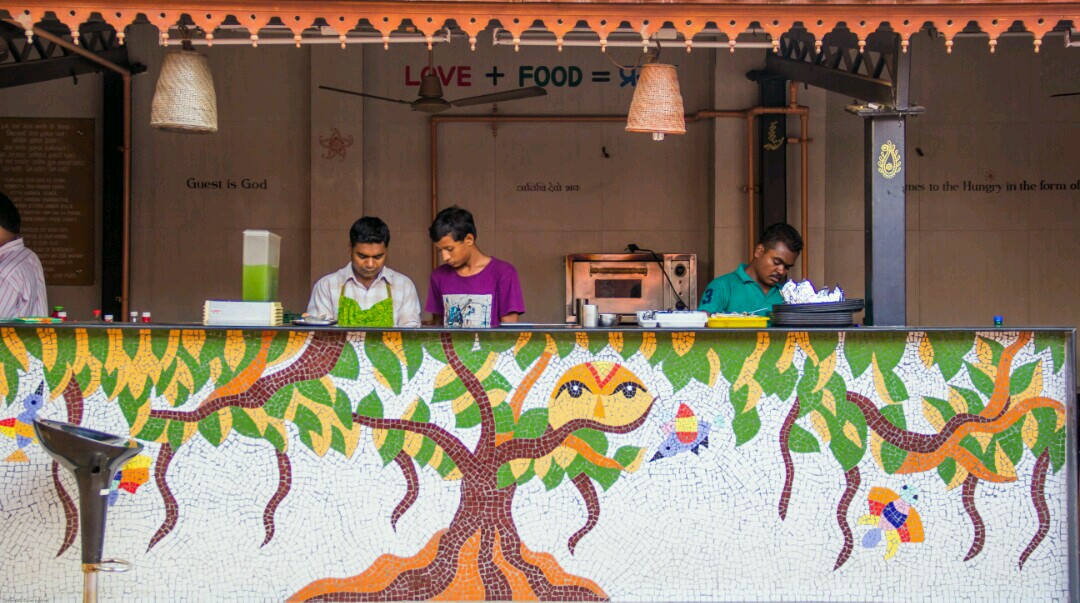 "Atithi devo bhava, which literally means our guests are our gods, is a tradition, a value in our culture. Every day, before service starts and the guests come in, the team for the day gets together and prays.They pray to set intentions, they pray so that the people that they are serving are served in the best way possible, and they pray so that the culture from the villages, of atithi devo bhava, can be revived in the city as well. These days, people give a lot of importance to finance and money," Bhaskarbhai says.
"They focus on money more than each other's hearts. There is a lot of rush. People are always busy, so they don't have time to share love with people. We saw this culture, these values of humanity in the villages, and thought that amidst the hurried lifestyle in a city, how can we set up something where we take care of people and touch each other's hearts, regardless of where they are from or what they do?"
Touched hearts, they have. For many college students, even dish-washing becomes refreshing after days of studying because of the energy at Seva Cafe. Bhaskarbhai shares one way he has grown as a human being, "While it can be easy to feel and express love and compassion for those that are close to me, to express the same compassion for people I am meeting for the first time here, and connecting with their family, that is something that I enjoy doing."
"That is one of the biggest differences I have seen in myself."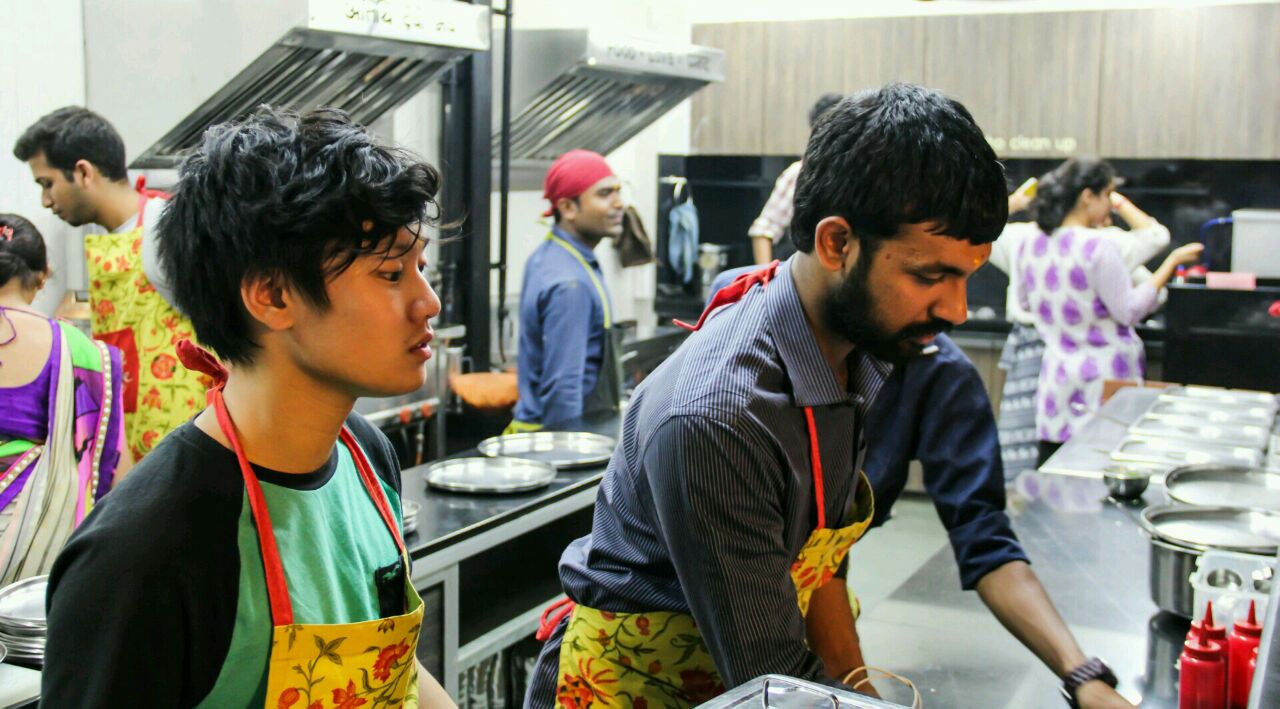 "Many times, there is a wall that we put up before we meet a new person. We have lots of questions and 'what-ifs' about how they will perceive us. But that wall has pretty much gone for me, whoever it is, regardless of social strata, the clothes they are wearing, how they talk to me, etc. When I go outside, I once felt a bit reluctant talking to strangers, but now I am bindaas. I don't think much about what they think about me, but I know how I want to think about them – with love."
He tells a story that has really touched him. "About four or five years ago, there was a man who, while travelling to Rajasthan from the South, decided to come here because he had heard a lot about this place. In Rajasthan, he had a large catering organisation. He would make food for 200-250 people, so he was quite adept at handling large kitchens, and loved to cook. Even though he didn't give advance notice to volunteer, as we require nowadays, his intention to work here was so powerful that we invited him to make something. He made a great salad."
"As soon as he started working here, he told everyone about blood donation. Whoever he met – in serving, in dish-washing, during cooking – he would strongly encourage them to donate blood, organise camps, and help others. During dinner, he told guests that he had donated blood countless times over the past many years, but seeing all the people and the service here, he felt that for the first time in his life he had received blood (energy) from this space."
Many people have connected to Seva Café by just being there.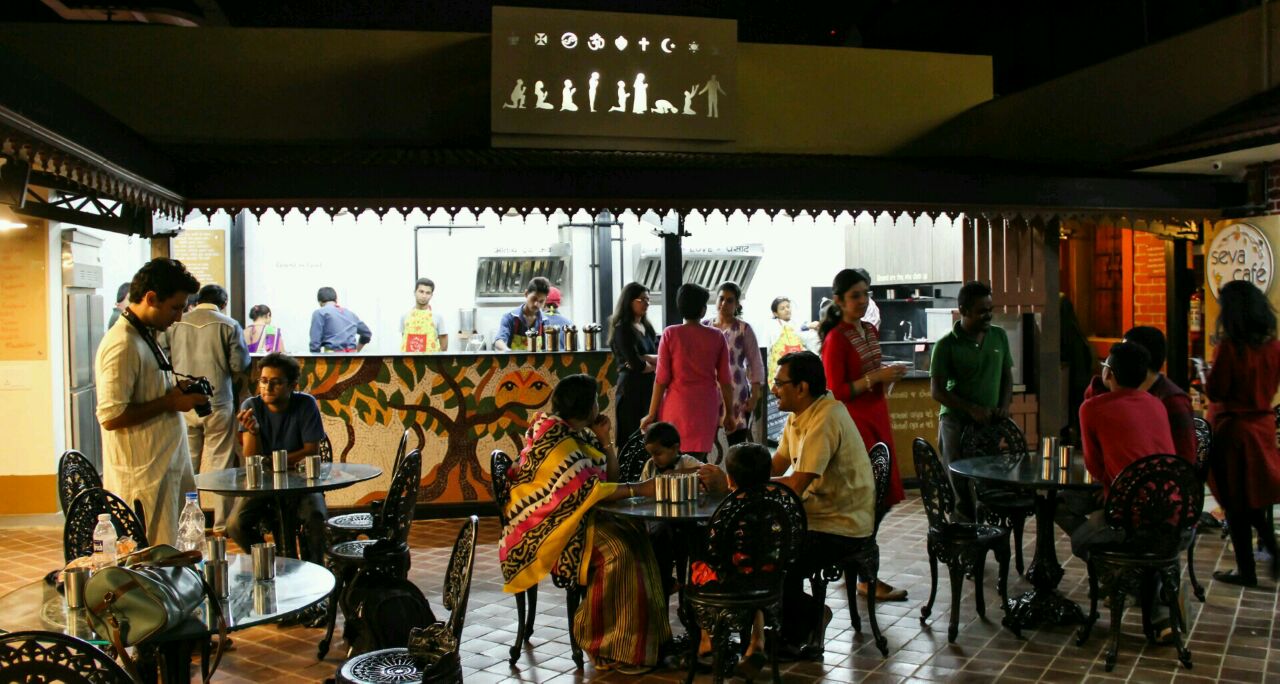 Bhaskarbhai talks about one of his regular volunteers. "Rajpalbhai worked as a doorkeeper at the Woodland store [downstairs]. If you ask anyone who knows him, they will first talk about his smile, his way of greeting. To come to Seva Café, you have to pass by Woodland, and he would always greet you with a smile. He is incredibly inspirational. Once his shift there was over, he would come here. We don't have any expectations from him, but he helps here and there, and we give him a small honorarium."
"Several months ago, he was laid off , and now runs a cholafali stall near the bus stand downstairs. As soon as his work ends, he comes here and helps with cleaning, packing up, cleaning windows, etc. He really trusts this place and feels very close to it, because he himself is so compassionate. Before going home for dinner, he will religiously come here to help, to spread the love with his smile. It's not just about what he does. You can feel the love in his presence here."
Indeed, when I go downstairs, I make a point to spend a few minutes with Rajpalbhai. I understood immediately what Bhaskarbhai meant. His wide, toothy grin would melt anyone's heart. As he told me his story, he brushed away struggles that he has had, such as living in the slum nearby and supporting his children back in Rajasthan for their education. He says, "Smiles and love. That's all the world needs. If we smile, the world will smile back. All this stress and hurriedness we have these days, all the diseases caused by that, it will all go away if we keep spreading love."
After each service, the volunteers gather in a circle to pray, share, and eat.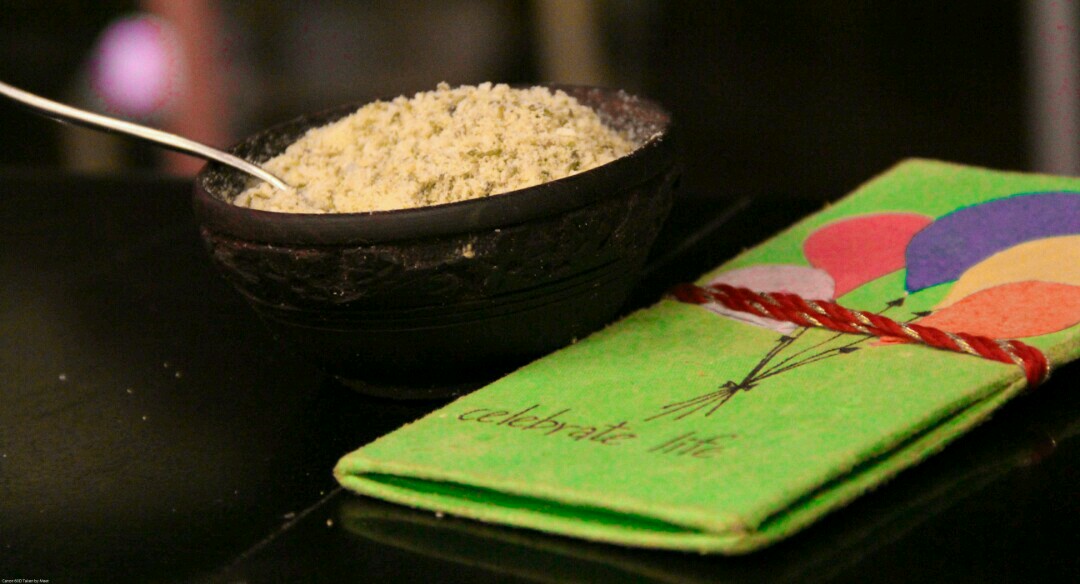 They talk about how it felt to serve customers, if they found a particular moment inspiring or challenging, and whether there needed to be changes in the way the whole experience would be next time. Over the years, they have changed the way the contributions are made, the way they welcome people, the way people come to volunteer, and more. At one time, they had a gift table, where guests were asked to give anything they wanted to anyone. All of this is designed to make the experience of being at Seva Café more valuable and touching.
Volunteers not only help with cooking, serving, and washing dishes, but also with welcoming, decorating, and creating an ambiance. There is no fixed way to do this, and people from schools, businesses, and organisations have contributed their own flavours and sounds.
Seva Café has become a symbol for trustworthiness, kindliness, and compassion. Bhaskarbhai explains, "I wouldn't say that we were the first to do this, but people in Ahmedabad, and indeed all over, definitely have taken some inspiration, some energy from here, and started something of their own with similar values. People definitely have started respecting us. In this area, people know that if you have worked at Seva Café for some time, you are a person who can be trusted, and are warm."
"In other similar experiments around the world, people in the vicinity have felt an air of trust."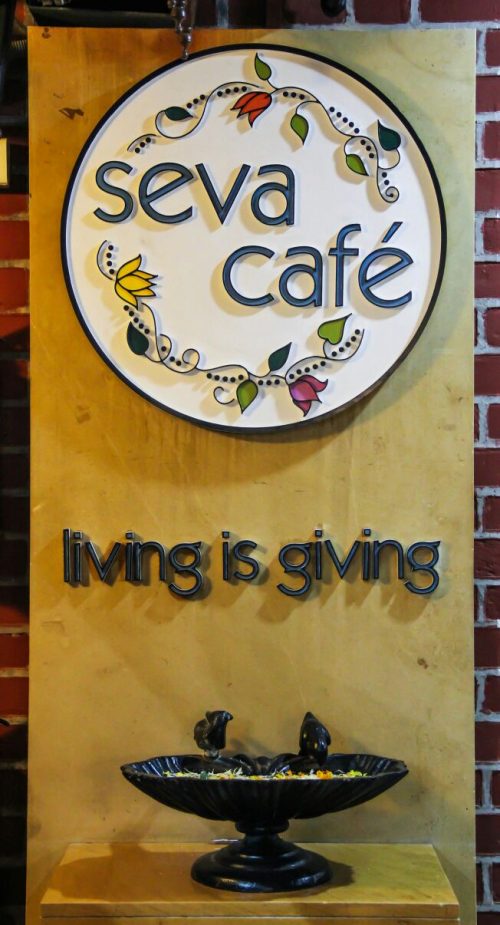 Finally, Bhaskarbhai has a message, "A lot of people think seva is a huge thing. They hear the word and think of large, formidable ideas. But seva is everywhere, in so many small things. At a kitli, if you see a dog, you will probably feed it some biscuits. You may offer some water to your rickshaw driver. We forget to see these small acts of kindness that we already do, being preoccupied in this
rushed life. As long as you do something with love, that is seva."
To learn more about Seva Cafe and volunteering opportunities, visit the Facebook page. Do you know stories of people that will help map your city better? Find out how you can contribute to The People Place Project here.
Like this story? Or have something to share? Write to us: contact@thebetterindia.com, or connect with us on Facebook and Twitter.
NEW: Click here to get positive news on WhatsApp!
We bring stories straight from the heart of India, to inspire millions and create a wave of impact. Our positive movement is growing bigger everyday, and we would love for you to join it.
Please contribute whatever you can, every little penny helps our team in bringing you more stories that support dreams and spread hope.