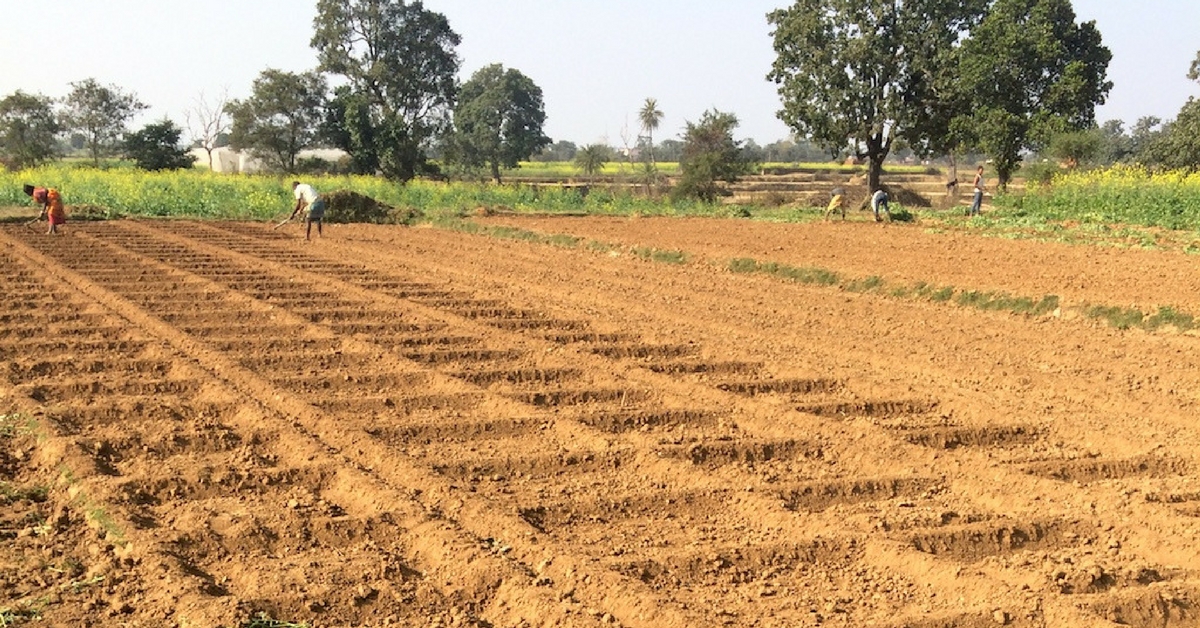 Many small and marginal farmers in Lohardaga and Gumla are using tiny pumps to irrigate vegetable fields, an entrepreneurial model that has the potential to increase incomes for smallholders, since groundwater is abundant in the state. Bikalp Chamola takes a closer look.
In Datma village in Kisko block of Lohardaga district in Jharkhand, a lift (device for pumping water, usually of capacity more than 5 horsepower) stands on a small body of water. The lift was meant to cater to the irrigation needs of farmers. The system of operating a lift is simple. One operator is appointed, who is paid a fee for regulatory work that he does. The farmers share the water on an hourly basis, for which they pay rent, during paddy cultivation and the winter season.
Such devices dot the landscape in Lohardaga and Gumla districts of Jharkhand. They came on different subsidies and were either promoted by civil society organizations or by government departments. However, due to irregular availability of water, the lifts became highly susceptible to preferential water allocation. The farmers with less land and scattered landholdings did not have control over water for irrigation in their fields.
Discriminatory use
Thus, the idea of collective water sharing did not catch the fancy of people in the region, and the lifts were now being used by lesser and lesser number of people. As a consequence, in these pockets, small pumps made their way into being used as primary devices for irrigation as they provided greater control on water for irrigation to small and marginal farmers.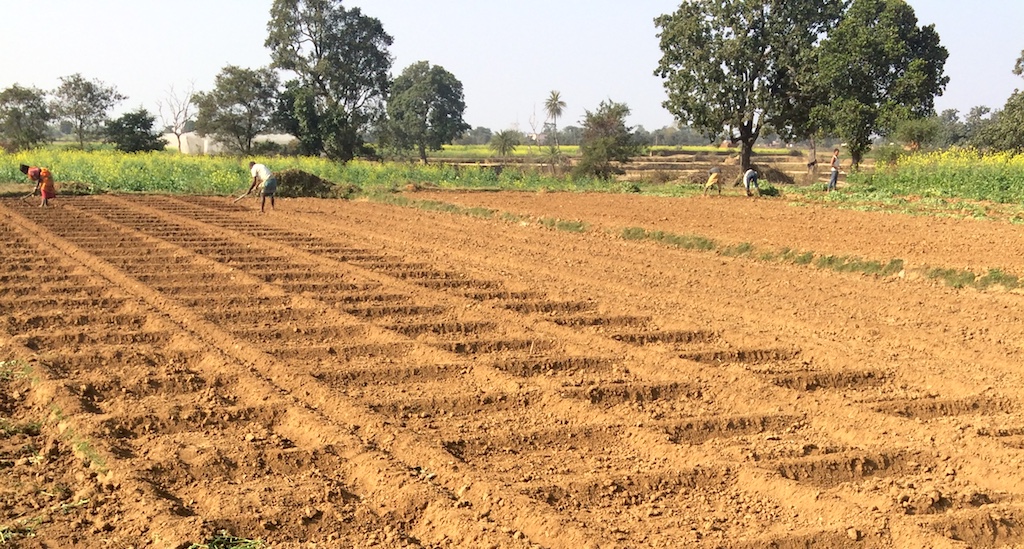 "We cultivate tomatoes and cabbage thrice in a year to minimize the losses. Even if one crop goes bad, the other two can easily cover up for the same," said Arjun Prajapati in Aria village of Lohardaga district. "We use smaller pumps because they are cheap. They can run on single phase electric lines too."
"Earlier we had an electric lift in our village, which stopped working because of lack of maintenance," said fellow villager Vinod Prajapati. "Usually, while growing one crop of tomato on an acre, we expect a gross income of ₹1 lakh from the same, so it makes for a viable income source for us. As more people are now taking up vegetable cultivation because of higher returns, people have started digging tube wells and bore wells."
In a state where irrigated area for marginal farmers is only 10 % of the gross cropped area, although small in number, these farmers stand out as exceptions. In order to understand the use of small pumps in Jharkhand, a study was conducted in districts of Gumla, Lohardaga, and Ramgarh, and a total of 47 farmers were interviewed.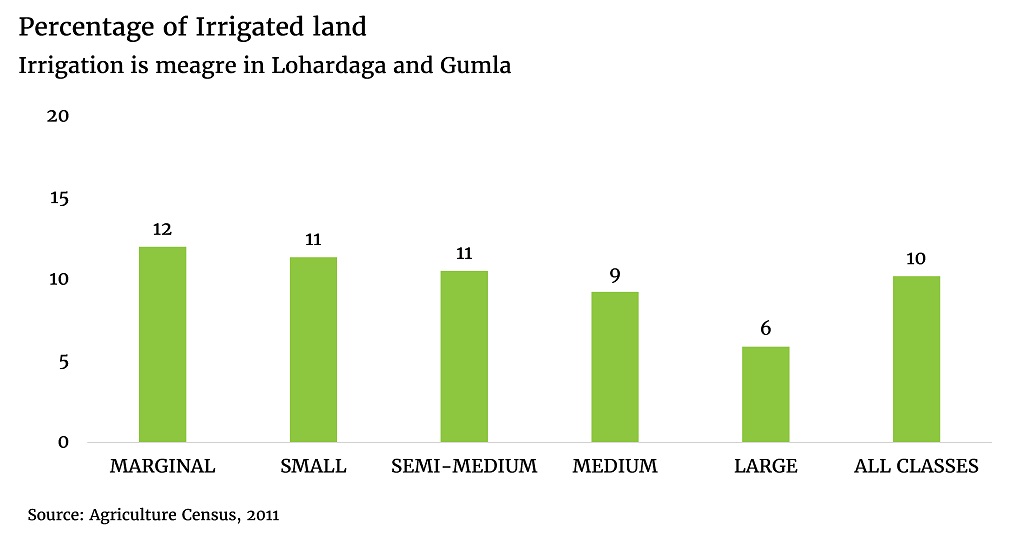 Shift in cropping pattern
The areas around the town of Bedo have seen an increased interest by farmers in vegetable cultivation. This is due to two reasons – proximity to markets like Ranchi, and increased use of shallow groundwater. Also, this could be attributed to the widespread use of smaller capacity pumps, used either on surface sources or to extract groundwater.
These pumps entered irrigation a decade ago in the region, due to a subsidy offered initially to farmers on kerosene, which popularized its use in agriculture. However, as the subsidy receded, these kerosene pumps became unpopular, primarily because of the high operational cost.
On the other hand, the popularity of small electric pumps was highly dependent on the availability of electric connections in agriculture, and therefore still is limited in a state like Jharkhand. A typical sight during the months of October-November is that of farmers carrying small diesel pumps with pipes on the back of their cycles from one place to the other.
The dealers and retailers have reported an increase in the use of electric pumps of late. Diesel and kerosene-run pumps, although popular in areas with no electric connections, provide a disadvantage in terms of high operational cost. Chinese electric pumps, on the other hand, are easily available in the markets of Ranchi, which range from ₹3,000 to ₹4,000 (1 HP electric pumps). The most widely used diesel pumps are Honda and Vijay (more than 2 HP), which cost around ₹10,000. Operation and maintenance for the small pumps is lower compared to their larger counterparts.
No water markets
Although there is an absence of water markets, farmers tend to use water from wells of other farmers for irrigation on an informal basis. In other places, water is extracted with mutual consent of two or more farmers. Many farmers, however, still use pumps on rent, prices of which remain constant in the village. The rent of the pump per hour is ₹60-80, where the farmer has to bear the cost of kerosene. To avoid such burden, one farmer ventured into purchasing a secondhand pump for ₹3000 (3 HP Honda Pump, 4 years old).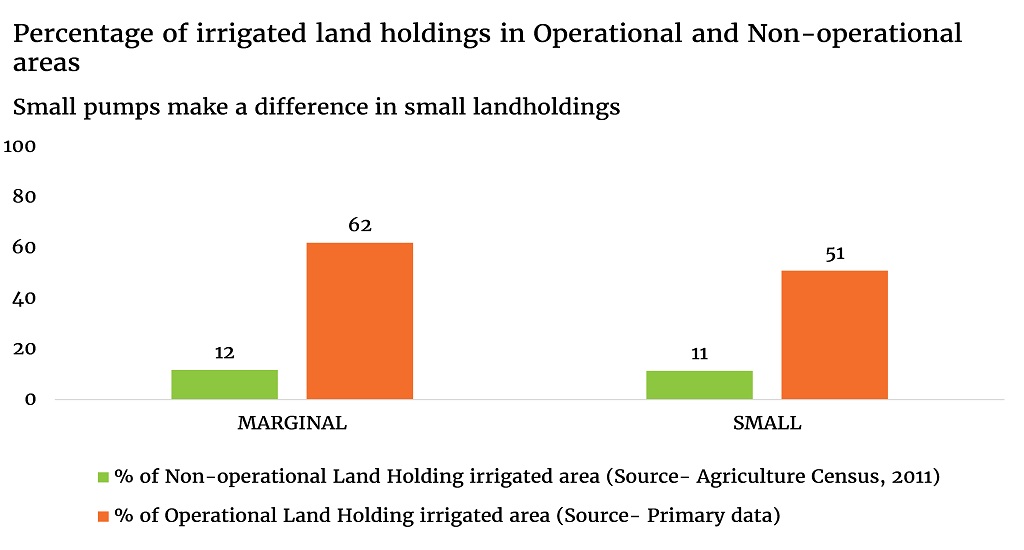 Leasing of land is also a common feature amongst marginal farmers, due to highly scattered land holdings. "I used to migrate earlier to Pune for working as a security guard. But that was not working out, as my family could not move to Pune with me," Shiv Tehel Singh in Mariyam Toli village of Raidih Block of Gumla district told VillageSquare.in. "Using my own small pump, I have been growing vegetables for a year on my land." The patterns of sharecropping have also changed in recent years. Marginal farmers are taking land on lease from larger farmers for cultivating vegetables.
In a village close to Gumla, a farmer was growing potatoes using the water left behind from a hand-pump. He had his kitchen garden close to the community hand-pump, and used a small electric motor to lift the water left behind after cleaning and filling of utensils.
Irrigation intensity
Irrigation intensity for vegetables, during the summer, ranges from 100-150 hours for half an acre of land using the small pumps. Considering usage of 1 liter of diesel per hour, this would mean a total irrigation cost of ₹7,000-8,000, for three months. This explains the choice of vegetables for cultivation. Tomatoes, especially during March–May, yield best results for the farmers. Additionally, they are also using pumps to irrigate crops like paddy and maize during the Kharif season, which otherwise might spoil, due to lack of sufficient rains.
The number of tube wells in a vegetable-growing village near Gola has doubled in the last four years. There is a possibility of high renting of water in the years to come, as some farmers neither have access to groundwater, nor means to extract the same, therefore being at a disadvantaged position.
All the interviewed farmers did not consider dairy to be an enterprise. They were too preoccupied with vegetable cultivation and gathering means for irrigating the same. No one was in mood of growing fodder specifically for feeding cattle. They preferred sending them off to nearby grazing lands, leading to another widely common problem in the area – free grazing.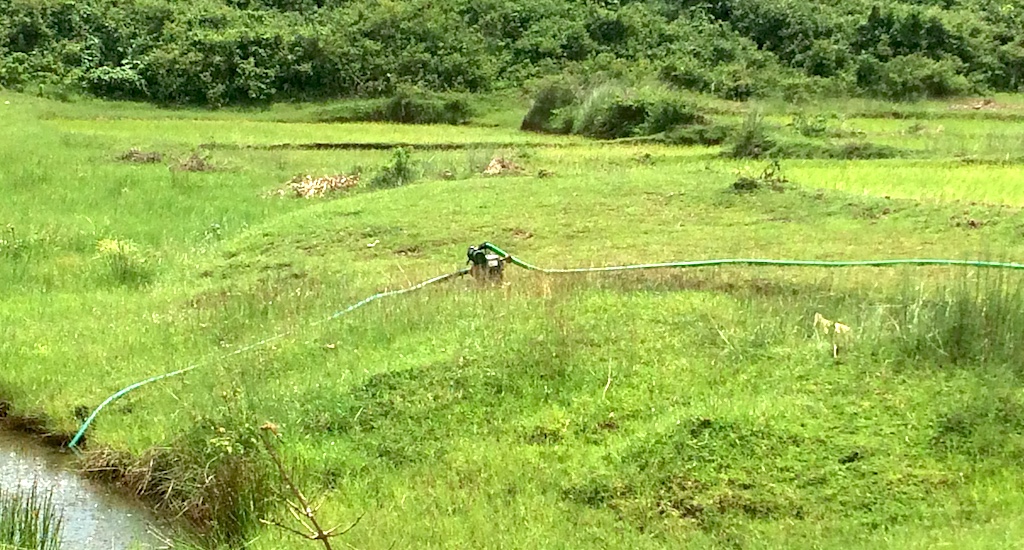 Farmers in villages that allow free grazing leave their cattle to graze after the months of the Kharif season. This prevents others who have access to water from growing crops. Due to free grazing, farmers are not able to cultivate anything during winters. They need to maintain strict watch to stop cattle from entering the field.
Increase in income
Farmers have said that their income from agriculture in the last few years has significantly increased. Almost 60 % of the income now comes from vegetables, which farmers are irrigating using smaller capacity pumps. These are primarily jackfruit, cabbage, cauliflower, tomato, brinjal, cucumber, and garlic. In Gola, farmers have stopped cultivating wheat in the last two years, and are growing vegetables. The clusters around Ranchi provide a strong case for adopting small pumps and earning good incomes from vegetables.
Given the extreme poverty and distress in the state, can small pumps help small and marginal farmers? Can these pumps help restore control of land by accessing abundant groundwater available in the area, and improve earnings? Is this small number of farmers cultivating vegetables evidence for the state's larger potential? Can Jharkhand become the primary source for vegetables in the urban markets of Eastern India? Can small pumps, rather than larger pumps, be the engines for ensuring har khet ko pani (water for every field)?
About the author:
Bikalp Chamola
is a researcher with Pune-based Centre for Development Research. He has earlier worked with Rajeevika livelihood mission in Rajasthan. Chamola is a graduate of the Institute of Rural Management, Anand.
Adapted from an article originally published on VillageSquare.in. Subscribe to VillageSquare's weekly update on the website for more stories from rural India.
Like this story? Or have something to share? Write to us: contact@thebetterindia.com, or connect with us on Facebook and Twitter.
NEW: Click here to get positive news on WhatsApp!
We bring stories straight from the heart of India, to inspire millions and create a wave of impact. Our positive movement is growing bigger everyday, and we would love for you to join it.
Please contribute whatever you can, every little penny helps our team in bringing you more stories that support dreams and spread hope.