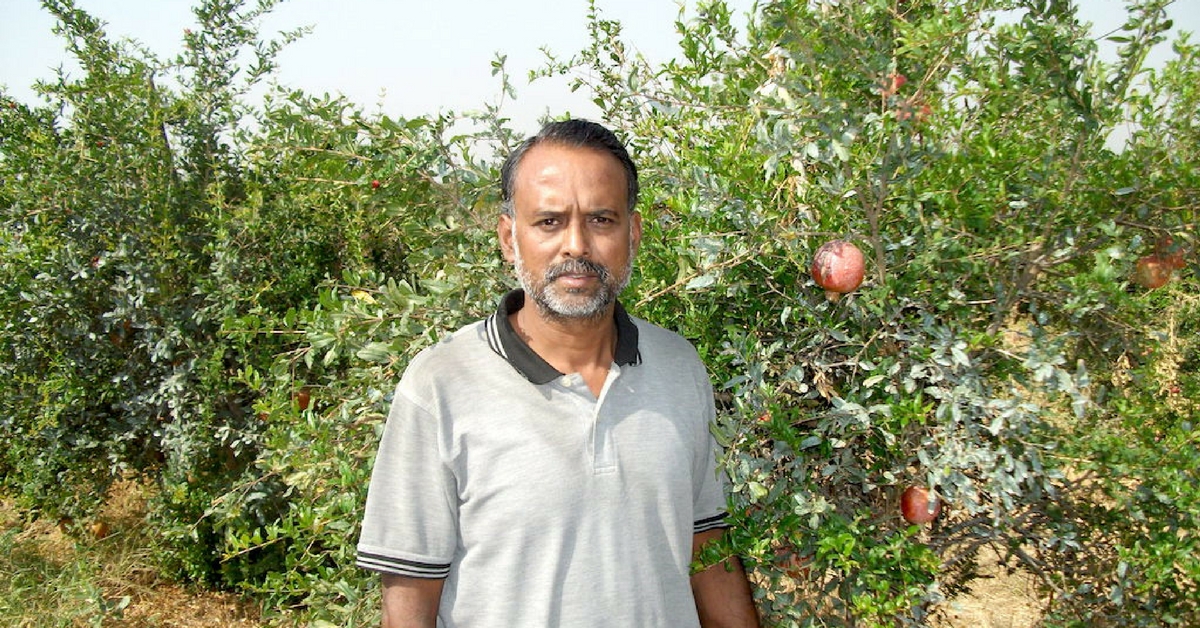 The consistently high returns from growing pomegranates in Maharashtra, the epicentre of the fruit's production in India, have seen many farmers adopt it over water-guzzling crops such as sugarcane and cotton. Hiren Kumar Bose takes a closer look.
From the outside, the fruit does not look particularly appealing. Its shape, an odd combination of a sphere and a hexagon, with a prominent calyx on one end, makes it one fruit that can't be judged by the color of its leathery skin. Cracking it open is a daunting task, but once done, it reveals a dense compilation of seeds nestled among a whitish, spongy pulp.
As you take a mouthful of the red arils, they offer a burst of sweetish-tart, crimson-coloured juice, followed by the crunchiness of the tiny seed embedded in each aril. Once you've savoured a pomegranate (Punica granatum L.), the only fruit available throughout the year, you're unlikely to go for its packaged avatar.
India grows six different commercial varieties of the fruit – Ganesh, Mridula, Arakta, Ruby, Phule Bhagwa, and Phule Bhagwa Super. Being home to the finest varieties of pomegranate, the fruits have soft seeds with fewer acids. In fact, the fruit quality is much superior to those grown in Spain and Iran in edible quality and attractiveness.
Mainly grown in the western parts of Maharashtra and northwestern Karnataka, followed by Gujarat, Andhra Pradesh, and Tamil Nadu, scores of villages in the districts of Solapur, Nasik, Sangli, Ahmednagar, Pune, and Satara make Maharashtra the country's pomegranate bowl, with 71.21 % of the total area under pomegranate cultivation in the country.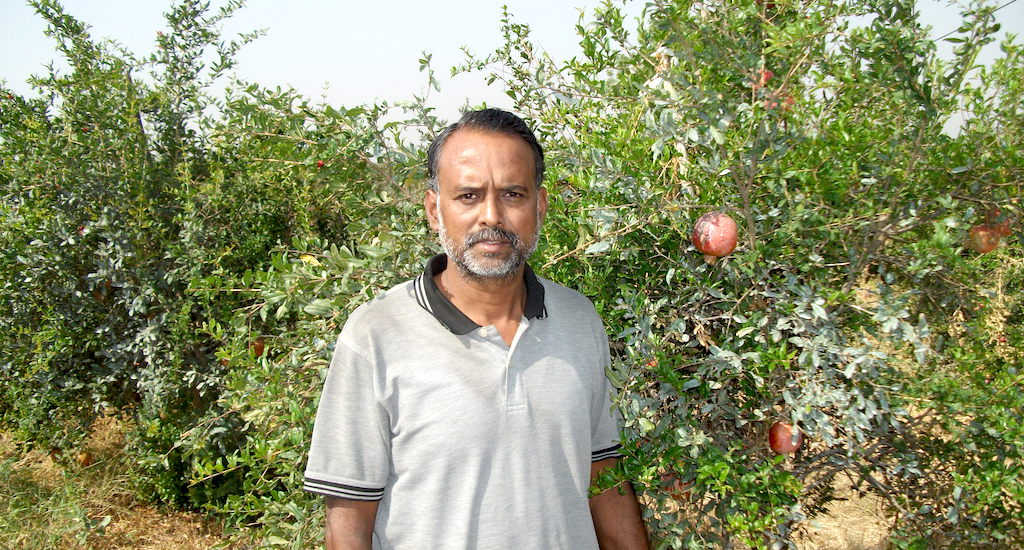 Indian pioneer
The credit for developing an indigenous variety of pomegranate goes to G.S. Cheema, considered the father of Indian horticulture, who, at Pune's Ganeshkhind Fruit Experiment Station, worked with a local, wild-type pomegranate variety known as Alandi and released the GBG-1 variety in 1936 for commercial cultivation in Maharashtra. In 1970, GBG-1 was renamed as Ganesh.
In 1984, MPKV (Mahatma Phule Krishi Vidyapeeth), Rahuri released G-137, an important commercial variety. The quest for new varieties of pomegranate, particularly with soft seeds and bright attractive colour of the rind and arils was on, with Tamil Nadu Agriculture University and University of Agriculture Sciences, Bengaluru releasing their varieties too. With the introduction of Russian varieties, namely Gul-e-Shah, Gul-e-Shah Red, Gul-e-Shah Rose Pink, and Shirin, which possess attractive colour attributes, new crosses were made with Ganesh at MPKV in 1987.
"Selection from the hybrid population of Ganesh and Gul-e-Shah Red resulted in release of popular cultivars, namely Mridula, Phule Bhagwa, Phule Arakta, and Phule Bhagwa Super during 1993-2013," explains Vinay Supe, Horticulturist, All India Coordinated Research Projects (AICRP) on Arid Zone Fruits, Department of Horticulture, MPKV. Rahuri has worked on all the five commercial pomegranate varieties since 1990.
Pomegranate outreach
Reaching prospective growers through farmer rallies, and visiting orchards in the summer months, when the temperature peaks to 45° in Maharashtra, Vinay has single-handedly popularized the cultivation of pomegranate in the state's rain-fed regions, bringing prosperity among those dependent on horticulture for their livelihood.
Says the 56-year-old horticulture scientist after the conclusion of his 650 km. field trip, beginning with Buldhana, Akot, and Washim, and ending at Rahuri, "Bhagwa has done extremely well in farmers' fields and emerged as the leading cultivar, both for domestic as well as export markets, primarily due to its wide consumer appeal for its soft seeds, bright red arils, and palatable blend of its brix-acid ratio."
In 2015-16, the area under pomegranate cultivation has sizably increased from 1,31,000 hectares to 1,81,000 hectares, with an annual production of 1.8 million tons and an average productivity of 9.88 ton per hectare, according to the 2015-16 annual report of the Solapur-based National Research Centre for Pomegranate (NRCP).
Nearly 2,00,000 families in Maharashtra earn a livelihood growing pomegranate on 1,30,000 hectares.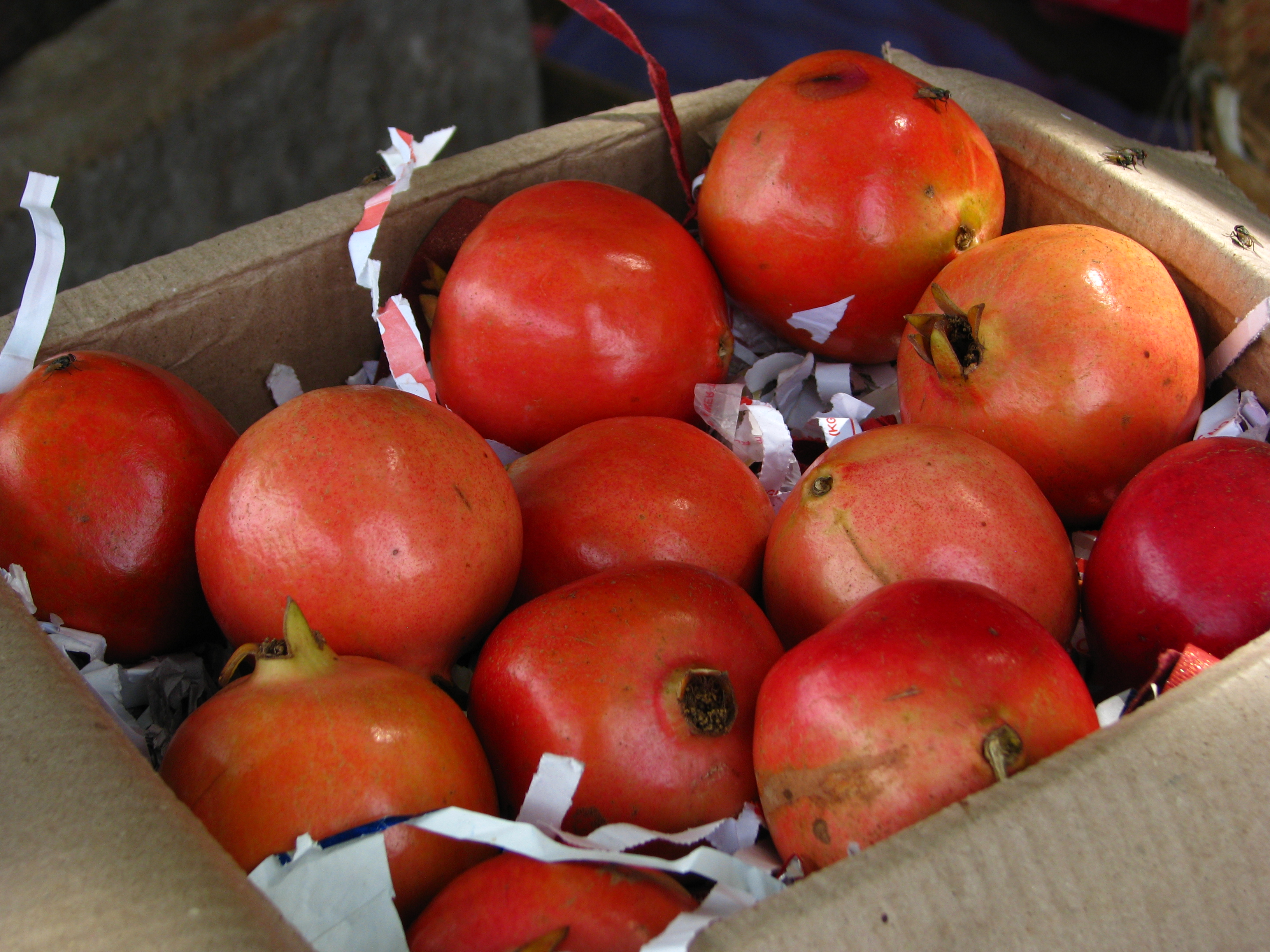 In 2016-17, Maharashtra produced 1.8 million tons of pomegranate, of which 95 % was of the Bhagwa variety, according to Prabhakar Chandane, President, Maharashtra Pomegranate Growers and Research Association. "It's one crop which has scripted a success story for thousands of farmers in the state, with leading farmers in Vidarbha and Marathwada also taking to it," he told VillageSquare.in.
Among them is Vijay Dange (40), a first-generation farmer who grows the fruit on his three-acre plot in Kankure village, neighbouring the temple town of Shirdi in Nashik district, "I took to farming seriously after I discontinued my studies after Class X, and planted 450 saplings of Bhagwa in 2010 in one-and-a-half acres. I followed it by adding 385 saplings in 2013 in another one-and-half acre sourced from Rahuri Vidyapeeth," says Dange.
In the first plot, he received a yield of 27 ton, while the second gave him 24 ton, which he sold at the Rahata Krishi Utpadak Bazar, 7 km. away from his village, fetching him ₹120 a kg.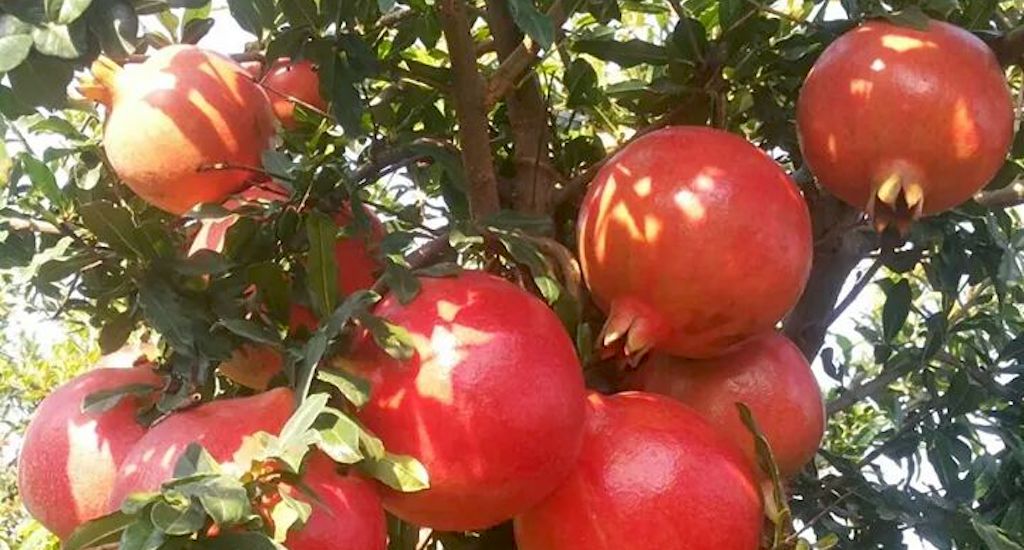 Spreading the success
Success stories of farmers like Dange have led others, especially those in Nashik, to abandon the traditionally grown crops like onion, sugarcane, bajra, and jowar, and take up pomegranate. Even in far-off Vidarbha and Marathwada in the northern parts of the State, in districts like Osmanabad, Beed, Buldhana, Wardha, and Akola, farmers have enthusiastically adopted pomegranate. 53-year-old retired Wing Commander Vishwajit Akre of Ranwadi village, 70 km. from Wardha, who had nursed a passion for farming since long, chose pomegranate instead of orange and cotton, the region's traditional crop.
In 2015, his tissue culture plants of Bhagwa growing on his 10-acre plot yielded him 40 tons, of which three tons were exported, fetching him a price of ₹110 a kilo. His orchard spread on 21 acres is self-sufficient in water, thanks to rainwater harvesting and borewell injection, and has witnessed a steady yield. "I follow the practice of thinning in which we don't let a plant bear more than 150 fruits, unlike others who have 300 fruits per plant," Akre told VillageSquare.in. He received a yield of 60 ton in 2016 and is hoping to notch 80 ton this year.
Market mechanics
Pomegranates arrive in the market in February, offering a premium price to growers, but as the new entrants, namely mangoes and grapes, make their entry into the mandis in mid-March, pomegranates encounter competition, leading to a fall in prices. In the initial months, the fruit fetches a price of ₹70-80/kg., but soon drops to ₹35/kg.
Veterinarian-turned-farmer Harishchandra Aher (52) of Deola village in Nashik, who grows Arakta, Phule Bhagwa, and Phule Bhagwa Super varieties in his 10-acre plot, told VillageSquare.in, "A majority of growers suffer from the herd mentality and rarely study the market, the consumer preference, and the exoticism of fruits or vegetables before planting. Rather than go for shimla mirchi, Chinese cabbage, bokchoy, watermelon, or sweet corn, everyone seems to be rooting for pomegranate. This has led to a glut and fall in prices."
As India produces the finest edible quality of pomegranates, available almost throughout the year, there is tremendous potential for export. The Maharashtra State Agriculture Marketing Board has made several efforts. These include setting up an export facility centre in Jalochi (Baramati), and obtaining the brand name MAHAPOM. It has trained scores of farmers for export quality production, and registered them with GLOBALGAP certification. GLOBALGAP is a non-governmental organization that sets voluntary standards for the certification of agricultural products around the globe. Still there is much to be done.
According to the National Research Centre on Pomegranate, India exported 35,000 tons, barely 4.05 % of its total produce. On the other hand, Turkey exported 86,100 tons, and Iran 60,000 tons.
Post-harvest technologies
Another area that needs attention is developing post-harvest technologies. Though NRCP, formed in 2005, has post-harvest management among its objectives, it has hardly done much in this field. In fact, Uddhab Kumar Bharal, recipient of the President's National Grassroots Innovation Awards 2009, developed a pomegranate de-seeder. The machine has been exported to Turkey and the US. But it has hardly any takers in India, and is totally ignored by those involved in developing post-harvest technologies.
Admits R.K. Pal, Director of Sholapur-based NRCP, "No machine can extract the pomegranate arils (edible part) 100 % damage-free. If one aril gets damaged in the package, the whole lot gets spoiled."
The socio-economic scenario is rapidly changing, thanks to climate change, water scarcity, small land holding, etc. Hence, the pomegranate crop is getting popular and thriving due to its wider adaptability. It is a highly remunerative crop for replacing subsistence farming, with high potential to develop wastelands. The pomegranate also suits the topography and agro-climate of arid and semi-arid regions.
"The Phule Bhagwa Super variety has come as a boon for farmers in Maharashtra. It is our earnest desire to take it to dry-land farmers in Karnataka, Rajasthan, Gujarat, and Madhya Pradesh. They too can cultivate and share the superfood with health-conscious individuals," K.P. Vishwanatha, Vice Chancellor, MPKV, Rahuri, told VillageSquare.in.
About the author:
Hiren Kumar Bose
is a journalist based in Thane, Maharashtra. He doubles up as a weekend farmer.
Adapted from an article originally published on VillageSquare.in. Subscribe to VillageSquare's weekly update on the website for more stories from rural India.
Like this story? Or have something to share? Write to us: contact@thebetterindia.com, or connect with us on Facebook and Twitter.
NEW: Click here to get positive news on WhatsApp!
We bring stories straight from the heart of India, to inspire millions and create a wave of impact. Our positive movement is growing bigger everyday, and we would love for you to join it.
Please contribute whatever you can, every little penny helps our team in bringing you more stories that support dreams and spread hope.
Tell Us More