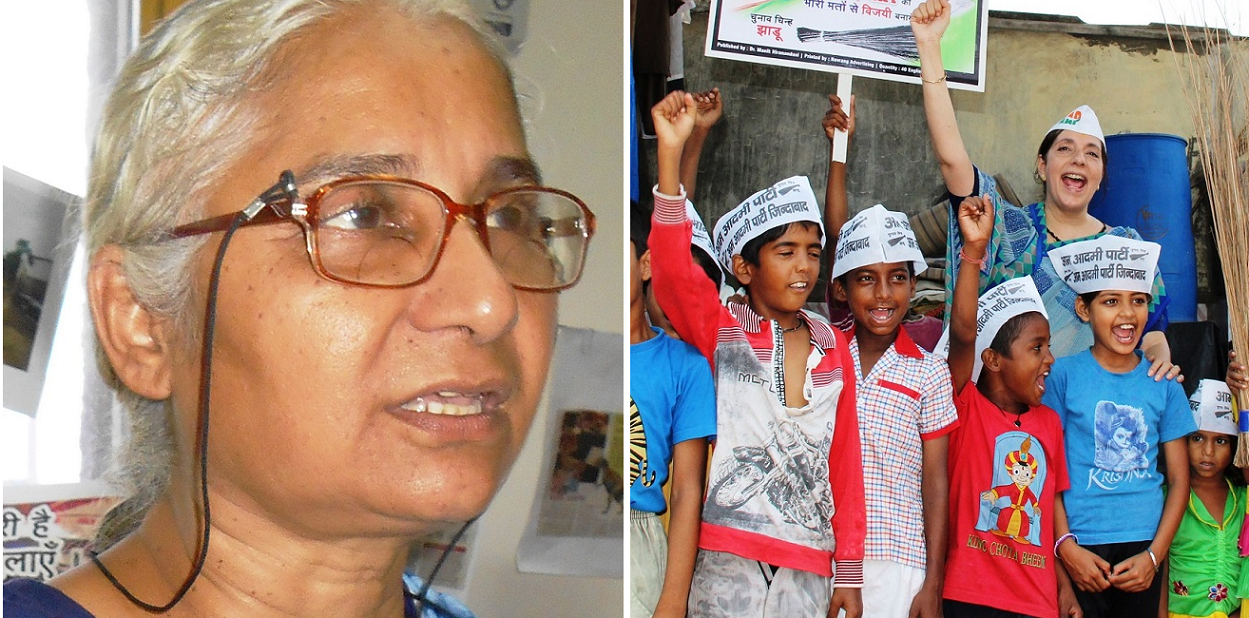 Meera Sanyal & Medha Patkar are Aam Aadmi Party candidates for the Mumbai elections. They are two of the 57 women candidates fielded by AAP. They come from completely different backgrounds, have contrasting visions and yet - have a common cause!
The Mumbai elections are on 24th April, 2014.
"The Banker and the Activist come together on the Aam Aadmi Party (AAP) plank": that is how the media has been playing up the contrasting personas of the two women candidates of AAP, Meera Sanyal, 55, and Medha Patkar, 59, who are contesting the parliamentary elections from South Mumbai and North East Mumbai, respectively. Of the two, Patkar already enjoys a high profile, thanks to a lifetime devoted to activism. Sanyal, too, is a known face. During the 2009 General Election, this former CEO of the Royal Bank of Scotland fought from the same constituency as an independent candidate, but failed to make an impact.
Sanyal and Patkar are two of the 57 women candidates that have been fielded by the newly founded AAP across the country. In fact, among all the political parties, AAP has the highest percentage of women in the fray. The list is a virtual rainbow of identities – there is Tiliya Devi, Nobel Peace Prize nominee and daily wage earner who has led a people's movements against landlords; Dayamani Barla, land rights activist; Kamal Kant Batra, mother of Kargil hero Captain Batra; Soni Sori, once arrested for suspected Maoist activity, but later released by the Supreme Court; Anita Pratap, ex bureau chief of CNN; Kanchan Chowdhary, India's first woman DGP, to name a few. While there is no common ideological string that binds them, these activists, journalists, professionals, teachers, homemakers, writers and actors seem to have made the cut for their commitment, recognisability and people connect.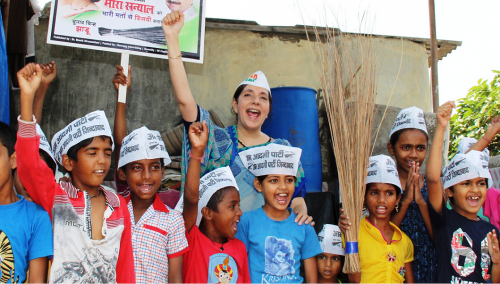 Dr Sudha Mohan, professor of Urban Politics, Governance and Development at Mumbai University, explains this apparent randomness, "AAP is not a party that is rooted in any fixed ideology. It seems to believe that this is the time for action, not ideas. It presents itself as a party with a difference. The stated USP is that it offers a genuine alternative – whether in terms of candidates or a model for development."
This is what makes AAP a player to watch out for. In an atmosphere charged with an anti corruption sentiment, its lack of political history gives it a clean slate – and a clean image – to work with. This image is reinforced when a person of Patkar's stature, acknowledged for her personal incorruptibility, came on board. Draped in handloom, with grey, carelessly plaited hair, she is an indomitable advocate of the socialist cause. Chucking a teaching job and leaving behind a half-completed PhD , she has spent 30 years criss-crossing the country, exposing corruption, protesting against large dams and land grabs, agitating for the rights of the displaced and the marginalised.
Her journey is marked with prominent milestones: the Narmada Bachao Andolan, for which she is most widely recognised; she is founder of the National Alliance of Peoples' Movement (NAPM), which functions as an advocacy and pressure group; she was Commissioner to the World Commission on dams; she led an agitation against the Tata Nano Plant at Singur; she has filed a PIL against the Lavasa project in Maharashtra; her agitations have stonewalled slum demolitions in Mumbai, and ensured proper rehabilitation… her CV is long, and the accolades are as numerous as the brickbats.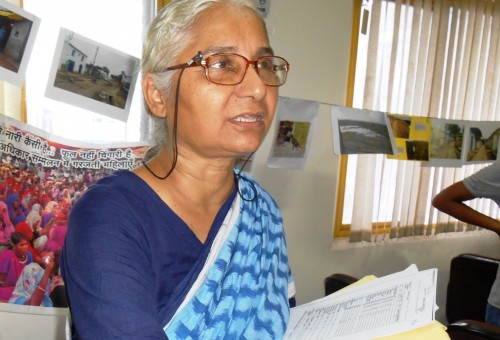 "Patkar cannot be described as an outsider entering politics. She has always been a part of the system, she knows its workings and its flaws; she has had a tremendous impact on policy making. She has, in a way, demonstrated that one can exert influence even without being a part of the political system. Her desire to fight this election seems to stem from a thinking that she can do more," says Dr Mohan.
A similar conviction drives Patkar's party colleague, Sanyal. "I joined the AAP because I am inspired by Arvind Kejriwal's ideals, integrity and courage. India needs good leaders, who are competent and honest administrators. It is time for a new paradigm in politics," says Sanyal.
The daughter of a naval officer, Sanyal, a Harvard alumnus, has had a distinguished banking career. Articulate and at ease in corporate world, Sanyal holds a natural appeal for the upper class voters of South Mumbai. But she is not knocking on the doors of the rich for votes. Social media has been deployed as a powerful campaign tool by the AAP and Facebook and Twitter accounts of these two candidates are abuzz with information and pictures. Sanyal is campaigning spiritedly on the streets of Kamathipura, Chinchpokli and Mazgaon docks, the poor and middle-class neighbourhoods of her constituency.
Dressed in tasteful cotton sarees, with hair tucked neatly into the trademark AAP topi, she intersperses her meetings with a symbolic sweeping of the road with a broom, the party symbol. Sanyal listens to the people, exhorts them to vote for "truthfulness" and "clean politics". One of the challenges she faces in her constituency is low voter turnout – only 42 per cent of the voters in South Mumbai turned up during the 2009 elections. "Until now, we believed there was little to choose from in the current political establishment. When I stood for elections in 2009, many friends in corporate India said they stayed away from politics because it was too 'dirty'. The AAP offers a real alternative so I am confident that many who have not voted in the past will now do so," she states.
Meera Sanyal's vision
Sanyal, who has had considerable experience in policy formulation, was a part of the team drafting the party's economic manifesto. Her personal vision for India, besides eradicating corruption and increasing transparency, includes empowering enterprise, fixing the education system, ensuring environment protection, formulating simpler regulation for business, less red tape and a simplified tax structure. She believes that some lifeline subsidies are essential, but with better targeting and fiscal prudence. For women, she is keen on social, economic and political empowerment; she is against reservations but supports affirmative action for certain categories.
Medha Patkar's vision
Patkar has a different wish list. Foremost on her mind are the housing woes of Mumbai. To check corruption, she advocates a Jan Lokpal bill in every state; she wants a revamp of labour policy to discourage contract labour and provide secure employment with full benefits to labourers and workers; strict enforcement of reservations under Right to Education and monitoring of private sector schools; handing over land and natural resource rights to adivasis and villagers, as also decision making powers regarding industrial development in their region.
The two development trajectories envisioned by the women seem quite different. One imagines that, given the eclectic collection of people that represents the AAP, these divergences would be manifold at the national level. Yet, the AAP has managed to include both sets of priorities in the party manifesto. Sanyal says, "The AAP has created space for genuine dialogue. If we want 'inclusive growth' then we must take all opinions into account. The AAP has brought people like activist Medha Patkar and me to sit and talk to each other. Creating jobs and conserving the environment at the same time – that's the policy for growth."
It would, perhaps, be premature to judge the relative merits and demerits of the path chosen by the AAP. But, Dr Mohan says, "AAP's presence has enlivened the policy debate on critical matters. Medha Patkar is, in my assessment, the strongest AAP candidate in Mumbai – even Maharashtra. Her entry into politics will bring hitherto neglected issues to the centrestage."
Sanyal agrees that irrespective of the election outcome, AAP has brought about a paradigm shift in Indian politics, "We have altered the perception of 'winnability' forcing the established parties to re-evaluate their own strategies. And we have also shown that the Indian voter is not apathetic."
In the light of the Delhi experience – where AAP could come to power against all odds – there is certainly no arguing with that!
We bring stories straight from the heart of India, to inspire millions and create a wave of impact. Our positive movement is growing bigger everyday, and we would love for you to join it.
Please contribute whatever you can, every little penny helps our team in bringing you more stories that support dreams and spread hope.