Sunder Rang, a unique initiative, is empowering livelihoods of rural women in Rajasthan through arts and crafts.
When we were exploring offbeat areas in rural Rajasthan in India, one thing we noticed in common in almost all the villages was that most of the women were confined to household work. Rarely did we see them go out to earn in a patriarchal society deeply influenced by ancient culture and traditions. However, the scene was quite different at Chandelao, a quaint little village located 40 km. east of Jodhpur.
Sunder Rang, an initiative by Chandelao Vikas Sanstha (Chandelao Development Organization) in collaboration with Basecamp Foundation of Norway, is empowering a lot of women in Chandelao to earn a livelihood by making traditional arts and crafts, along with promoting traditional crafts local to Rajasthan.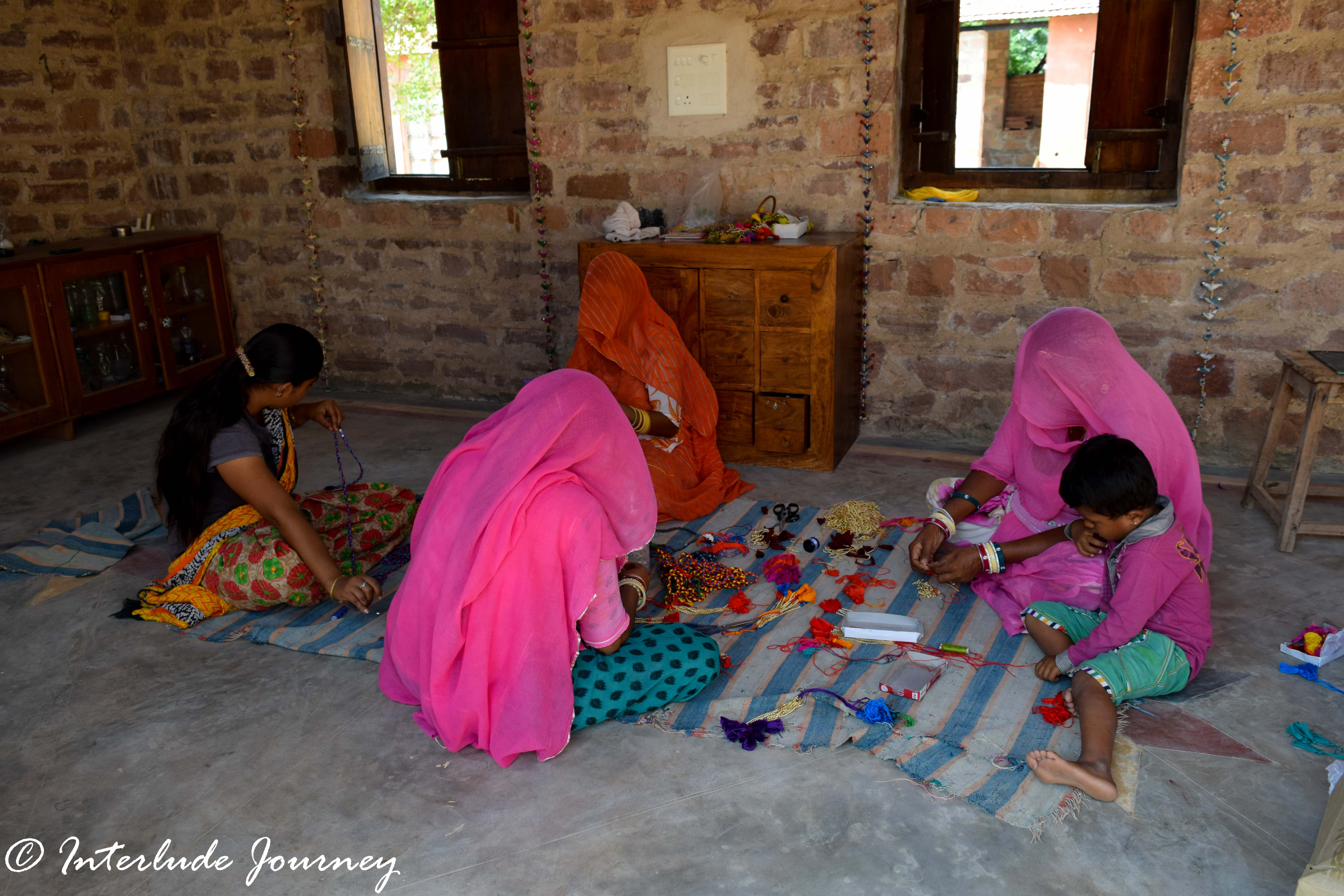 The situation was not the same in Chandelao in 2007 when Sunder Rang came into existence. Being a highly structured society like any other village in Rajasthan, Chandelao had a clear demarcation of duties of the male and female members in the family. While the male members were the sole breadwinners of the family, the female members were confined to domestic work and had no means to socialize or earn an independent income.
It was not an easy task for the Chandelao Vikas Sanstha to get the ladies out of their homes for work. The best way to create income for the ladies was to encourage them to do what they knew best. Being a state of artisans, Rajasthan has a lot of traditional arts and crafts which generations have carried forward. The Chandelao Vikas Sanstha, together with local women, created an arts and crafts center in the village of Chandelao. The partnership with Basecamp Foundation of Norway provided support to the organization through the promotion of Chandelao as a social tourism destination.
Today, over 30 women work at Sunder Rang, producing traditional Rajasthani textiles and handicrafts for both local and export markets.
With an aim of supporting the local craft skills and developing high-quality products in unique Rajasthani designs, Sunder Rang has been successful in generating sustainable income and promoting women entrepreneurship.
Sunder Rang runs on a fair-trade basis, where the ladies receive a fixed salary on a daily basis. The centre tags the name of the maker to each piece of art. Besides the daily wages, a good portion of the profit from selling the product goes to the person who made the article.
In addition to helping the women generate income and provide for basic necessities, Sunder Rang has also been successful in nurturing bonds between women belonging to different communities in society, thereby tackling the evil of caste system indirectly. By creating local jobs and providing a platform for developing local cultural knowledge and traditional skills, the project has already earned a good reputation in the village and in surrounding areas.
The product line at Sunder Rang includes clothes, accessories, handicrafts, and upholstery. The products keep the traditional touch in mind, and every pattern/design is unique to Rajasthan. The women create intricate patterns and designs with embroidery, sewing, weaving, and bead work. They display finished products in mud huts made from local materials, showcasing the cultural and artistic diversity of "true Rajasthan".
The Chandelao Vikas Sansthan has a 3P formula – People, Planet, and Profit – for promoting sustainable development and responsible tourism.
Besides Sunder Rang, a computer learning centre for the village children offers computer education for free.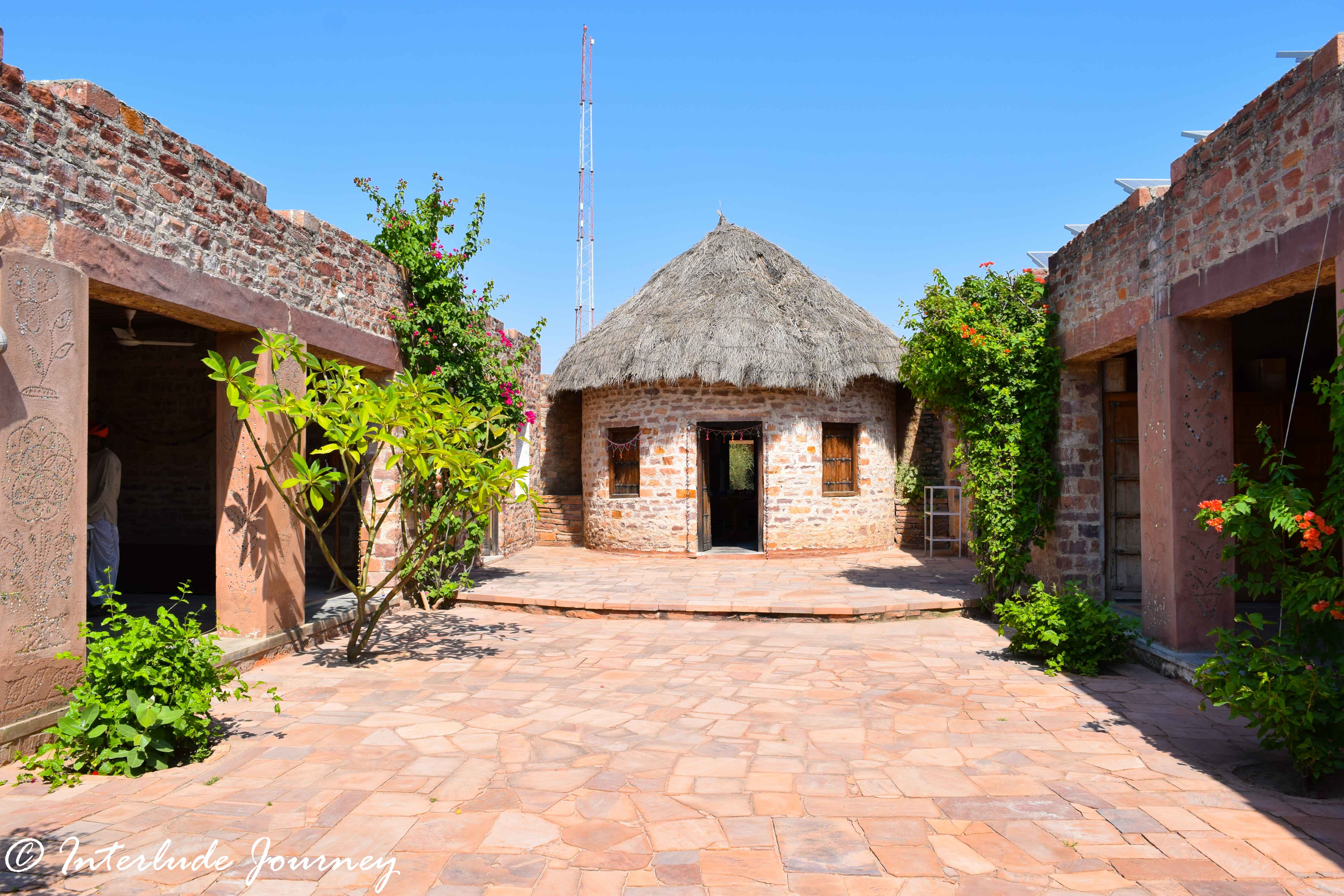 Sunder Rang and the computer education centre are two visible projects successfully running. The organization has also been actively working to improve sanitation in the village. It builds toilets for the village households and conducts campaigns to reduce plastic garbage. Renewable energy like solar power runs the computer learning centre, and gray water from the Chandelao Garh waters the gardens.
Today, major customers for Sunder Rang are the guests who stay at Chandelao Garh. Though the sales rise during peak tourist season when the hotel is full, the income drops during non-peak seasons. Since Chandelao is not a popular village, few notice it during their search for places to visit near Jodhpur. This is another reason for the organization not getting much exposure.
Experience the real essence of staying in rural Rajasthan, and at the same time help a local initiative promote sustainability. Pay a visit to Chandelao near Jodhpur, and contribute to the initiatives of the organization in any way possible. Please spread the word about Chandelao Vikas Sanstha so that the news reaches patrons who might help the organization grow.
Sunder Rang and Chandelao Vikas Sanstha is open to host volunteers who can contribute in different ways to their initiatives. Volunteers can stay at Chandelao Garh, a feudal home in Chandelao. Along with supporting a novel initiative, the guests also get to experience authentic Rajasthani culture. You can also embark on some amazing offbeat trips in Rajasthan arranged by Chandelao Garh. During our stay at Chandelao, we were lucky enough to go on an exploratory trip in search of some offbeat sand dunes near Osian along with our host.
You can get in touch with the Chandelao Vikas Sanstha through their website or through their Facebook page for Sunder Rang.
Like this story? Or have something to share? Write to us: contact@thebetterindia.com, or connect with us on Facebook and Twitter.
NEW: Click here to get positive news on WhatsApp!