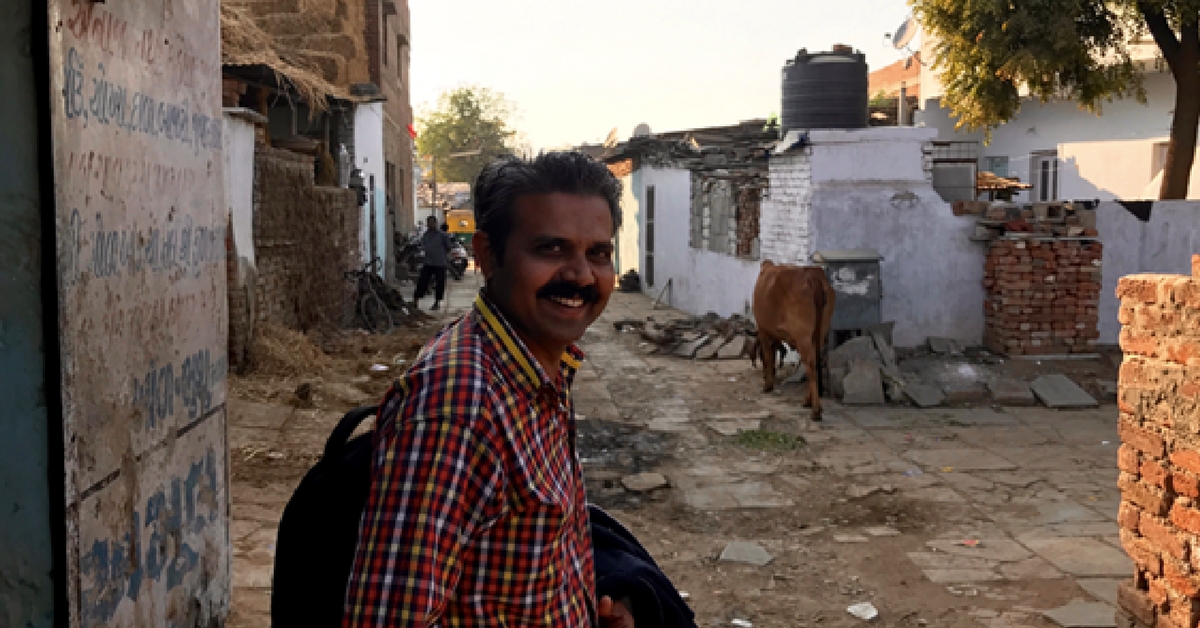 AIF's Clinton Fellow Dylan Igoe shares his admiration for his mentor Manish, who dedicates his life at St. Xavier's Human Development and Research Centre, advocating for people in the slums.
Walking with Manish through the alleys of the slums of Ahmedabad, I am filled with envy and wonder. Each of Manish's familiar steps is greeted by either a soft face poking out of a window nodding in acknowledgement, an exuberant "Hello Manish bhai" from three young kite-flyers trampling on the roofs above, or bright smiles from a woman wrapped in a sari and two children pulling apart laundry.
Meanwhile, I blunder down the alley behind Manish, distracted by my concern for where my next step will land. The easy smiles and friendly salutations evaporate as I pass, supplanted by questioning and skeptical eyes. My lumbering disrupts the daily cadence and magic of the moment. Facing the scenes around me, my foot slips and my flip-flop slides into a well of mud and old snack wrappers. Without fail, Manish stops, reaches back, and helps me compose myself before we move on.
It is in those moments that I feel like a burden – an unnecessary weight – holding Manish back from his usual routine. In this world of vibrant colours, startling sounds, and endless routine, Manish is not only known, he is a welcomed ingredient of the community.
My ineptitude in contrast to Manish's grace embarrasses me. So I find excuses to avoid joining Manish on his daily trips to the slums. I hate feeling so large and unfamiliar. I tell myself that I don't want to interrupt his work or detract from his project's progress by following him, that I am simply too self-conscious and foreign to be of any help.
Thus, I retreat into my office, plagued by excuses and conveniently-timed colds, and adhere to my comfortable routine.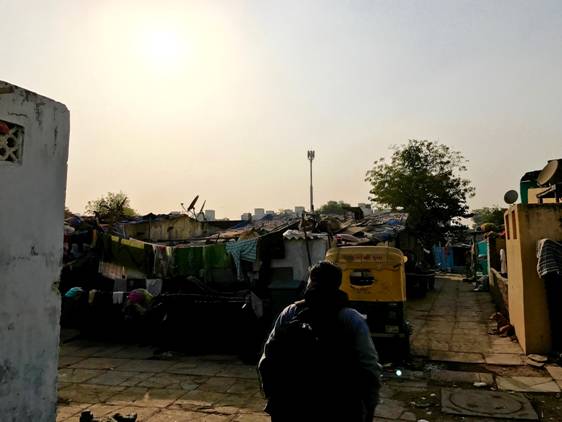 Despite my best efforts to hide these feelings, Manish knows. He knows how uncomfortable I am as the lone person in the room sitting in a chair while all of the others sit cross-legged on the floor. He sees how difficult it is for me to drink the chai poured on a plate. But, Manish refuses to let me be my own worst enemy. He will not let my retreat go uncontested. Every day at 3 PM, his face appears at my office window, alight with a broad smile, ready to tell me that it's time to go, heedless of the 10 ready-made excuses forming on my lips.
Manish is my mentor, and has worked at St. Xavier's Human Development Research Centre (HDRC) for many years. He has seen foreigners come and go, watched as projects have been articulated but never realized. He has witnessed firsthand the limits of remaining locked up inside a dimly-lit office, pouring over text books. Manish knows that my project, designed to "collect" and "understand" the narratives of the very same slum women with whom he works, will only succeed if I am present in the community. Only then will even the smallest amount of "understanding" begin.
Over the past five months, I have slowly seen how Manish, his motivations, and his actions are echoed throughout the halls of the office where we both spend our mornings. Indeed, Manish's daily invocation of "Let's go" seems to perfectly capture the essence of our organization.
30 years ago, at St. Xavier's College, a Jesuit priest and a few of his fellow professors noticed that their students were, well, kind of like me—well-versed in baseline academic knowledge about community development, but lacking any true understanding of the realities on the ground.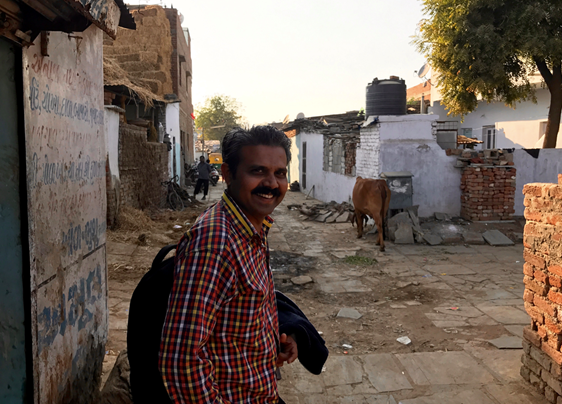 In response to these shortcomings, they formed the St. Xavier's Non-Formal Education Society (SXNFES) to better position themselves and their students to understand the real problems facing marginalized communities in Gujarat. Manish's work – his calling – is organizing communities and helping the people of the slum realize the power in their collective voice and ability to self-advocate.
It didn't take the members of St. Xavier's long to realize how truly disconnected they were from the realities of the community. In fact, their very first community meeting almost permanent discontinued the entire experiment over something as seemingly inoffensive as a pot of water.
At the first meeting of SXNFES in 1977, groups from around Gujarat gathered to discuss development. In preparation, SXNFES had provided a single large pot of water for attendees. Before the meeting could even begin, SXNFES overheard an explosive argument erupt outside of the hall concerning the communal water pot. Having to drink out of the same vessel as other lower-caste attendees outraged some of the other attendees. With no other pots around, and tensions high, the organisers cancelled the conference.
This episode showed the founders how obtuse they themselves were to the realities of the communities they served.
In response, they refocused SXNFES, and each founder moved to a different community around Ahmedabad in the hopes that through time and continued involvement, they might better understand how to catalyze change.

From what I've learned during my short tenure at St. Xavier's HDRC, the organization has continued to embrace and apply this initial concept—to catalyze change, one must first become aware of and attuned to the myriad complexities that define a community and its people. Importantly, one can only derive this knowledge through a complete investment into the minutiae of daily life in the community and by building personal connections with people they hope to serve.
Indeed, no amount of resources, funds, and research can replace the most important ingredient in community development—simply being present.
That's exactly how I would describe Manish—present. Importantly, the past five months have revealed to me how difficult it is to truly practice this idea. In Song of the Open Road, Walt Whitman tells his reader to be "Done with indoor complaints, libraries, querulous criticism" and join him outside on the road. Indeed, every day Manish asks me to abandon my own "indoor complaints" and join him through the ally of the slums. Watching Manish, I see a living embodiment of Whitman's edict, "We convince by our presence."[1]
It is humbling to know that that long after I have packed my bags and left India, Manish will still lock his office door every Monday at 3 PM and head out to the field. He doesn't need me, but I need him. So next Monday, I am going to poke my head into Manish's office at 2:59 PM. Smiling, I am going to tell him "Let's go". I hope that I just might hear three young kite-flyers shout out "Dy-lan bhai" as I trample behind.
—
[1] Whitman, Walt. "Song of the Open Road." Leaves Of Grass. 1st ed 1855. New York: Viking Press, 1959. Web. <https://www.poetryfoundation.org/poems-and-poets/poems/detail/48859#poem>.
Find out more about St. Xavier's Human Development Research Centre and how you can help here.
Like this story? Or have something to share? Write to us: contact@thebetterindia.com, or connect with us on Facebook and Twitter.
NEW: Click here to get positive news on WhatsApp!
Tell Us More
We bring stories straight from the heart of India, to inspire millions and create a wave of impact. Our positive movement is growing bigger everyday, and we would love for you to join it.
Please contribute whatever you can, every little penny helps our team in bringing you more stories that support dreams and spread hope.